Tina Fey (real name Elizabeth Stamatina Fey) is an actress, comedienne, producer and writer who is known her amazing presence in Saturday Night Live (1998-2006), 30 Rock (comic series in NBC) and movies like Mean Girls, Date Night, Baby Mama, Muppets Most Wanted, Admission and This is Where I Leave You'.
Sponsored link
Early years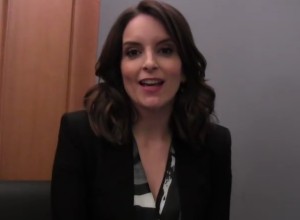 Tina Fey was born on May 18, 1970 in Upper Darby, Pennsylvania to her mother who worked in a brokerage firm and father who was a proposal writer. She is the second child, with her brother Peter being eight years elder to her. Fey to a special liking to comedy since childhood and grew up watching movies like Young Frankenstein, Second City Television and Saturday Night Live. When she was studying at the University of Virginia, she took to acting and writing plays, where she was awarded for her performances. She graduated with BA degree, with specialization in drama in 1992.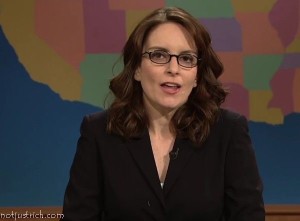 Career Rise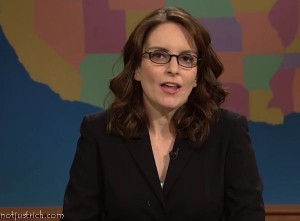 She got her break in 1997 in the form of The Second City, the famous improvisational comedy venture. While working with The Second City, she started sending comedy scripts to Saturday Night Live. Tina was selected and grew from one of the show's writers to a head-writer and then went to become a performer.   When she was in New York, she focused on getting the role of the anchor, and even lost weight in the process. She bagged the position of the co-anchor in the Weekend Update for Saturday Night Live. In 2004, she wrote the screenplay and starred in Mean Girls, a movie adapted from a self-help book known as Queen Bees and Wannabes.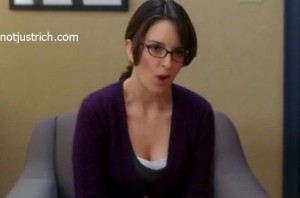 Tina Fey quit Saturday Night Leave in 2006 and produced a TV series called 30 Rock, a sitcom loosely based on her SNL experiences. Her role was that of a head writer in a fictional sketch comedy program. She also appeared in the comedy movie 'Baba Mama' and then went on star in Date Night, the 2010 comedy movie. She was also a part of the animated movie 'Megamind' which proved to be the greatest commercially successful movie of her career till date, earning $321 million gross worldwide. In 2014, she starred in the romantic-comedy-drama called 'Admission' which was followed in 2015 with another comedy-drama called 'This is Where I Leave You'. She also produced 'Unbreakable Kimmy Schmidt' a TV series for NBC, which eventually was shown on Netflix.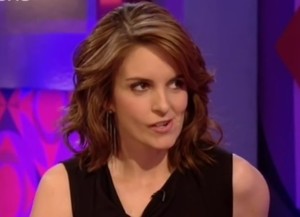 Tina Fey – awards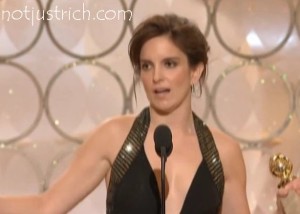 Tina Fey has her hands full with awards which include two Golden Globe Awards, eight Emmy Awards, five Screen Actors Guild Awards, four Writers Guild of America Awards. She was also nominated for a Grammy for her book 'Bossypants' which was at the number one position on The New York Times Best Seller List for close to a month.
Tina Fey – husband and children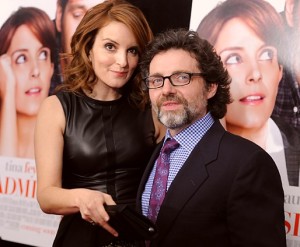 Sponsored link
The 1.64 meter tall Tina dated Jeff Richmond, a piano player, two years after she became a part of Second City. The relationship turned out to be long-term and they upgraded their relationship to marriage on June 3, 2001. Mr. Richmond also grew in his career, went to become Second City's music director and then became the composer for 30 Rock. They have two children, daughters Alice Zenobia Richmond (born 2005) and Penelope Athena Richmond (born August 2011)
Tina Fey – house
The couple bought a $3.4 million swanky house in the Upper West Side of New York City.
Tina Fey – scar
One of the mysterious things about Tina Fey is a scar, a few inches long on her cheek and chin. In her autobiography ' Bossy Pants', Tina revealed that the scar was due to being slashed across the face by a stranger in the road behind the house during her kindergarten days.
Tina Fey – philanthropy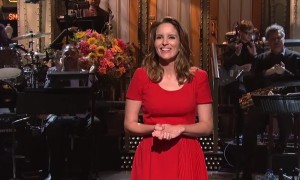 Tina Fey has contributed to charity organizations like Autism Speaks, Mercy Corps (a worldwide relief organization to end hunger and poverty). She has also contributed to Love our Children USA organization and Leukemia and Lymphoma Society.
Tina Fey's last dress ever gift to David Letterman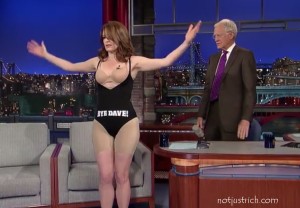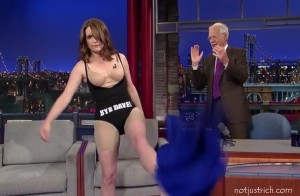 As a part of her farewell message to David Letterman, few days shy to quitting his popular show 'The Late Show with David Letterman', Tina stripped off her dress and paraded in shapewear and leotard, which read 'Bye Dave! #LastDressEver'. Before removing her royal blue cocktail dress in front of a live studio audience, she went on to say that fancy dresses while being love and perfect, can be bad for the system, cause contraptions and medical problems. She went on to say that she would not wear Spanx and high heels again for public appearances. The video went viral on Youtube
Tina Fey – net worth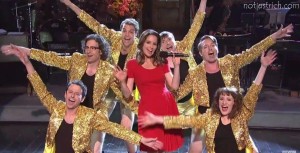 Her net worth is $45 million.
Sponsored link