Sherlyn Kara Sandberg is the Chief Operating Officer (COO) of Facebook. Before joining Facebook as the COO, she was the VP of Sales and Operations at Google. She was a part of the core-team that launched Google.org. Prior to Google, Sandberg was chief of staff serving for United States Secretary of Treasury. Fortune Magazine has ranked her as the tenth most powerful woman in business. In 2014, Forbes put her on the position of the 9th most powerful woman in the world, just behind Michelle Obama.
Sponsored link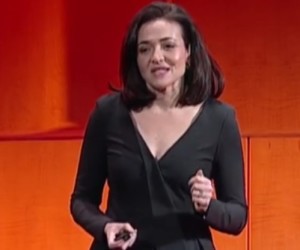 Sheryl Sandberg was born on August 28, 1969 to a Jewish family, in Washington DC. She is the eldest of the three children. Her family shifted to North Miami Beach in Florida when she was barely 2 years old. She studied in North Miami Beach School and proved to be a topper.   She enrolled at Harvard College and graduated with BA in economics, again as a topper, in 1991. She enrolled at Harvard Business School in 1993 and two years later, secured an MBA with the highest percentage of marks.
Career Growth in Facebook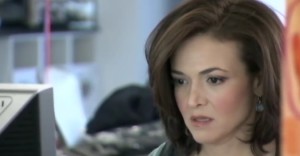 Sheryl Sandberg was a management consultant for McKinsey and Company for one year, from 1995 to 1996. After her five year stint at United States Secretary of Treasury, she joined Google Inc, in 2011. Mark Zuckberg, co-founder of Facebook met her in 2007 and asked her if she would be interested in working for Facebook. In 2008, it was announced that Sheryl Sandberg would be hired as the COO of Facebook. She was also the first woman serving on the board of the social media giant.
Under her tutelage, Facebook grew into a profitable company. Sandberg's responsibility for Facebook lies in business development, marketing, sales, human resources and communications.
Sheryl Sandberg Net Worth
Her net worth is  $1.2 billion, with her stock holdings in Facebook and other companies like Walt Disney. She has also been a board member of Starbucks.
Sheryl Sandberg – Book
Sheryl Sandberg along with Nell Scovell wrote a book called 'Lean In – Women, Work and the Will to Lead' focuses on leadership, development and how women could turn out to be global leaders. The book also thought how a woman can work wonders, if she has a partner who is by her side as her emotional anchor. She has written that the world will truly be equal if half our men ran our homes and half our women ran companies and countries. The book released in 2013 sold more than a million companies and has been a best-seller.
Sheryl Sandberg – Husband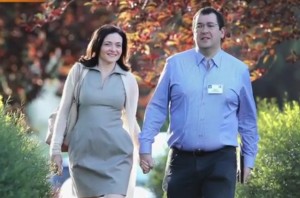 Sponsored link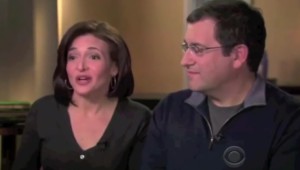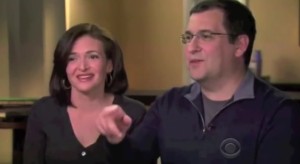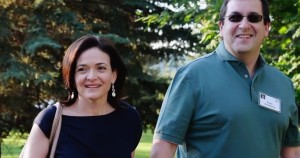 Sheryl Sandberg's husband Dave Goldberg was her second husband. She married Brian Kraff earlier at the age of 24 and divorced a year later. In 2001, she met Dave Goldberg who was working with Yahoo and then married him in 2004. Sheryl has two children from Dave. He went on to become the CEO of SurveyMonkey, which provides free customizable surveys. Her husband died suddenly at the age of 47 on May 1, 2015 while the couple were on a vacation. The cause has been attributed to heart attack.
Sheryl was grief-stricken by the loss of her husband, who was her closest friend and confidante. She says that he was truly a 'rock' for her. She wrote a tribute on Facebook on May 6 that was shared by more than 23,000 people.  She stated, "Even in these last few days of completely unexpected hell — the darkest and saddest moments of my life — I know how lucky I have been, If the day I walked down that aisle with Dave someone had told me that this would happen — that he would be taken from us all in just 11 years — I would still have walked down that aisle."
Boyfriend
Reports stated that Sheryl Sandberg began dating the 53 year old Robert Kotick in 2016.. Kotick is the CEO of Activision Blizzard, the company that owns the cult video game 'Call of Duty'. Kotick has two sons from his first marriage. The two are known to be old friends.
Sheryl Sandberg House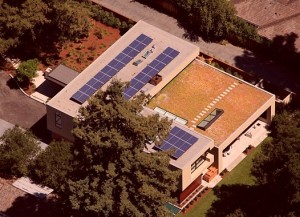 Sheryl lives in Menlo Park, California with her family. She bought this  9,210 square feet property, along with husband, for $11million.
Sheryl Sandberg Philanthropy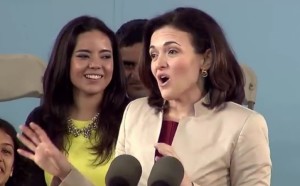 Sheryl has pledged to give 50 percent of her fortune in the latter part of her life or upon her death. She joined the 'Giving Pledge' initiated by Warren buffet and Bill and Melinda Gates. Apart from her, 127 billionaires have signed up for the pledge including Mark Zuckerberg. Miss. Sandberg became the second self-made female billionaire to make this pledge after Spanks founder Sara Blakely.
Sponsored link