David Michael Letterman is one of the best-known names on late night TV. He is a TV host, comedian, writer and producer. His show 'Late Show with David Letterman' shown on CBS is one of the most-watched shows in US with the who's who of the celebrity-world across US and even other parts of the world, being a part of the program. The show debuted on February 1, 1982 to sub-par ratings by the public and went on to become a cult show. David Letterman even surpassed his friend and role-model Johnny Carson, as the longest-serving TV host for talk shows with 31 year tenure. Mr. Letterman also owns a company called Worldwide Pants which produces many programs including his show and many prime-time comedies including Everybody Loves Raymond.
Sponsored link
Letterman is also a television and film producer. His company, Worldwide Pants, produces his show and formerly produced The Late Late Show with Craig Ferguson. Worldwide Pants has also produced several prime-time comedies, the most successful of which was Everybody Loves Raymond, currently in syndication.
Early years
David Letterman was born in Indianapolis, Indiana, his father was a florist while his mother is a church secretary. In fact, she is a regular on his show, makes appearances on birthdays and other special days. He studied at Broad Ripple high School close to his hometown and then earned his first job as a stock-boy at a nearby supermarket. His grades at school were not good, as much as he wanted to be in the Indiana University, he ended up studying at Ball State University. He got a taste of being an announcer when he worked for his college run radio station WBST, which has now been taken over by Indiana Public Radio.
David credits many people as his role-model for paving the road to his career, one of them being Paul Dixon, from Paul Dixon Show. David said that when he was out of college, he had no idea what to do with his life, till he saw Paul Dixon hosting his show, making it clear in his mind that he too wanted to host a show like him.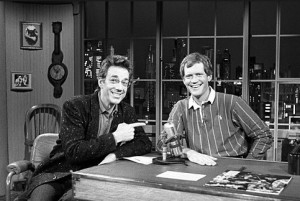 Career Rise
David Letterman's stint with WSBT gave him an opportunity to work on WNTS as a radio-talk host and as an anchor and weather-reporting man on WLWI (Indianapolis based TV station). He displayed maverick style of reporting weather which won him fans, for his fresh take on something as mundane as weather reporting. For instance, he would congratulate a tropical storm for turning into a hurricane. He infused humor by even tagging along fictitious cities while reporting on the day's weather.
The 1.8 m tall David later moved on to Los Angeles in 1975 with the hopes of doing something in the field of comedy, because he had a natural flair for it. He started doing comedy at The Comedy Store. Among the many who would watch these show, one of them turned out to be Jimmie Walker, who liked David's work that he recruited him as a writer for his stand-up acts.   Soon, David became a part of a team of writers who would write jokes for the likes of Jay Leno, Robert Schimmel and many other comedians and humorists. At the same time, David hosted many programs which include a few games shows. His sarcastic sense of humor caught the attention of people looking for fresh talent for The Tonight Show starring Johnny Carson. David went on to become a frequent guest at his show and credited Johnny Carson for being a huge influential figure in his career.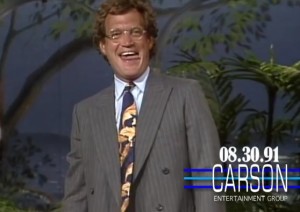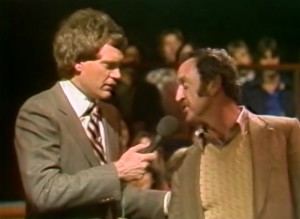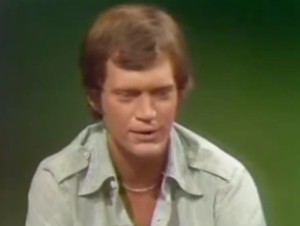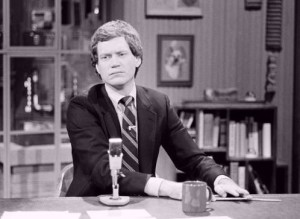 The David Letterman Show
On June 23, 1980, Letterman released his own comedy show in the morning on NBC called The David Letterman Show. The show's running time was 90 minutes, which was later reduced in the next couple of months to just half an hour. While the show was appreciated for its content and won two Emmy Awards, the masses didn't really find it interesting and due to a dip in the ratings, the show was cancelled in the same year.
NBC however did not drop Letterman and gave him another time slot, this time at night. So Late Night with David Letterman debuted on February 1, 1982. The first guest on the show was Bill Murray, who went on to become the most-often repeated guest on the show, even making his appearance on the 30th anniversary of the show. The show would run from Monday through Thursday, at 12.30 am and was likened for being spontaneous and edgy. Soon, the show became popular with more celebrity guests making an appearance like Shirley MacLaine, Cher, Steve Collins, Joan Rivers and Madonna. People began to appreciate David's remarkable way of asking questions with a touch of sarcasm.
David Letterman's wife and affairs
David Letterman married Michelle Cook in 1969, the relationship ended with a divorce in 1977. He also had an affair with head-writer and producer of his popular show, Merrill Markoe . She was the creative mind behind some of the off-beat antics in his show like 'Stupid Pet' and 'Human Tricks' on Late Night with Letterman
Sponsored link
Letterman fell in love with Regina Lasko in 1986 while he was living with Markoe. Regina and Letterman had a son called Harry Joseph Letterman (born 2003). In 2005, the police foiled a plan to kidnap Harry for a ransom of $5 million. The man behind this was the house painter called Kelly Frank who worked for Mr. Letterman.
Mr. Letterman married Lasko on March 23, 2009 at Montana, close to his ranch. The wedding was a private one and the disclosure was made by Mr. Letterman himself on his show on March 23, 2009.
In May 1988, Letterman was constantly stalked by a schizophrenic, Margaret Mary Ray. She stole his car and was found to break into his house repeatedly, gaining media attention across the nation. Mr. Letterman without mentioning her by name would joke about her on his show. When she committed suicide six months later, Mr. Letterman appeared to be affected by the incident and told the media, that he empathized with her.
Mr. Letterman was subject to a foiled blackmail attempt by one Joe Halderman, producer of CBS crime series '48 Hours'. Letterman on his show stated about the blackmail which said that he would be exposed about his physical relationships with his female employees. He candidly stated on the show that these allegations were true but he refused to be blackmailed. A phony check of $2 million was deposited and the police finally nabbed Joe Halderman who was charged with felony and served six month jail tenure, followed by community service.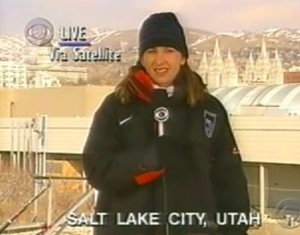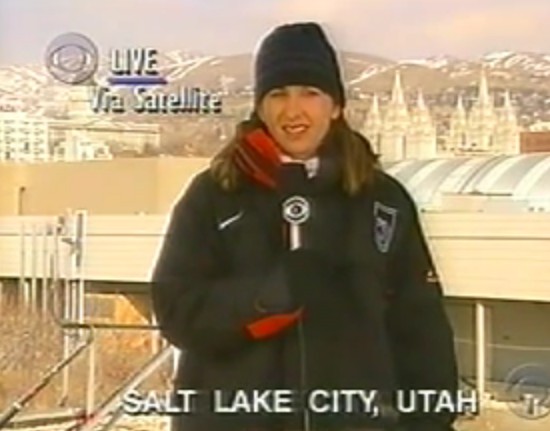 Among the lot of women, he was linked with; David Letterman had an affair with his personal assistant Stephanie Birkitt, who was a frequent face on his show. In fact, the idea to blackmail David Letterman came to Joe's mind when she had shared her residence with him. Mr. Halderman had read discreet episodes of her relationship with Mr. Letterman from her diary and emails and had put them as a part of his blackmailing deal.
Another woman with whom Mr. Letterman had affair was Kathie Lee Gifford, who worked with Today Show on NBC, as a co-host.  Ex-CBS employee Holly Hester revealed in 2009 that he had a long-term affair in the 90s with Mr.Letterman when she was working as his intern.
While Mr. Letterman was accused by a section of media for creating an exploitative work environment, Worldwide Pants said that a relationship between consenting adults was privy to the people concerned. On October 5, 2009, Mr. Letterman issued a public apology in his show to his wife and staff.
Health problems
Mr. David Letterman suffers from tinnitus, the main symptoms being constant ringing in the ear. In the year 2000, Mr. Letterman was rushed for an emergency bypass surgery as an artery in his heart was found to be blocked. He returned on February 21, 2000 with his team of doctors and nurses on stage on his show. He joked with them and at the same time thanked them profusely for saving his life.
David Letterman retirement
On April 3. 2014, Mr. Letterman announced that he would retire by the next year. The last episode of Late Night with Letterman would be cast on May 20, 2015. Stephen Colbert, host of Comedy Central's The Colbert Report will take his place.
David Letterman net worth and salary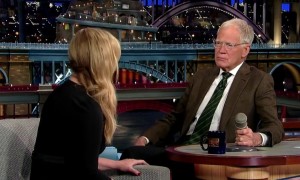 He is the highest paid talk show host in the world. David Letterman's net worth is $400 million with a salary of $14 million on a yearly basis. He gets his monies from his talk show, his production company Worldwide pants and few real estate investments.
David Letterman – house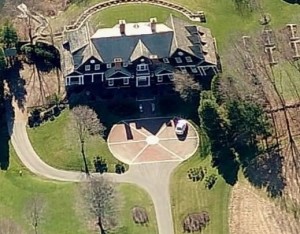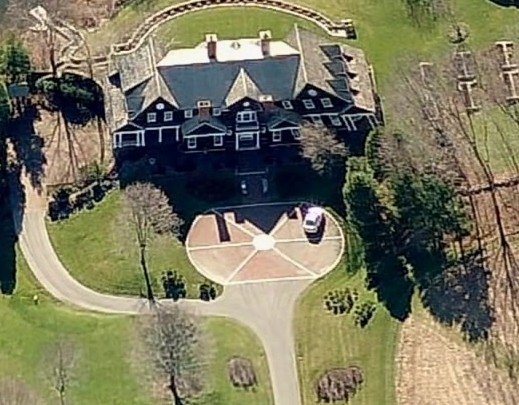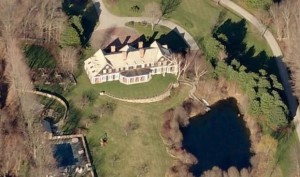 Among some properties across the USA, David Letterman usually resides with his family in North Salem, New York. It is a sprawling 108 acre plot built in two phases, one in 1994 and the other in 2007. The total value of the property is $10 million.
Sponsored link