JK Rowling is the one of the richest authors to date with the highest net worth among authors. She wrote the Harry Potter fantasy series , which went on to garner worldwide attention and was a hit with teenagers and young adults. The books sold more than 450 millon copies and went on to become among the top 5 best-selling book series in history. Her Harry Potter books which were adapted into movies became the highest grossing movie franchise in history.   JK Rowling also supervised the adaptation of her novels into films.
Sponsored link
Joanne Rowling was born to father Peter James, who was an aircraft engineer with Rolls-Royce and Anne, who was a science student. Her parents met in train which left from King's Cross Station towards Arbroath in 1964. They married on March 14 1964 and Joanne was born in Yale, Gloucestershire on July 31, 1965.
Miss Rowling started her career as a researcher for Amnesty International, where she got the idea to develop the character of Harry Potter. She says that the germ of the idea was born on a deferred train that she took from Manchester to London in 1990. Over the seven year time when she finished her first novel , 'Harry Potter and the Philosopher's Stone she braved a lot of personal challengers like financial issues, death of her mother and divorce from first husband.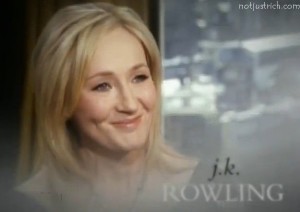 Harry Potter books
JK Rowling wrote the first manuscript of Harry Potter and the Philospher's Stone on an old typewriter. A reader called Bryony Evens liked what he read and recommended it to Christopher Little Literary Agents in Fulham, who agreed to represent JK Rowling in her pursuit for a publisher. As many as twelve publishing houses rejected her manuscript. Finally Barry Cunnigham, the editor of Bloomsbury, a publishing house in London agreed to publish the book and gave her an advance of £1500.
The decision to publish the book was actually based on the response of Barry's eight year old daughter. She loved the first chapter and wanted to read the next one, reason enough for the father to green-light the manuscript. Cunningham still felt that there was little money to be made from children's books and asked JK Rowling to still continue with her day job. In June 1997, 'Philosopher's Stone' was published with a an initial print of 1000 copies, 500 were sold to libraries. These very copies are now worth £16,000 and £25,000.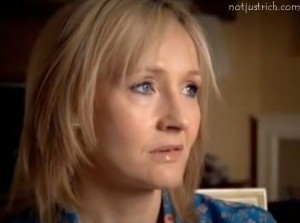 By November 1997, Harry Potter won the Nestle Smarties Book Prize, one of the many awards to follow. It also won the British Book Award, Children's Book of the Year Award and the Children's Book Award. The right to publish in the US was sold in the form of an auction in the US and Scholastic Inc agreed to buy it for $105,000.
In October 1998, Harry Potter and the Philospher's Stone was sold under the title 'Harry Potter and the Sorcerer's Stone'. The money that she earned from the deal with Scholastic Sale enabled her to change her residence from her modest house to 19 Hazelbank Terrace in Edinburgh.
JK Rowling came up with the sequel 'Harry Potter and the Chamber of Secrets' in July 1998, even this book won the Smarties Prize. Her third novel 'Harry Potter and the Prisoner of Azkaban' released in December 1999 won Smarties again, making her the first person to won this coveted title three times in a row. She decided to withdraw her other sequels from Smarties in order to give other authors a fair chance.
JK Rowling's fourth book 'Harry Potter and the Goblet of Fire' released on July 8, 2000 simultaneously in the UK and US, and went on to register record sales in both nations. In the US, it sold more than 3 million copies in 48 hours, a feat unheard of. JK Rowling went on to say that she faced lots of plot crisis moments while writing this book. Nevertheless, she wnt on to the win the Author of the Year in the 2000 British Book Awards.
After three years, JK Rowling wrote Harry Potter and Order of the Phoenix and the fifth installment Harry Potter and the Order of the Phoenix. The sixth book 'Harry Potter and the Half Blood Prince' broke all previously held sales records when it released on July 16, 2005, selling more than 9 million copies in the first 24 hours. It won the Book of the Year prize at the British Book Awards.
The final and the seventh installment 'Harry Potter and the Deathly Hallow' released in July 21, 2007 went on to become the fastest-selling book of all time, selling more than 11 million copies both in the US and UK. Ironically she says that the last chapter of the book was the first thing she wrote in the entire series.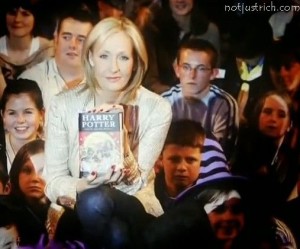 JK Rowling – Other Books Apart from Harry Potter Series
JK Rowling Causal Vacancy, a book for her adult readers in 2012 and under the pseudonym of Robert Galbraith wrote crime fiction called The Cuckoo's Calling (2013) and The Silkworm (2014)
Sponsored link
JK Rowling Net Worth
JK Rowling's own life story is an inspiring one, she rose from someone living on state allowance to a multimillionaire in five years. Her books have made business of more than £239m. She is among the top ten richest women in the UK. In 2010, JK Rowling was called the 'Most Influential Woman in Britian' Harry Potter by itself is a popular global brand, churning business in excess of $15 billion. Her books have been translated into as many as 66 languages. She is credited with instilling back the quality of reading in children, as they were known to be diverting into video games and television. Though Forbes called her the only billionaire to become so by writing, JK Rowling said that though she had plenty of money, she was not a billionaire.
As of June 2014, JK Rowling's net worth is $14 million.
JK Rowling husband and children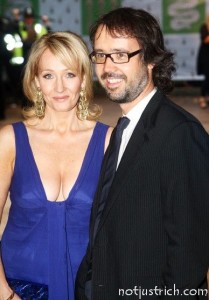 JK Rowling married Jorge Arantes in 1992 and they divorced in 1995. She married an anesthetist named Neil Michael Murray on December 26, 2001. She gave birth to son David Gordon Rowling Murray on March 24, 2003. Her daughter Mackenzie Jean Rowling Murray was born on January 23, 2005. From her divorced first husband, a Portugal TV journalist, they had a child called Jessica Isabel Rowling Arantes on July 27, 1993
JK Rowling House
JK Rowling purchased a vintage sprawling estate house called Killiechassie House on the banks of River Tay in 2001. She bought another seventeenth century house in Edinburgh. Rowling also has another highly guarded Georgian house worth £4.7 million in Kensington, West London. The author and her husband along with children live in Scotland.
Sponsored link