Stephen Colbert is a successful American TV host, actor, comedian and writer. Before succeeding David Letterman as the host of the popular Late Show aired on CBS, he was the host of 'The Colbert Report' on Comedy Central, a satire-based news show.
Sponsored link
Stephen Tyrone Colbert was born on May 13, 1964 in Washington D.C, he is the youngest of 11 children in the father. His father was a doctor while his mother was a home-maker. She died at the age of 92 due to illness, in 2013.
Mr. Colbert was interested in becoming an actor but later set sights on being a TV anchor and having his own show, after he met Second City director Del Close. He got the chance to perform as an understudy (a person who performs when the actual actor is absent) for Steve Carell. He became friends with comedians like Amy Sendaris and Paul Dinello, and together they developed 'Exit 57', a 30 minute sketch comedy series for Comedy Central which ran successfully from 1995 to 1996. The trio wrote another cult TV show 'Strangers with Candy', which ran from 1999 to 2000. TV Guide in 2007, rated the show as one of the top cult shows ever. Mr. Colbert played the role of a closet-gay teacher called Chuck Noblet, which earned him fame.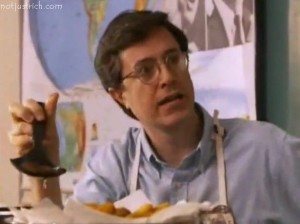 Stephen Colbert then went on to work as a correspondent on Comedy Central's The Daily Show, which was a parody news series, which made him a household name.  The Colbert Report is a spin-off of The Daily Show and became quite popular. Mr. Colbert left The Daily Show in 2005 to create his own show for Comedy Central. With time, The Colbert Report became one of the most watched shows on Comedy Central.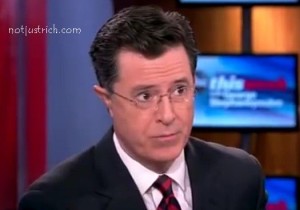 The 1.80 meter tall Stephen Colbert has been nominated for more than 27 Primetime Emmy Awards and has even won two Grammy and two Peabody awards.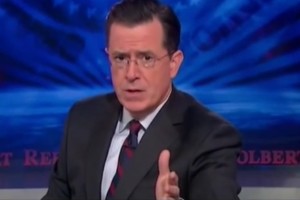 Time heralded Stephen as one of the 100 Most Influential People in the World for 2006 and 2012. He has even written a book called I am America (And So Can You)  which enjoyed the number one position on The New York Times Best Seller.
Sponsored link
Stephen Colbert – wife and children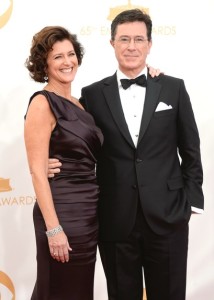 Stephen Colbert lives with his wife Evelyn McGree Colbert who shared screen-time with him in one of the episodes of 'Strangers with Candy'. She played his mother in that episode. She met Stephen through John Stewart, a close friend of Colbert in 1990, The couple has three kids – Madeline, John and Peter. They live in Montclair in New Jersey.
Stephen Colbert – Ear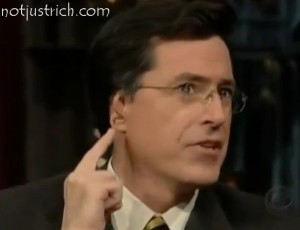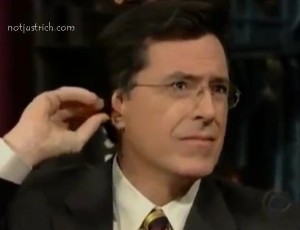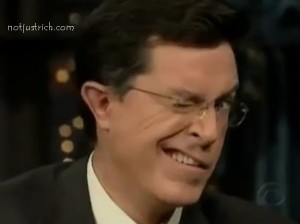 He is deaf in his right year. Due to a surgery done on him, when he was a kid, he can fold his right ear from inside and even
As a result of an operation he had when he was young, he can fold his right ear inside out and can pop it out when he squints his eye.
Stephen Colbert – net worth and salary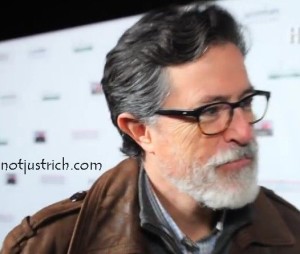 Stephen Colbert's salary is $6 million per year and his net worth is $45 million.
Sponsored link