Charlie Sheen is one of the biggest Hollywood  star known for his movies like Platoon, Eight Men Out, Hot Shots!, Major League and the Three Musketeers. Since the turn of 2000, he chartered a hugely successful career on TV with roles in Spin City, Two and a Half Men and Anger Management.
Sponsored link
Early life and background
Born as Carlos Irwin Estévez on September 3, 1965 in New York, he is the son of actor Martin Sheen (real name Ramón Antonio Gerardo Estévez known for movies like Apocalypse Now and Badlands) and Janet Tempelton.
Charlie Sheen has two elder brothers, Ramon and Emilio and a younger sister, Renée; all of them are professional actors. Sheen studied in Santa Monica High School in California. When he was in school, he showed remarkable talent as an actor and began making short films with his brother and friends. However, his grades in school were dismal and he was expelled for poor attendance and bad scores. Sheen decided to go full throttle into acting, he had appeared for the very first time as a child artiste at the age of 9 for his father's movie, 'The Execution of Private Slovik'.
Movie career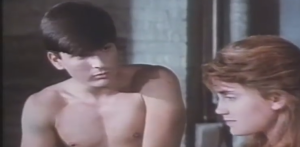 Charlie Sheen's first movie as an adult was in the movie 'Red Dawn, a teen drama which co-starred Patrick Swayze, Thomas Howell and Jennifer Grey. I His first major movie was the 1986 hit Platoon, based on Vietnam War. In the same year, he starred in a coming of age movie called 'Lucas'. He followed up the success of Red Dawn, with another hit in 1987, called 'Wall Street'. In the 90s, Sheen was seen in a stock of comedy movies including Hot Shots!, Money Talks and Major League. He was also seen in 3rd, 4th and 5th installments of the popular comedy-horror series, 'Scary Movie'.
 TV Shows and Awards
In 2000, Sheen replaced Michael J. Fox for the last two seasons of Spin City. His performance won him his first Golden Globe for Best Performance by an Actor in a Television series; and two ALMA Awards nomination.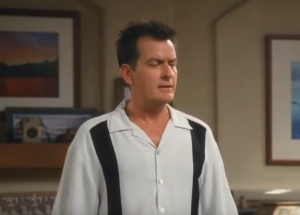 In 2003, Charlie Sheen was seen in the popular CBS show 'Two and a Half Men'. Sheen's presence and performance in the show was instrumental to the huge success of the show, earning him two Golden Globe Award nominations and three Emmy nominations. By the final seasons, Sheen was earning $1.8 million per episode. In 2011, he was dismissed from the show for unprofessional behavior and him blaming the makers of the show for underpaying him.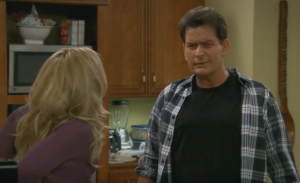 In 2012, Sheen appeared in 'Anger Management' the spin-off of the movie of the same name, which increased the star's popularity.
Professional Controversies
He has been an enfant terrible for his producers, at least , that is what the makers of Two and a Half Men can safely claim. After Sheen went for a substance addiction rehab in 2011, he came back a month later and passed derogatory comments about Chuck Lorre, the show's maker. As a result, Warner Bros banned him from entering the sets. Sheen retaliated by publicly saying that he wanted a 50 percent raise for increasing the brand value of the show, citing that he was underpaid. Sheen was finally removed from Two and a Half Men on March, 2011, replaced by Ashton Kutcher. Sheen filed a termination lawsuit against the makers of the show, which was later settled in the September of the same year. In that year, Sheen was awarded a Primetime Emmy for his performance of Two and a Half Men. He said that he had spent 8 memorable years working together and that he was confident that they would continue to make great television.
  Personal Controversies

In the year 1998, Sheen suffered a stroke for overdosing on cocaine; he was saved by emergency life saving treatment and the timely help of a friend who had shifted him to hospital quickly.
In 2009, Sheen was charged with third degree assault, criminal mischief and felony, after he assaulted wife Brooke Mueller in Aspen. He was sentenced to 30 days in a drug rehab and 36 hours of anger management.
In 2010, Sheen was arrested for destroying $7000 worth property in Plaza Hotel. He said that he was under the influence of drinking and cocaine. He checked into the hospital for treatment.
Does Charlie Sheen have bipolar disorder?
Following his dismissal from Two and Half Men, Sheen gave bizarre statements on television and the Internet which included words that he had 'Adonis DNA' and was made with 'Tiger's Blood'. He also posted videos where he cursed his former employers. In a series of bizarre episodes which can be described as the 'Meltdown', he was also seen smoking through his nose on Youtube Sheen even said to the reporters that he was tired of pretending that he was not special. Psychologists came up with the theory that his widely fluctuating behavior alluded to the fact that he had bipolar disorder.
Records
On September 19, 2011, Sheen appeared on Comedy Central Roast. His roast watched by close to 6.4 million, making ti the most watched and highest rated show on Comedy Central.
He set a Guinness World Record for Twitter for being the person to reach 1 million in shortest time possible with an average of 129,000 new followers on a daily basis. In 2011, Sheen was the highest paid actor on television.
Charlie Sheen – Philanthropy
In 2004, Sheen raised millions of dollars for the Lee National Denim Day breast cancer event. He has been a huge donor for Aid for AIDS since 2006. Apart from giving funding help, he has also been the celebrity judge for their annual fundraising event 'Best in Drag' which alone raises .25 million dollars annually
Sheen's dedication to help the cause of HIV and AIDS victims happened in 1987 when an Indiana teenager Ryan White went on to become a spokesman for AIDS awareness after he was infected through blood transfusion.
Sheen has donated generously for the Red Cross Japanese Earthquake relief. He donated $1 million to the USO, the non-profit organization providing morale support and entertainment to military troops and their families; the donated amount was the largest amount by an individual to the organization. He also took a Twitter challenge by a mother to help critically ill infants who had congenital diaphragmatic hernia. He has been an active supporter of The Association of Congenital Diaphragmatic Hernia Research, Awareness and Support, or CHERUBS.
Sponsored link
Sheen has also started a line of kids clothing called Kidz Sheen.
  Affairs, Wives and Children

Charlie Sheen married three times, and he has five children and a grandchild. His daughter Cassandra Jade Estevez, was born in 1984 through his relationship with his high school girlfriend Paula Profit. Sheen has a granddaughter through Cassandra called Luna, born on July 2013.
Sheen dated Kelly Preston in the late 80s and they were engaged subsequently. On January 1980, he accidentally shot her in the arm, and she called off the engagement. Sheen went on date a string of adult movie actresses which included Ginger Lynn and Heather Hunt.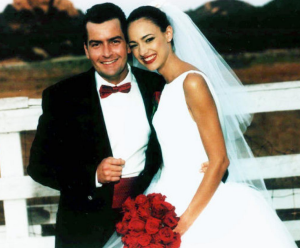 On September 3, 1995; Sheen married his first wife Donna Peele. The two were divorced in 1996. She met actress Denise Richards while filming Good Advice in 2000 and a year later, the two began dating. They engaged in the same year and married on June 15, 2002. With Richards, Sheen has two daughters, Sam J. Sheen (born 2004) and Lola Rose Sheen (born 2005). Richards filed for divorce accusing her husband of alcohol and substance abuse, and violent threats. The divorce finally came through in 2006,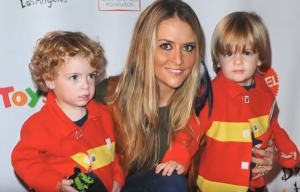 On May 30, 2008, Sheen married Brooke Mueller. From her, he had twin sons, Max and Bob (born in 2009). In 2010, Sheen filed for divorce and the kids were taken away by social services following a restraining order by Mueller against Sheen. The divorce came through on May, 2011.
On May 1, 2011, Sheen was dating adult actresses Bree Olson and graphic designer, Natalie Kenly. But both relationships withered away in 2011. In 2013, Sheen stated that he was in a relationship with Georgia Jones. The news fizzled away and Sheen publicly claimed that he was dating ex-adult movie actress. Brett Ross (real name Scottine Ross). Pictures of the couple in love, dining and spending romantic moments were uploaded on social media, and the couple looked all set to marry in November 2014. Brett Ross happily showed off her beautiful engagement ring in social media, which Sheen had gifted her on the day of engagement in February 2014. The marriage was not meant to be as the engagement broke off in November 2014.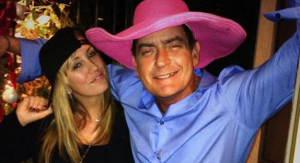 Sheen stated, "I've decided that my children deserve my focus more than a relationship does right now. I still have a tremendous fondness for Scotty and I wish her all the best. A month later, Rossi was hospitalized for substance overdose.
The HIV confession
On November 17, 2015; following reports that a big Hollywood star was infected with HIV, Sheen came out in the open saying that he was HIV positive, having been diagnosed four years earlier. He denied injecting any partners, and that he was on antiretroviral drugs. He admitted that since 2011, he had been paying people more than $10 million to keep his HIV status secret. A source went on to say that Sheen has been physical with more than 200 women after he was diagnosed with HIV, a statement which he denied, citing that he had always told about his HIV status to the partners he was with, since diagnosis. He lamented the fact that these extortionists were heartless and had taken away his wealth, which he had saved for his granddaughter.
Sheen appeared on Matt Lauer's Today Show on November 17, 2015 where he stated, "I'm here to admit that I am HIV-positive. And I have to put a stop to this onslaught, this barrage of attacks, sub-truths, and very harmful, mercurial stories that are threatening the health of many others, which couldn't be farther from the truth." He added, "What people forget is that's money they're taking from my children. They think it's just me, but I have five kids and a granddaughter." He also revealed on the show that he has been blackmailed by many and he had to part with millions to keep the news secret. But he admitted that everyone in his house as well as the people who mattered, knew about his condition.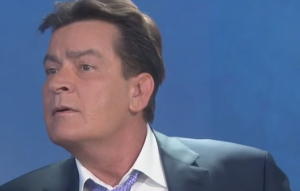 Sheen also said that he had no idea of how exactly he got the virus.
Matt Lauer also interviewed Sheen's doctor Dr. Robert Huizenga (UCLA assistant professor of clinical medicine) who said the Sheen's current level of HIV was undetectable in blood.   He said that the moment Charlie was diagnosed, he was immediately put on treatment and he is now totally health. But he expressed that substance abuse and depression were more detrimental for his condition than the virus itself. Sheen said that he was off drugs but still drank alcohol. He seemed positive as he said that he would that he would quit drinking in the near future. Huizenga also said that Sheen did not have AIDS.
Charlie Sheen – Net worth and Salary
In 2010, the 1.78 meter tall Sheen was the highest paid actor on television, earning $1.8 million per episode for Two and A Half Men. His annual salary was close to a $100 million in that year. Post 'Anger Management', Sheen was back in the game. For the show, he was paid just $100,000 per episode, which was too low from his 'Two and a Half Man days' but he was assured of 40 percent rise if the show reached syndication. The show was a success and by 2015, Charlie Sheen's net worth was $150 million.
Sponsored link