Eric Bolling is a popular TV personality and news anchor attached to Fox News. He is the popular co-host of the evening talk show The Five. Bolling is also the host of the Fox Business Channel program 'Cash in'. He successfully replaced the Fox Channel Business anchor Cheryl Casone who hosted the TV show from September 2009 to January 2013. He co-hosts 'The Fox News Specialists' which premiered on May 1, 2017, along with Katherine Timpf and Eboni Williams. He was a part of the Fox News popular program 'The Five' when it started, until it bagged the prime-time slot on April 24, 2017.
Sponsored link
Early life
Eric Bolling was born on March 2, 1963. His birth place was Chicago, USA.
Education
Eric Bolling did his graduation from the school Queens of all Saints Basilica. It was followed by schooling that was done at the high school of Loyola Academy. In the year 1984, he completed graduation at Rollins College in Florida with a degree of Bachelor in Arts in the subject of economics.
Eric was awarded with a fellowship to study at Duke's University School of Public Policy. He was allowed to get enlisted in the 22nd round of baseball draft in the year 1984. His career in the field of baseball was interrupted by an injury in his rotator cuff area.
Career
Bolling has worked as a commodities trader in the Mercantile Exchange Market at New York. He did specialization in doing trading concerning natural gas, gold, crude oil and other raw commodities. After working and serving on the board of directors at the CME Group, Bolling got the post of strategic advisor.
Eric Bolling was also engaged in developing the program 'Fast Money' at CNBC. Bolling left the channel in August 2007 and joined the Fox Business Network. Eric became the host of business show 'Happy Hour' that ran in opposition to the 'Fast Money' at 5 p.m.
Bolling serves as the host of The Five on the Fox News Channel. This popular show is a round-table debate related to top political and cultural subjects that happen on a day-to-day basis. In this show, Eric and the political specialist Bob Beckel take positions opposite to one another and air their views on political and economical issues. Eric Bolling is regarded as one of the most talented television anchors of Fox Business News.
Sponsored link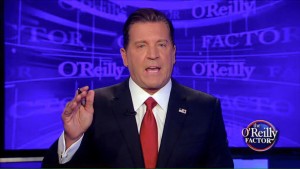 Bolling has also been guest on many popular Fox's opinion-related shows like The O'Reilly Factor, Fox & Friends and Hannity.
Following Bill O' Reilly's exit, Fox News began shuffling its programs and it was announced that the channel would be shifting 'The Five' to a 9 PM slot. Bolling was given his own shot at 5 PM called 'The Fox News Specialists' which debuted on May 1, 2017.
Eric Bolling – Wife and Children
The 6 feet 1 inch tall Bolling is married to Adrienne. They are having one son Eric Chase.
Books
The charismatic anchor has written a book called 'Wake up America'.  The book that carries his personal story as well as the political turmoil of the US is Eric Bolling's perspective of on how can make America great. The 2016 book turned out to be a best-seller. In 2016, Eric Bolling wrote 'The Swamp: Washington's Murky Pool of Corruption and Cronyism and How Trump Can Drain It' which met with a stupendous response.
Eric Bolling – Net worth
Being one of the most eligible television anchors Eric Boiling has a net worth of $15 million.
Eric Bolling – Salary
The annual salary of Eric Bolling is an average of $10 million.
Sponsored link