William James O'Reilly, Jr., or Bill O'Reilly, is an American journalist, TV host, political commentator, syndicated columnist, and author who was currently working as the host of 'The O'Reilly Factor,' a political commentary show that airs on the Fox News Channel/FCN. He has written more than a dozen books and also hosted a radio program called 'The Radio Factor.'
Sponsored link
Early Life and Career
Bill was born on 10 September 1949 to Winifred Angela Drake O'Reilly and William James, Sr., in New York City. The family initially lived in Fort Lee, New Jersey and then moved to the town of Levittown, Long Island. Bill went to Westbury's St. Brigid parochial school and later to a private Catholic boy's high school, Chaminade High School, located in Mineola. At Chaminade, he was the goalie of the varsity hockey team and participated in Little League baseball.
In 1967, after high school graduation, Bill enrolled at the Marist College located in Poughkeepsie in New York. In college, he wrote for the school newspaper and was a punter in the National Club Football Association. The junior year was spent at University of London's Queen Mary College. In 1971, he graduated with a BA degree, majoring in history. During this period, Bill also played as a semi-professional pitcher for the baseball team the New York Monarchs.
Bill moved to Miami after graduation and taught history and English at the Monsignor Pace High School for 2 years. In 1973, he went back to college and attended Boston University, eventually graduating with a MA degree in broadcast journalism. During this period, he wrote columns and reported for many news weeklies and local newspapers as well as interned at the WBZ-TV newsroom.
By 1995, O'Reilly had become a nationally known media personality. This is when he went to the John F. Kennedy School of Government at Harvard University. In 1996, he got an MPA degree from Harvard.
Broadcasting Career
Early on, Bill anchored and reported for varied TV stations like WFAA-TV in Dallas; also as a weather reporter at Scranton, Pennsylvania's WNEP-TV; at WFSB in Hartford, Connecticut; at KMGH-TV in Denver, where his reporting of a skyjacking won him a local Emmy Award; at KATU in Portland, Oregon; at WNEV-TV in Boston; and at WCBS-TV in New York and later as a correspondent at CBS News. He became a correspondent for ABC News in 1986 and in 1989 joined the show 'Inside Edition.' He then left Harvard to get his MPA at Harvard.
Sponsored link
In 1996 after Harvard, Bill was offered a contract to host the show 'The O'Reilly Report' (later renamed as 'The O'Reilly Factor') on the newly launched Fox News Channel. Since then, the show has regularly featured as the highest-rated show in comparison to the shows on any of the 3 main American 24-hour cable news TV channels.
Personal Life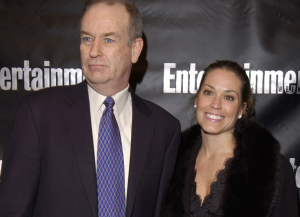 Bill married public relations executive Maureen E. McPhilmy in 1996 and the couple have 2 children. They divorced in 2011. He is one of the tallest personalities in the media, at 1.93 meters.
Bill O'Reilly – Net Worth and Salary
O'Reilly has an annual salary of $18 million and his net worth is estimated to be around 70 to 85 million dollars. Considered as one of the most successful non-fiction authors in the world, Bill gets royalties of nearly $30 million per year from his book sales.
Removal from Fox News
There were mounting reports in the media about Bill O'Reilly being allegedly involved in se*ual harassment against women working for Fox News Channel. A recent report from New York Times showed that Fox and O'Reilly had made a payment totaling up to $13 million to give women who had made these accusations.  Since the brand name of Fox News and the parent company 21st Century Fox came under fire, it was left up to the Murdoch Family which owns 21st Century Fox to conduct an internal investigation.  It was confirmed on April 19, 2017 that Bill O'Reilly who had been associated with Fox News Channel for 21 years, will not be making a comeback.
Sponsored link