Mike Francesa is longtime radio presenter and television analyst who majors in sports. He is mainly praised for his intellectual discussions and advanced knowledge in almost every topic relating to games. Francesa has received various awards and recognitions, including two Marconi awards for the major market Personality of the Year. In 2012 and 2013, he took the number 1 position among the top 100 sport talk radio hosts in Talkers rankings.
Sponsored link
Early life and education
Born Michael Patrick Francesa in 1954, he grew up in Long beach, New York. Francesa had a troublesome childhood: his father abandoned the family when he was just 8 and survival became tough with his mother's meager earning. He was the second born in the family of three boys. His younger brother, Marty, would later commit suicide in the 1990s.
Francesa attended the former Maria Regina High School, which has now been renamed to Kellenberg Memorial High school. While at Kellenberg, he participated in baseball but only for a short while. Francesa usually refers to his high school baseball as a "career", a term that some of his listeners have strongly criticized and are contemptuous about.
For his undergraduate studies, he first joined the University of South Florida before transferring to St. John's University where he graduated in 1977. He majored on communication and athletic administration.
Career
Francesa started his media career at College and Pro Football Newsweekly. He spent six years with the publisher before joining CBS in 1982.
While acting as an editorial assistant for CBS Sports, his superiors couldn't help   but to notice Francesa's apparently wide knowledge of past and current issues, names and events in the sports arena. They started to include him as a part time, then regular studio analyst for college basketball and football.
Francesa started expressing interest in his current employer, WFAN, while still working with CBS sports. He quit CBS Sports 4 years into his other job at WFAN.
When WFAN launched in 1987, he applied for a host job but the broadcaster rejected his request since the position he wanted was only reserved for popular personalities. Instead, WFAN agreed to employ him one of its producers, an offer that Francesa rejected. He continued to mount pressure on WFAN until the broadcaster finally agreed to let him host college and basketball on weekends.
Sponsored link
Francesa has always credited his former co-host, Chris Russo, for his professional rise. The two worked together in Mike and the Mad Dog, a very popular drive time period show that ran from 1989-2008.
As a radio host, Francesa has only worked with CBS and WFAN. ESPN invited him in 1993 but he did not take up the offer.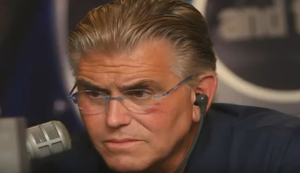 Personal life
After a divorce in 1983, Francesa married his second wife, Rose, 17 year later. The two are still together and have three children. The family lives in Manhasset, New York.
Francesa sustained knee injury in 2006 and though he underwent surgery, he has been hospitalized a couple of times for the same problem.
Mike Francesca – House

He owns a  house at Long Island which he bought in 2006 for $3.5 million.  It is a massive property, extending across 1.30 acres  of lush greenery.  The house includes two master suites,  a huge basement, a living room with fireplace,  two king-sized bedrooms, mudroom, sun-room and a fancy, gourmand kitchen.
Mike Francesca- Net worth and Salary
Mike Francesca's salary is $800,000 while his net worth stands at $4 million in 2015.
Sponsored link