Robert Edward Turner III or Ted Turner is an American businessman, media magnate, environmentalist, and philanthropist, most famous as being the founder of CNN news channel. One of the richest people in the world long ago, Ted's current net worth is around $2.2 billion.
Sponsored link
Turner was the largest private landowner in the US, till he was overtaken by J. Malone. The lands are used as ranches for bison; ted has the biggest herd on the planet. The bison meat are used in his 'Montana Grill' chain of restaurants.
Turner has donated $1 billion to the United Nations which subsequently founded United Nations Foundation; this gift made him the first celebrity who donated $1 billion. Among varied other efforts, Ted's environmental causes include launch of animated series like Planeteers and Captain Planet which are based on the environment. He also co-founded the non-partisan organization 'Nuclear Threat Initiative' aimed at prevention of chemical, nuclear, and biological weapons proliferation.
'It Ain't As Easy As It Looks' is Turner's biography written by Porter Bibb. It was released in 1997. Turner has also written another book 'Call Me Ted' chronicling his personal life and career.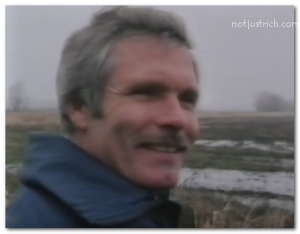 Early Life, Background, and Education
Ted Turner was born in 19th November, 1938 in Cincinnati, Ohio to billboard tycoon Robert Edward Turner II and Florence. They moved to Savannah, Georgia when Ted was 9 years old. Ted went to boys' preparatory private school, The McCallie School, located in Chattanooga, Tennessee.
After school, Turner went to Brown University. He initially wanted to major in Classics but changed it to Economics after his father rebuked him for the bad 'choice.' However, before he could graduate, he was expelled from the University for having a female student in his dorm room. In November 1989, Brown University awarded him an honorary BA after coming to the campus as keynote speaker at the second annual conference of the National Association of College Broadcasters.
Career and Success Story
Turner came back from Brown University In late 1960 and became the GM of his father's Georgia branch office business 'Macon.' At age 24, after his father's suicide in 1963, he took over the 'Turner Advertising Company' and became its chief executive and president. He soon made it the Southeast US's biggest outdoor advertising company.
Later, Turner acquired Atlanta based WJRJ, Channel 17 TV station and changed its call sign to WTCG and ran old films on it. He also purchased of another TV station WRET, Channel 36, and ran it like WTCG. In 1976, WTCG started using satellite for transmission of content to all the cable TV providers in the country. Soon, WTCG-TV Super-Station has 2 million subscribers and Turner was worth over $100 million. Turner also purchased the Atlanta Hawks and Atlanta Braves in 1976, primarily as programming content for WTCG. Braves later became very popular and successful. In 1978, he renamed Turner Communications Group as Turner Broadcasting System and WTCG as WTBS. In 1986, he founded the Goodwill Games to enable his super-station to provide Olympic-like sports content programming.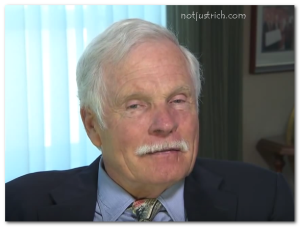 Cable News Network – Inception and Success

Turner started the first 24 hour news channel CNN in a country club in Midtown, Atlanta. As the company grew, he moved its offices to Omni International complex which he renamed as CNN Center. CNN is considered as one of the reasons behind the resurgence of Atlanta as a major city. CNN is currently a global media house.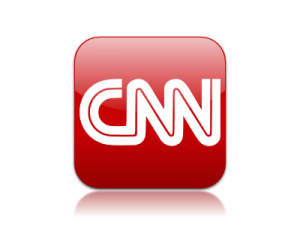 In 1986, Ted created Turner Entertainment Co. for overseeing his TV and film properties. He bought Jim Crockett Promotions in 1988 and re-launched it as World Championship Wrestling, which eventually overtook WWF (World Wrestling Federation). The same year he also started TNT/Turner Network Television. In 1992, he launched Cartoon Network and in 1994, he created Turner Classic Movies/TCM.
Turner Broadcasting System, Inc. was merged with Time Warner, Inc. in 1996. Turner was the head and vice-chairman of the cable networks division of the new company. AOL bought Time Warner in 2001 to form AOL Time Warner. However, after the dotcom bubble burst, the company's stocks tumbled and its performance deteriorated. As the largest shareholder of the company, Turner lost billions of dollars due to the collapse of its stocks. In 2003, the name and 'AOL' company were separated from Time Warner. The same year, Turner resigned as vice chairman; in 2006, he resigned from the company's board of directors.
Ted Turner – Homes and Estates
Turner owns nearly 2 million acres of ranch and personal land, most of which feature environmentally friendly options like reforestation, water resource management, progressive ecological projects, and reintroduction of local animal and bird species. A few of his estates are listed below: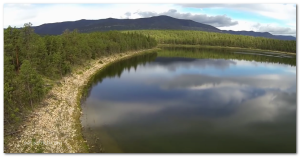 Sponsored link
Vermejo Park Ranch: Situated in northeastern New Mexico, the ranch is known for its hunting. It features luxury accommodations and lodges, guided tours, fishing, and varied other amenities. Customers can hunt varied wildlife, including mule deer, elk, pronghorn, black bear, bison, mountain lions, Merriam's Turkey, and Rocky Mountain bighorn sheep.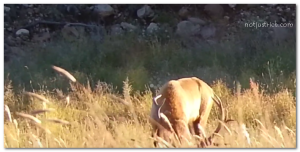 The Ladder Ranch: Situated in south central New Mexico and spread across 156,439 acres, the main attractions of this ranch include stunning views of pine lush Gila Mountains, Mimbres culture archeological remnants, and varied wildlife such as bison, fishes, and other amphibians.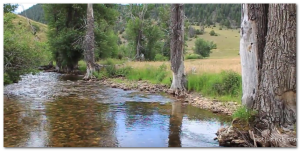 Flying D Ranch: Located amidst the Lee Metcalf Wilderness and Spanish Peaks Mountains in southwest Montana, this 113,613-acre ranch is known for its varied species, stunning landscape, and hunting expeditions.
Armendaris Ranch: Also in south central New Mexico, this 358,643 acres ranch features uncommon Chihuahuan desert grassland and wildlife like bison, desert mule deer, pronghorn, oryx, desert bighorn sheep, cougar and Bolson's tortoise. It also has a simple mansion with a living room and 4 bedrooms.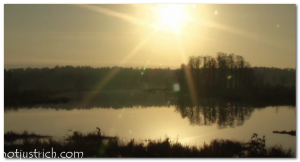 Avalon Plantation Manor: Spread across 30,000 acres and situated in Tallahassee, Florida, turner spends most of his time at this estate. The plantation covers about 8000 acres and features a French-style opulent mansion. The interiors of the mansion are well planned and well decorated.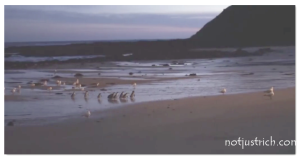 Phillips Island: Purchased in 1979, this private island courted some controversy. A part of the island was used by descendants of 'The Gullah' black slaves as a communal refuge. Turner later donated 68 acres of the property to them.
Ted Turner – Jets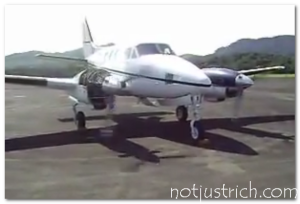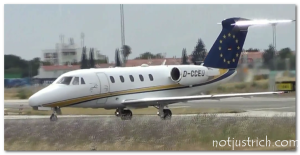 Turner owns 2 private jets. He has a Beech Aircraft Corporation produced twin-turboprop aircraft Beech – 65-A90-1 as well as a Citation III, which is a high-performance mid-sized business jet.
Personal Life and Trivia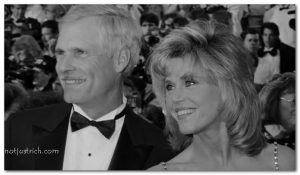 Ted Turner has been married 3 times. He married Judy Nye in 1960 and divorced her after 4 years. He had two children with her. He then married Jane Shirley Smith in 1965. The couple had 3 children. They divorced in 1988. Turner married actress Jane Fonda in 1991 and divorced her in 2001.
In 1991, he was the first media celebrity to be named Man of the Year by Time Magazine.
Turner is fond of sailing and has participated in many sailing competitions. He has won many America's Cups. In 1993, he was inducted into the Hall of Fame for America's Cup, and in 2011 into the Hall of Fame for National Sailing.
Turner has served in the US Coast Guard and was given the 'Lone Sailor Award' in 2013.
Ted Turner – Book (Autobiography)
The billionaire has penned his story in his own words, sharing his failures and triumphs on this motivational read, Call Me Ted.
Sponsored link