Stuart Scott was an anchor and a sportscaster on ESPN. His most notable appearances were on SportsCenter. He also made regular appearances for ESPN's coverage of the National Football League and the National Basketball Association games. He was also a columnist for ESPN The Magazine.
Sponsored link
Early Childhood
Stuart Scott was born on the 19th of July 1965 in Chicago, Illinois. His parents were Jacqueline Scott and O. Ray Scott. Scott grew up with three siblings – one brother and two sisters.
At the age of seven Scott's family relocated to Winston-Salem, North Carolina.
For his junior high school years Scott went to Mount Tabor High School before he moved to Richard J. Reynolds High School for his 11th and 12th grade. He graduated in 1983.
Stuart Scott was highly active in sports during his high school years. He was not only his school's football team captain but he also participated in track events. Apart from sports he was his school's Key Club Sergeant at Arms and also the student government's vice-president.
Career
Stuart Scott received his university education at the University of North Carolina. At UNC he was an on-air talent for WXYC. He also continued his sporting activities at the university where he played for the football team as a defensive back and a wide receiver. Scott graduated from the UNC in 1987 with a B.A. in Speech Communication.
Scott's first job after graduation was reporting news and anchoring sports for WPDE-TV in Florence, South Carolina, a job he held from 1987 to 1988. He then departed for Raleigh, North Carolina to work for WRAL-TV as a news reporter. He was there from 1988 till 1990. Stuart Scott then left for Orlando, Florida to join an affiliate of NBC, WESH, as a sports anchor and reporter.
Scott's next stop was ESPN2 when he was hired at a time when the network was seeking sportscasters who could pull in a younger demographic. He first worked on the show SportsSmash before becoming an anchor on SportsNight. Scott soon became a SportsCenter regular.
Sponsored link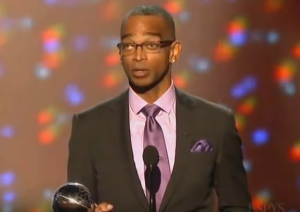 Scott's career was on the rise and in 2002 he became NBA on ESPN's studio host. Six years later he was named the lead host. At about this time he also started working as a lead host for ABC's NBA coverage. In addition to that Stuart was the site anchor for SportsCenter's prime time coverage of the post-season games of the NBA. Between 1997 and 2014 Stuart Scott was responsible for covering the league's finals.
Stuart Scott also ran a column in ESPN the Magazine which was called Holla.
Personal Life
Stuart Scott wedded Kimberly Scott in 1993 and the marriage lasted until 2007. The marriage produced two children – Sydni and Taelor Scott. Scott's home was in Avon, Connecticut.
Stuart Scott had an appendectomy in 2007 and this incidentally led to the discovery that he had cancer. Preventive and curative measures were taken including surgery and chemotherapy but in the end it didn't work. He succumbed on the 4th of January, 2015. During his last days,  Stuart Scott was in a relationship with  Kristin Spodobalski.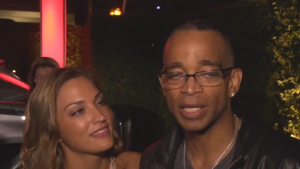 Stuart Scott – Net Worth and Salary
At the time of his death Stuart Scott's net worth was $15 million while his annual salary was $2 million.
Sponsored link