David Shepard Smith Jr. is an American journalist and TV news anchor currently working as the managing director of Breaking News Division of FNC/Fox News Channel and as the host of the show 'Shepard Smith Reporting.' He formerly hosted 'Studio B' and 'Fox Report with Shepard Smith' on FNC. From the time Shepard joined FNC, his trademark has been his very relatable style of reporting, which is reason of his immense popularity.
Sponsored link
Early Life and Career
Smith was born on January 14 1964, Holly Springs, Mississippi, to cotton merchant David Shepard Smith, Sr. and English teacher Dora Ellen Anderson. He attended a K–12 private school called Marshall Academy located in Holly Springs. Before he could finish school, his parents separated and his mother took him and his brother and moved to Florida. Hence, Shepard finished his high school senior year in Florida. He then enrolled at the University of Mississippi with a major in journalism, but dropped out just 2 credits away from college graduation.
Smith began his career in broadcasting after he signed a contract with Panama City Beach, Florida based WJHG-TV. His other work as a TV journalist include reporting for WBBH-TV in Fort Myers, for WCJB-TV in Gainesville, and for WCPX-TV in Orlando; anchoring and reporting for WSVN in Miami; and working as a correspondent in California for 'A Current Affair.'
Career at Fox News Channel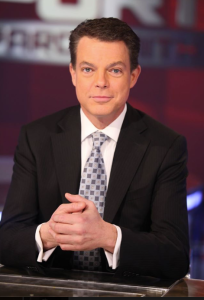 Sponsored link
Smith joined FNC in 1996 at its inception. Early on, he was a New York-based general assignment reporter and later became a senior correspondent.
At FNC, Smith was asked to report on several major news stories such as:

In 1997, he covered the death and funeral of Princess Diana of Wales.
In 2000, he covered the Florida ballot counting controversy for the US presidential election.
In 2001, he was one of the only 2 TV witnesses to the execution of Timothy McVeigh, the Oklahoma City bomber, in Terre Haute, Indiana.
In 2005, he reported on the varied events and news that occurred after Hurricane Katrina hit the city of New Orleans, Louisiana. He spent nearly 3 weeks covering the disaster.
Other news stories that he covered include 9/11 and the ensuing war in Afghanistan; the conflict in Middle East from the Lebanon- Israel border; the Columbine school massacre; Operation Iraqi Freedom; and the impeachment trial of President Clinton.

Besides being an anchor at the flagship news program of FCN, Shepard also hosts many prime time news broadcasts offered by Fox News for the Fox TV network.
In 2013, Smith was promoted as the managing director of Breaking News Division of FNC. The Fox Report and Studio B were phased out and Smith became the host of Shepard Smith Reporting.
Personal Life

Smith married a University of Mississippi classmate, Virginia Donald, in 1987. The couple divorced in 1993.
As per reports, Smith is dating Patty Frees of New York. They may be engaged and get married in a year.
 The 6 feet tall Smith as acted as himself in the movie 'Volcano.' His video as an anchor on FCN during the opening minutes of the 2003 Iraq War was used in the Michael Moore documentary 'Fahrenheit 9/11.'
Shepard Smith – Salary and Net Worth
Smith earns an annual salary of around $10 million and his net worth is estimated to be about $20 million.
Sponsored link