Robin René Roberts is an American journalist and TV broadcaster currently working as the anchor of the show 'Good Morning America' which airs on ABC.
Sponsored link
Robin is a survivor of breast cancer and MDS/myelodysplastic syndrome.
Early Life
Robin was born on November 23 1960, in Tuskegee, Alabama, to Lucimarian and Colonel Lawrence E. Roberts, a Tuskegee Airmen pilot. Her older sibling Sally-Ann Roberts is an anchor at WWL-TV, a CBS affiliate in New Orleans.
Roberts grew up in Pass Christian, Mississippi and went to the Pass Christian High School where she played tennis, basketball, and other sports. After graduating from school in 1979, she enrolled at the Southeastern Louisiana University in Hammond, Louisiana and eventually graduated with a degree in communication in 1983. At the university, Robin was a star performer for the women's basketball team and ended as the school's 3rd all-time top scorer and rebounder.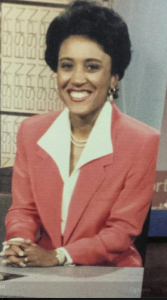 Career in Media
In 1983, Robin started working as a reporter and sports anchor for WDAM-TV located in Hattiesburg, Mississippi. This is how her career began.
A year later she started working for WLOX-TV in Biloxi, Mississippi and then moved to WSMV-TV in Nashville, Tennessee in 1986. From 1988-90, she worked at WAGA-TV in Atlanta, Georgia as a reporter and sports anchor. When in Atlanta she also worked as a radio host at the radio station 'V-103.'
Roberts joined ESPN in 1990 as a sportscaster and remained there till 2005. Her catchphrase 'Go on with your bad self!' on SportsCenter became very popular.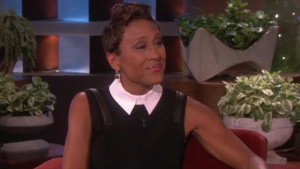 Sponsored link
In 1995, Robin started working for ABC News, especially as a featured reporter, and later on as a news anchor, on the show 'Good Morning America.' She became the co-anchor of the show in 2005. In 2009, George Stephanopoulos joined her as the co-anchor after Diane Sawyer left GMA. Soon, the two of them propelled the show to the top of the morning show ratings.
Personal Life and Trivia
Roberts came out publicly as a lesbian via a post on FB in December 2013. She has been together with Amber Laign, a massage therapist, since 2005. Co-workers and friends knew about her sexual orientation but this was her first public acknowledgement of it.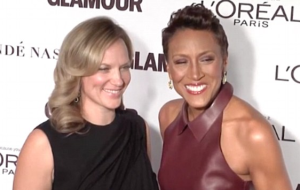 Robin was diagnosed as suffering from an early form of breast cancer in 2007. She successfully underwent surgery and chemotherapy treatments. In 2012, she was diagnosed with a bone marrow disease called MDS. She got a bone marrow transplant and overcame it.
Roberts has written 3 books, viz., From the Heart: Seven Rules to Live By; From the Heart: Eight Rules to Live By; and Everybody's Got Something.
At the 2010 Indianapolis 500 in May 2010, she drove the Pace Car.
The 1.78 meter tall Roberts has guest starred on an episode of 'Hannah Montana' telecast on Disney Channel.
In 2012, Robin was inducted into the Hall of Fame for women's basketball for the impact and contributions she made to the game via her play and broadcasting work.
At the 2013 ESPYs, Robin was awarded its 'Arthur Ashe Courage Award' by ESPN.
Robin Roberts – Net Worth and Salary
The net worth of Roberts is estimated to be $14 million. Her annual salary is $8 million.
Sponsored link