For people who think that the impoverished are destined to take whatever circumstances throw upon them, Robert Herjavec's life of living by choices proves to be a solid inspiration.
Sponsored link
Herjavec was born in Varazdin, Croatia. When he was eight, the family escaped to Halifax, Canada because his father had something controversial against the communist regime in Croatia. The family arrived with nothing but a suitcase and a disposable income of $20. They stayed in the basement of a family friend for one and a half year, even going hungry for days.
Herjavec had lots of obstacles; his impoverished condition and his inability to speak were two big dampeners. His father, whom he describes as a role-model, bagged a job in a factory making under $80 a week. Once when Herjaveck complained to his father as to how his classmates ridiculed him, the burly man said that he should either choose to complain and sulk or do something better and change his image.
Despite all the financial hurdles Herjavec managed to complete his education and became a graduate from New College from the University of Toronto. He did not hesitate to take low-paying wages jobs including that of delivery boy, retail salesman, and collection agent and waiter. Soon he moved to the film industry, and started working as the 3rd AD—assistant director. His hard work helped him get promoted to the position of Field producer of the XIV Winter Olympic Games and was even awarded one of the youngest producers to cover Olympics.
Herjavec applied for a position of selling mainframe emulation boards in his company Logiquest but was deemed not qualified for the position. But he didn't lose hope, he convinced them to hire him for no-pay. To sustain himself, he took on the job of waiting tables. His work was so good that he went on to become the General Manager of the company.
When he was fired from the senior position, Herjavec didn't lose hope, he set up his own company in the 90s called BRAK Systems—A Canadian Company for internet security software which was sold later to AT & T Canada in 2000 for $30.2 million.
Herjavec took three years break, where he became the stay-at-home father to his kids. By 2003, he founded the Herjaveck Group, which provides integrated security solutions. The company grew admirably fast as one of Canada's fastest growing companies, experiencing up to 643% growth from the year 2007-2012. As CEO, he drove his company to achieve $500 million in sales.
Apart from all this, he also  sold a Silicon-Valley based company to Nokia for $225 million.
Herjavec is a well-known face on television as well, a familiar face in Dragon's Den for CBC Television and on the popular reality series, Shark Tank.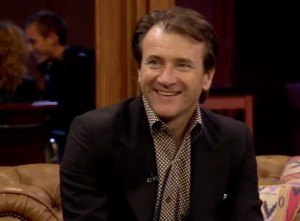 Robert Herjavec – Books
The talented man has also written two motivating books –Driven: How to Succeed in Business and Life (2010) and The Will to Win: Leading, Competing, Succeeding (2013).
Robert Herjavec – Wife and Children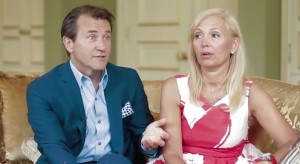 The 5 feet 8 inch tall entrepreneur married Diane Plese in the year 1994, but the marriage did not work out. He has three children two daughters Caprice and Skye, and son Brendan. She is a Croatian-based optometrist; they fell in love when he had come to her for an eye-check up. These were days before he become a multimillionaire.
Robert Herjavec – Girlfriend
The entrepreneur began dating Kym Johson, professional ballroom dancer and his 'Dancing with the Stars' partner.  Their on-screen chemistry was quite electrifying. They finished the 2015 competition in the sixth place, as the seventh couple to be eliminated.  Kym had dated Australian cricketer Shane Watson in the mid 2000 and was also his fiance, before they went separate ways.
Robert Herjavec with Kym Johnson (Dancing with the Stars)
Robert Herjavec – House
The inspirational entrepreneur is a living example of 'anything is possible if you believe in yourself'. The boy who lived in a basement and was almost homeless as a child, now has a house in North York, Ontario. This mansion is the largest and the most expensive one in the entire Canada. This $7.5 million property has been the toast of celebrities like Mick Jagger, John Travolta, Bono and more. He also has a home in Bridle Path of Toronto.
Sponsored link
House Pictures
Robert Herjavec – Net Worth
The prolific entrepreneur's net worth is $200 million.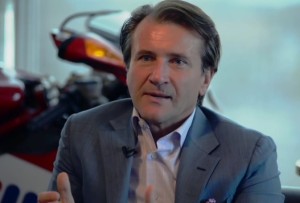 Robert Herjavec – Cars
Robert Herjavec has a huge passion for cars and is also the owner of the limited edition of LaFerrari. He has taken car-racing professionally and has competed in the Ferrari Challenge, with several wins under his belt.
Herjavec's car collection includes Mercedes-Benz SLS AMG (2011 model),  Rolls-Royce Phantom Drophead Coupe,  Lamborghini Gallardo Spyder, Aston Martin DB7 Vantage,  Lamborghini Murcielago LP640 Roadster,BMW 7-Series, a Cadillac Escalade and a Rolls-Royce Phantom.
Sponsored link