Queen Latifah is an American actress, singer, rapper, songwriter, TV producer, model, comedienne, record producer, and talk show host.
Sponsored link
Latifah is regarded as one of the first feminists of hip hop. He work in TV, film, and music has garnered her numerous awards including 2 SAG awards, a Golden Globe, a Grammy, 2 Image awards, as well as an Oscar nomination, 2 Emmy Award nominations, and 6 more Grammy nominations. She was awarded a star on the Hollywood Walk of Fame in Jan 2006.
Early Life
Queen Latifah was born as Dana Elaine Owens on 18th March 1970 to Lancelot Owens Sr., a cop, and Rita, a teacher. She was born in Newark, New Jersey and grew up as a Baptist in East Orange, New Jersey. When Latifah was 10 years old, her parents got divorced.
The stage name Latifah means very kind and delicate in Arabic; it was found by her in a book of Arabic names when she was 8 years old. She began singing in Shiloh Baptist Church choir located in Bloomfield, New Jersey. She attended the Irvington High School, played as a power forwards in the girls basketball team at high school, and also performed/sang in school plays.
Career and Success Story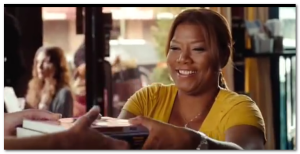 Career in music: Latifah started her music career by beat boxing for Ladies Fresh a hip hop group. She was also a part of the old 'Flavor Unit,' an MC crew overlooked by producer DJ King Gemini. A demo of Latifah's rap titled 'Princess of the Posse was made by DJ King Gemini and given to Yo! MTV Raps' host Fab 5 Freddy. Dante Ross, an employee at Tommy Boy Music liked the demo, signed her, and later released the first single 'wrath of my madness' in 1988. Subsequently, 'All hail the Queen,' Latifah's first album was released in 1989 when she was only 19 years old. Latifah rapped about black women issues such as harassment on streets, domestic violence, and relationship issues, etc. That's what distinguished her from the rest and made her popular. Motown Records released 'Order in the Court' her 4th hip hop album.

After the 4 hip hop album, Latifah started singing jazz standards and soul music. Eventually in 2004, she released 'The Dana Owens Album' a jazz/soul album. Her next album 'Trav'lin' Light' with guest appearances by varied stars including Stevie Wonder was issued in 2007. Latifah returned to hip with her 2009 album 'Persona.'

TV and Film career: Latifah starred in the popular Fox sitcom 'Living Single' from 1993 to 98. She also performed and wrote the theme music of the show. She also had a recurring role in the hit show 'The Fresh Prince of Bel-Air' which aired on NBC.

Latifah's movie career started with supporting roles and minor appearances in varied movies such as The Bone Collector, House Party 2, Living Out Loud, Juice, Set It Off, and Jungle Fever. She found critical, commercial, and mainstream success after she portrayed the role of 'Matron "Mama" Morton' in the hit Academy Award winning musical movie 'Chicago.' She even got an Oscar nomination for Best Supporting Actress for that role. Soon she got major roles in varied movies that met with critical and commercial successes, including films like Bringing Down the House, Hairspray, Scary Movie 3, Taxi, Beauty Shop, Barbershop 2: Back in Business, Last Holiday, Life Support, and Kung Faux. Queen Latifah turned producer in 2007 with the film 'The Perfect Holiday.'
From 1999 to 2001, Latifah had her own talk show 'The Queen Latifah Show.' The daytime TV talk show was revived and syndicated in September 2013. It has become a big hit.

Endorsements: Queen Latifah is a spokesperson for varied brands such as Pizza Hut, CoverGirl cosmetics, Jenny Craig, and Curvation ladies underwear. 'CoverGirl Queen Collection' is her own brand of cosmetics aimed for women of color that she endorses. A perfume line called 'Queen of Hearts' and 'Queen' has also been launched by Latifah.
Queen Latifah – Girlfriend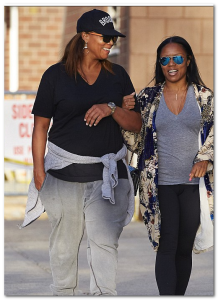 Sponsored link
She is dating choreographer, Eboni Nichols, who is nine years younger than her.
Personal Life and Trivia
Queen Latifah lives in Beverly Hills California.
Lancelot Jr., her older brother, was killed in a vehicular accident in 1992 when riding the motorcycle that was gifted by Latifah to him. His death had an adverse effect on her and triggered an episode of drug abuse and depression. This experience has been discussed in "Ladies First: Revelations of a Strong Woman" her autobiographical book which released in 1999. The key to the motorcycle is still worn by Latifah around her neck.
Latifah underwent surgery to reduce her breast size to DD from F in 2003, so as to alleviate shoulder and back pain.
Latifah supports numerous charitable causes such as FFAWN, 46664, Boys & Girls Clubs of America, Common Ground Foundation, Generosity Water, Citymeals On Wheels, Harry Holmberg Memorial Foundation, Save The Music Foundation, Keep A Child Alive, The Trevor Project, and Starlight Children's Foundation.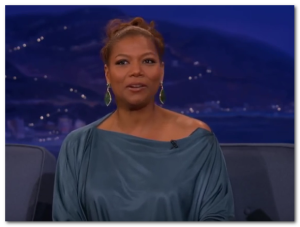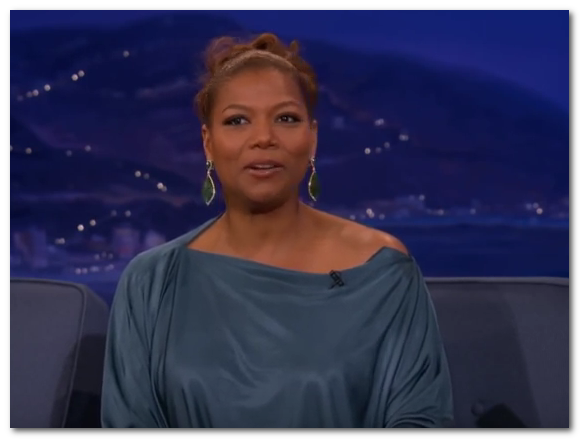 Queen Latifah – Net Worth and Salary
The 178 cm tall diva has a net worth of about $60 million and commands an annual salary of nearly $10 million a year from her talk show 'Queen Latifah Show' alone.
Sponsored link