Meg Whitman with a net worth of $1.9 billion, ranks in the Forbes list as the 20th in the 100 most powerful women in the world. Born on August 4, 1956, Margaret Cushing Whitman was born in Cold Spring Harbor, New York. She graduated from Princeton University and Harvard Business School.
Sponsored link
Meg Whitman is the CEO, chairman and president of Hewlett Packard. She began her career as the brand manager for Procter and Gamble, in 1979. Ten years later, she became the vice-president of The Walt Disney Company in 1989, specializing in strategic planning. She also worked as an executive for Hasbro, marketing two of their brands Mr. Potato Head and Playskool. She is also credited for importing the cult TV show for kids 'Teletubbies' into the US, from UK.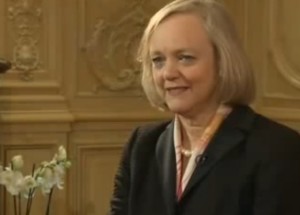 From 1998 to 2008, Whitman was the chief executive officer and president of eBay overseeing its growth as one of the biggest brands on the internet. During her tenure in office, eBay grew from a mere 30 employees to 15,200 employees and $4 million revenue to a whopping $8 billion annual revenue.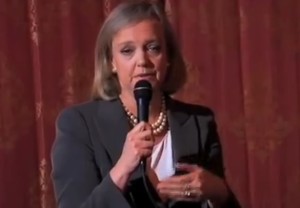 The New York Times reported in 2008 that Meg Whitman could be one of the women in the forefront of the running for the first female president for the United States. In 2009, she announced her candidature for the 2010 election for the governor of California. She funded her campaign by her own money, the remarkable thing to note was that no other self-funded political candidate spent as much money as she did. Reports said that Whitman had spent $144 from her personal funds to run her campaign. On November 2010, Whitman stated that she had lost to opponent Jerry Brown.
Leadership style
She says that the reason for her drive eBay to its phenomenal success was her emphasis to work on the strengths that figuring about weaknesses. She says that one should work on the basis of the feedback, figure out what is going well or what could go well and work towards bettering it.
Sponsored link
Husband and children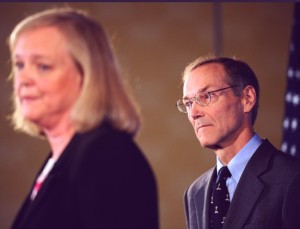 Meg Whitman's husband is Griffith Harsh IV, a neurosurgeon attached to Stanford University Medical Center. They have two sons. The family stays in Atherton in California, USA.
Book on Meg Whitman
The book 'The Power of Many: Values for Success in Business and in Life' unravels a fascinating account of how Meg Whitman transformed eBay from a small company into an e-commerce giant.
Philanthropy
Meg Whitman together with her husband founded a charitable organization in December 2006, wherein they donated 300,000 shares of eBay worth $9.4 million. By the turn of the first year, the successful charity raised $46 million in assets and spent $125,000 in various charitable causes., especially to the Environmental Defense Fund. The charity organization also funded $2.5 million towards many charter schools in San Jose.
Sponsored link