Marissa Mayer is the current CEO and president of Yahoo! According to Fortune Magazine 2013, she is the 8th most powerful businesswoman of 2013. She is also the 18th most powerful woman in the world, according to Forbes data for 2014. She was a key person in the management of Google for long, before she became the CEO of Yahoo in July 2012.
Sponsored link
Marissa was born in Wausau, Wisconsin (US) on May 30, 1975. Her father Michael Mayer was an environmental engineer while her mother was a Finnish art teacher. Her grand-father Clem Mayer was the mayor of Wisconsin, in his time.
Marissa Mayer was quite a shy child, who became confident only during high school as she started learning ballet and took piano classes. She studied in Wausau West High School, and began to show interest in biology, physics, calculus and chemistry. Soon, she became an all-rounded, becoming the president of the pom-pom squad as well as the debate team. While her high school pomp squad was the runner-up, the debate tea went on to win the Wisconsin State Championship. She graduated from high school in 1993 and was chosen by the governor of Wisconsin to become one of the representatives to be a part of the National Youth Science Camp in West Virginia.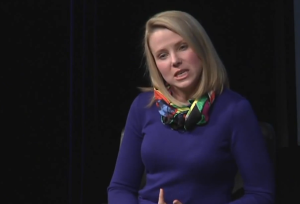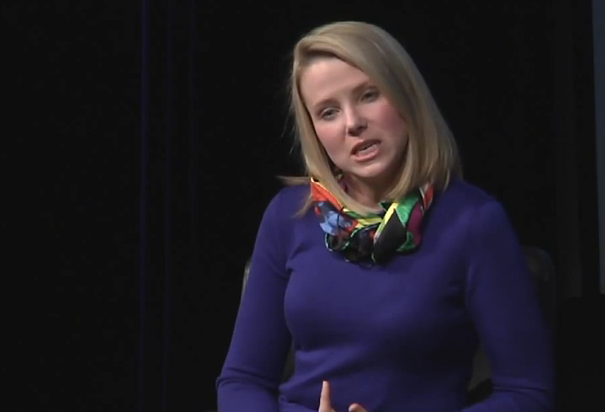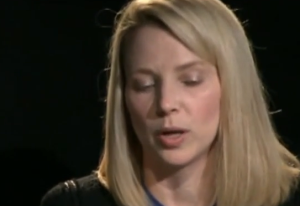 Miss Mayer graduated from Stanford University with honors with a BS in 1997 and a MS in 1999, in the field of computer science, the specialization being Artificial Intelligence. She built a travel-based software that would give advice to users in human-voices. She was the Computer programming instructor at Stanford University.
Mayer was flooded with job offers because of her patents and research in Artificial Intelligence. She opted for Google, in the face of other offers like Carnegie Melton University and McKinsey & Company. She was the 20th employee in Google and its first female engineer.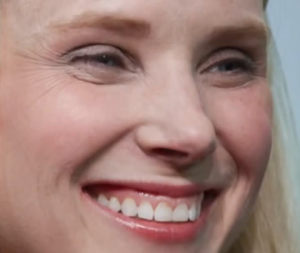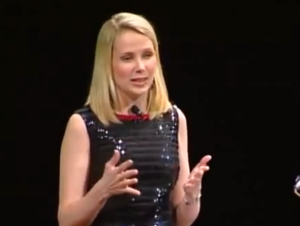 The 39 year old Marissa Mayer's USP has been her attention to detail, something that advanced her career by leaps and bounds in Google. She had a role to play in writing and developing Google's search codes. She oversaw Google's search home page and was promoted to the position of Google's product manager and then the Director of Consumer Web Products. In 2005, Marissa became the vice-president Of Search and User Experience, where she overlooked the functionalities of Google Search, Google Images, Google Product Search, Google Maps, Google Toolbar AND Gmail . She became the Vice President of Google Product Search after which she became the president of Local, Maps and Location Services.
 Marissa Mayer  as the CEO of Yahoo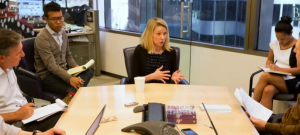 On July 16, 2012, Marissa Mayer became the president and CEO of Yahoo. She is also the member of the Board of Directors for the company. On May 20, 2013, Miss Mayer was instrumental in making Yahoo buy off Tumblr for a whopping $`1.1 billion. This was just one of the many acquisitions that were to follow since her appointment. Since the dynamic CEO has taken over as the Yahoo CEO, the stock price of the Internet Giant has doubled since 2012.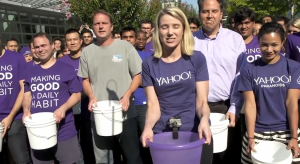 Marissa is known to be a task-master but friendly and approachable too. As soon as she took over, she wound-up work from home concepts and ensued that employees reported at 8 in the morning and left at 7 in the night, compared to their earlier approach of coming late and going early by 5 PM. Marissa is known to be a people's person who prefers eating in the cafeteria with the employees.
Book on Marissa Mayer
The book Marissa Mayer and The Fight to Save Yahoo is an interesting tale on how Marissa Mayer took reins of Yahoo when it was sinking, and made it into a formidable company, in spite of stiff opposition even from inside the company.
 Marissa Mayer – Personal Life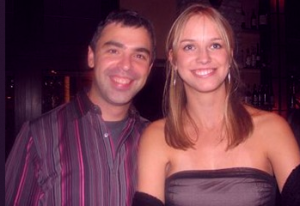 Sponsored link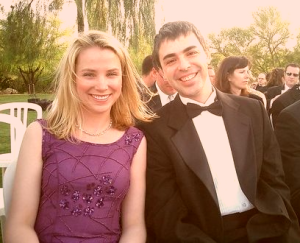 Marissa Mayer dated Google's co-founder Larry Page in 2000-2001. She married Zachary Bogue, investor and lawyer in 2009. When Marissa was hired as the CEO of Yahoo, she also announced that she was pregnant. She gave birth to a baby boy, whose name is Macallister, the name chosen from suggestions given by people over the social media. On December 10, 2015, Mayer gave birth to  identical looking twin girls.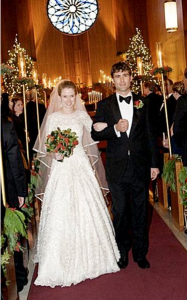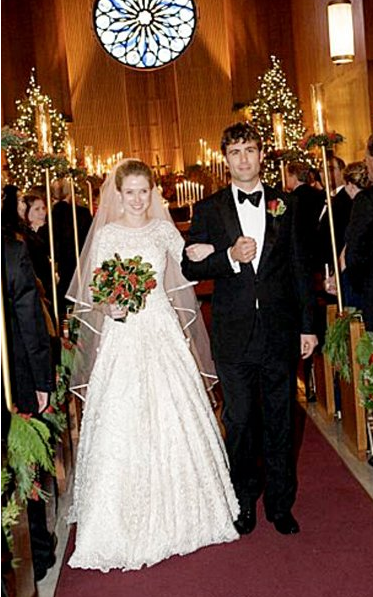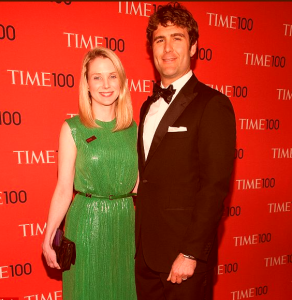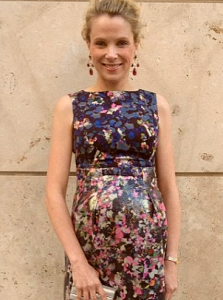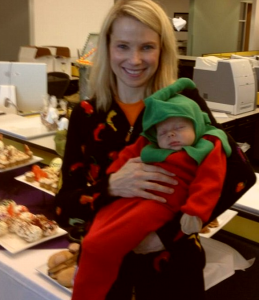 Marissa Mayer – House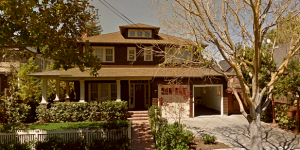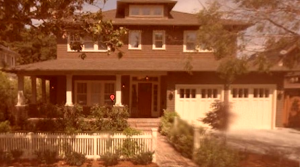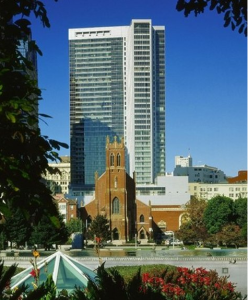 Marissa Mayer lives in a penthouse in San Francisco, Four Seasons Hotel. She also owns a home in Palo Alto. She loves to travel at Vail, where she enjoys skiing with her husband. Despite all the affluence, Marissa likes simple things in life, she is someone who would enjoy a drink from McCafe at McDonalds than a drink at a five-star hotel .
Cars
Among a few cars, Marissa Mayers prefers to take her BMW to work.
Marissa Mayer's famous laughter
One of her quirks is her peculiar bubbly laughter that is infectious to some and irritating to the others. But her employees would definitely dig her laughter and would always love to hear her smiling or rather laughter.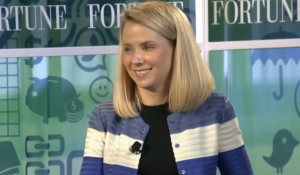 Marissa Mayer – Net Worth and Salary
Marissa Mayer's net worth is $300 million and her salary has been $117 million for the past five years. She received $36.6 million for the first six months. It has been announced that by mid 2017, she will have made $365 million for her service to Yahoo for five years. Out of this, 14 million  is the 'make whole' payment to compensate for the stock she left when she quit Google.
What happens to Marissa Mayer after Verizon buys Yahoo
Marissa's autocratic style of working did not go down with its employees. While she adopted a policy of firing people who didn't perform, others quit on their own thinking that it would  be better to resign rather than get removed for non-performance.  On July 24, 2016, it was announced that Verizon is all set to buy Yahoo for $4.8 billion, which is 1/10th of the price Microsoft had offered the company in 2008.  Yahoo as the authority website and email service is now a part of Verizon.  Yahoo only has shared in two companies,  Alibaba and Yahoo Japan.
As far as Marissa Mayer is concerned, she has said that she will stay back. If she quits, she gets a severance pay of $55 million.
Sponsored link