Lindsey Stirling is a well-known YouTube violinist who mesmerizes her viewers with her wonderful, choreographed performances. Apart from appearing on YouTube, she also does live performances to an enthralled audience. She was born on September 21 1986, in Santa Ana, California. Unlike most other violinists, she performs several genres of music, which include cross-over, pop, dancehall and electronic music. Her titles include tracks from other musicians. She also mixes some of her own work to come up with something electrifying and unique.
Sponsored link
In the year 2012, her music video, entitled Crystallize finished as the eighth-most watched video. During the first YouTube Music Awards, she did the cover version of Radioactive, with Pentatonix, and took home the Response of the Year award.By the end of 2104, she had sold more than a million singles all over the world. She created a new channel, called Lindseystomp, which had more than 7 million subscribers by April 2015.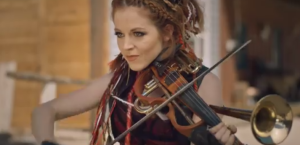 Early life
The 1. 61 meter tall Lindsey Stirling prides herself with having been brought up in a simple home, and she attributes her success in playing the violin, to this upbringing. It was during the tough times that her parents found a violin teacher to give her half-lessons at a low price, and the rest she learned on her own. The parents insisted on her taking the lessons despite the teacher saying that she could not learn well, taking just 15-minute lessons, so she began playing the violin at the age of 5.
Sponsored link
They moved to Gilbert Arizona, where she attended the Mesquite High School and joined up with four other musician friends to form the group Stomp on Melvin. She ended up writing a solo violin track, which had a rock theme, which made her win the Arizona State title of Junior Miss. She went on to win the Spirit Award in the America's Junior Miss finals. She also joined up with the group Charley Jenkins Band for a year. She is happy to find a platform on Youtube which has give wings to her passion of playing the violin and dancing
Lindsey Stirling – Rise to Popularity and Net Worth
When she went for the America's Got Talent competition, the judges were mesmerized by her playing style; not only could she play the violin very well, but could also perform complex dance moves without playing a note out of tune. For most violinists, this is quite a feat and she got the deserving attention of the judges. During the contest, the judges somehow felt that she did not put more effort in the other performances and she got some scathing remarks, with one of the judges suggesting that she joins a group.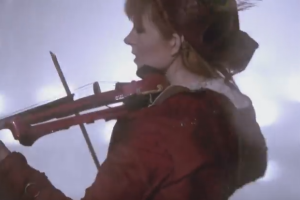 However, she decided to continue playing solo and soon got the attention of producer Devin Graham. He is the one who encouraged her to make videos for YouTube, and before long she was a star in her own right, and the rest of the music and dance profession started noticing her. She has truly come a long way and she still has talent to push her career much further. With a net worth of $3 million, there is no stopping this princess of music.
Sponsored link