Kathy Griffin is an American producer, television host, stand-up comedian, writer, and actress. For the past 10 years, Anderson Cooper and Kathy have co-hosted the New Year's Eve special show on CNN. Griffin became famous after her acting roles in popular sitcoms such as 'Suddenly Susan', etc.
Sponsored link
Griffin is known for her casual talkative style and controversial opinions about celebrities and varied topics like religion, sexuality, etc. She received a Grammy for Best Comedy Album in 2014 and thus became only the 3rd woman, after Whoopi and Lily Tomlin, to win a Grammy for this category.
Early Life and Education
Kathleen Mary "Kathy" Griffin was born in Oak Park, Chicago suburb, Illinois on 4th November 1960 to Maggie Griffin and John Patrick Griffin. Her mother worked as a cashier at the Oak Park Hospital.
Kathy attended St. Bernadine's Elementary School and later enrolled at the Oak Park and River Forest High School. She did musical theatre in high school. Even though her parents wanted her to go to college, Kathy stated that her ambition was to be famous by becoming an actress.
Kathy's family moved to Los Angeles when she was 18 years old. There she studied drama and theater at the Lee Strasberg Theatre and Film Institute.
Career
Kathy began her career in the early 1980 via varied performances in an LA based improv comedy troupe known as 'The Groundlings.' For the next 10 years, Griffin performed stand-up comedy at many different shows. She also got offers of guest star roles on several shows on television. She then got a breakthrough role in the NBC sitcom Suddenly Susan. This show which ran from 1996 to 2000 helped her gain widespread fame and recognition.
Griffin continued climbing the ladder after her hit reality show called 'Kathy Griffin: My Life on the D-List' which aired on Bravo from 2005 to 2010. She won two 'Outstanding Reality Program' Emmy awards for this program.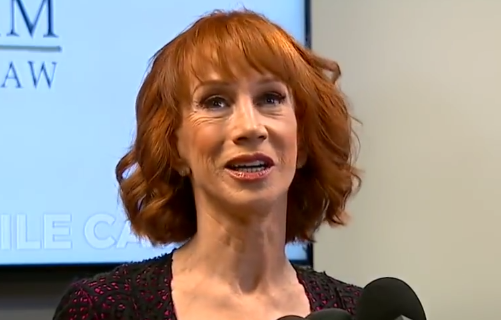 Kathy Griffin – Donald Trump Controversy
On May 30, 2017, Kathy appeared in a photo which showed her holding a decapitated and blood head which somewhat resembled President Donald  Trump. She was widely criticized for the picture, and Chelsea Chilton tweeted that the photo was wrong and vile. Following the criticism, Griffin tendered an apology but this did not prevent her from getting fired by CNN a day later. Squatty Potty also discontinued their association with her. A few days later, Kathy appeared before the media and cried stating that 'Trump broke me.' This was also panned by all. On June 4, Alec Baldwin tweeted his support for Griffin and called Trump a senile idiot. Other celebrities who had come out in support of Kathy include Larry King, Jamie Foxx, and Rosie O'Donnell.
Sponsored link
Personal Life and Trivia
Griffin got married in 2001 to Matt Moline of DC. They divorced 5 years later. Kathy then removed her tattooed wedding ring with laser treatment.
Kathy has dated Apple co-founder Steve Wozniak, actor Isaiah Mustafa, and Tom Vize who was her tour manager. She is now dating a marketing exec named Randy Bick.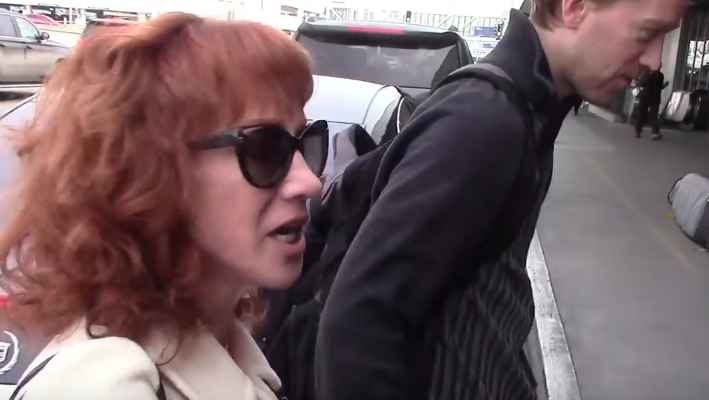 Kathy Griffin – Net Worth
Griffin's net worth is estimated to be about $20 million.
House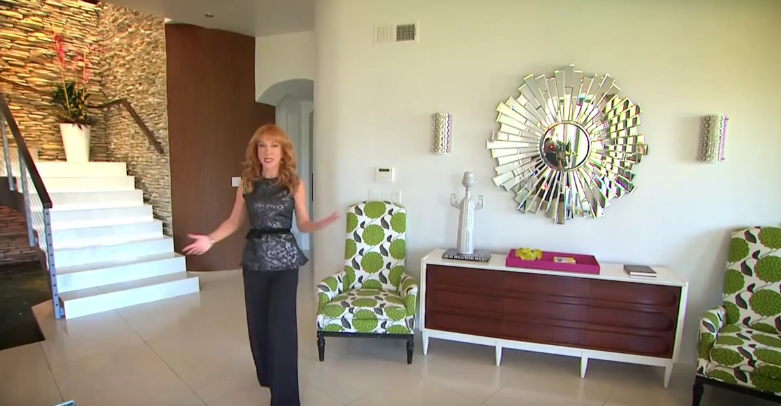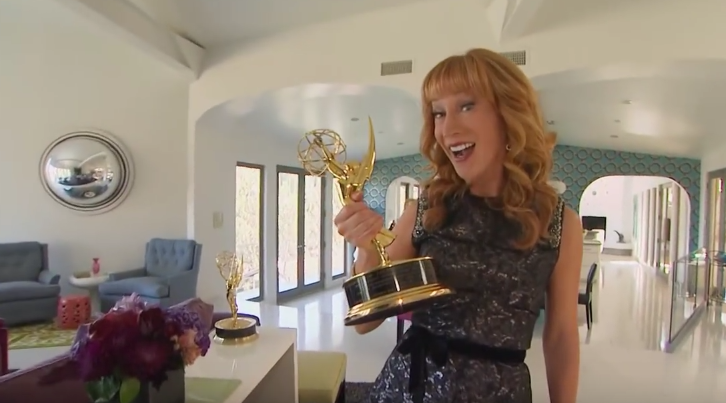 She has a $10.5 million mansion in Bel Air, California, with neighbors like the Kardashians and Stevie Wonder.  She is a self-made celebrity icon who started off with a monthly rent of $289 for an apartment in Los Angeles.
Sponsored link