Chris Hemsworth, the popular Australian actor is known for his well-toned physique and memorable roles like Thor in the movie Thor (2011), The Avengers (2012), and Thor – Dark World(2013) and Avengers- Age of Ultron(2015). He was also popular as 'Kim Hyde' in 'Home and Away' a well-received Australian TV series. Some of the other movies of Chris include Star Trek( 2009), a thriller called Perfect Getaway(2009), horror-comedy called The Cabin in the Woods (2012), war movie Red Dawn (2012) a motivational sports movie called Rush (2013)and action-thriller Blackhat in 2015.
Sponsored link
Chris Hemsworth was born on August 11, 1983 in Melbourne, Australia. His mother was an English teacher while his father was into counseling and social service. His elder brother Luke is an actor who worked in the TV serial 'Neighbors' while his younger brother Liam also worked in Neighbors and a few other TV series.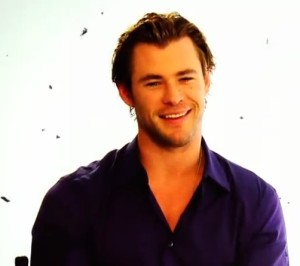 Wife and Children
Chris married Elsa Pataky in early 2010. She is a Spanish actress. The marriage took place in December 2010; They have three children – India Rose, daughter (born 2012) and twin sons Tristan and Sasha (born March 2014).
The 91kg actor was bought up in surroundings and farm area which tested his strength. He likes to beef up his 6 feet 3 inch tall frame with a steady organic protein diet. He balanced the muscle breakdown from protein by eating unprocessed carbs in the form of fresh fruit and vegetables. He swears by scarfed quinoa, because it has protein. He loves a good sport and confesses his undying love for soccer, rugby and boxing. He loves to hit the gym to tone his muscles.
Chris Hemsworth – workout tips
The most loved asset of Chris Hemsworth is his broad chest. He advocates dumbbell flyes for pectoral muscles to beef p chest muscles. This is done by lying on a flat bench with a dumbbell on each on hand. Lift the dumbbells up with your palms looking at each other, and bring them down slowly as you breathe in. Bear in mind that you have to press your chest muscles and use them to lift the weights.
Sponsored link
Another workout that Chris Hemsworth does for his chest is the Barbell Bench Press. This is done by lying on the back on a flat bench and using a barbell with medium weight. Begin at the top and gradually lower the weight, till the bars touch the chest. Raise it slowly and apply the pressure on the chest muscles.
Net Worth
His net worth is $37 million (details as per earnings of 2014)
Chris Hemsworth – House
He bought a house worth $7.2 million, a luxury property in Byron Bay in New South Wales in 2014. The house close to Seven Mile Beach, has a lagoon and two lap pools. The property faces the beach and includes three separate villas, eleven bathrooms and eight bedrooms. The property is secluded and does not even have a name, it was listed for sale in 2012 for $15 million but the actor was able to get it an aforementioned good deal.
A year before, he bought a $4.8 million grand 6382 square-foot Malibu home from Austrlian actor Paul Hogan.
  Car
Chris Hemsworth owns an Acura MDX car worth $44 thousand.
Sponsored link