Angela Renée White, who is professionally known as Blac Chyna, is a model and an entrepreneur. She is from America and is often called as the "Video Vixen" because of her frequent appearance in some hip-hop music videos.
Sponsored link
Early life and Background
Born on 11th May, 1988, in Washington D.C, USA, Chyna went to Henry E. Lackey High School in Maryland. While in school, she attempted dance at Old Diamonds for a short period under a different name "Cream". She started her life as a professional stripper under the name Dora Renee. She completed her studies at Johnson and Wales University in Miami. Chyna also went on to do a professional course in JLS Makeup Artist School. She graduated in the year 2013 from this school.
Career
She started as a stripper and met a client in the strip club who called himself as Black China as he was black in skin and had Chinese kind of eyes. Hence, this is the reason she took up the name and cream turned into "Blac Chyna".
During 2010-2012 she worked as an urban model. Chyna has appeared in the cover of magazines like Straight Stuntin', Black Men and Dimepiece.In November 2010, she was selected to play as a body double to Nicki Minaj in Kanye West's video called "Monster" which featured celebrities like Nicki Minaj, Rapper and husband to famous singer Beyoncé – Jay Z and Rick Ross. March 2012, she did a photo shoot for Urban Ink Magazine. She posed for Smooth Girl Magazine in April 2012.  Nicki Minaj released her son "Come On A cone" on October 2012, which featured Black Chyna. They posed with each other as they looked quite similar to each other with same hair color. On December 12, 2012, she did a small role in a movie called DGK.
In December 2013, only seven months after her graduation from the makeup school, she launched her own online clothing boutique called 88Fin. September 2014 was the time when she also launched her professional brand of fake/false lashes called Lashed in the same year in California. It was also the time when she launched her beauty salon and her make up brand. The salon is in Encino, Los Angeles. The Lashed Bar also offered threading, tanning, spraying, body wax, facials, body wraps, make up, lash extension and lash strips.
Blac Chyna – Boyfriend
Chyna met Tyga in the year 2011, through a tour called F.A.M.E and officially started their relationship after the shooting of his famous video "Rack City". The couple got engaged in the year 2012. They split in 2014 soon after and one child together. In January 2016, she was known to have started dating with Kim Kardashian's brother Rob Kardashian who is known to work in a reality show "Keeping Up with the Kardashians".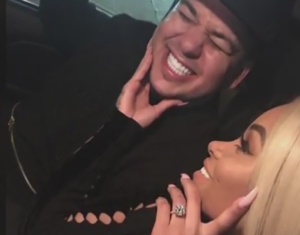 On April 5 2016, the 5 feet 2 inch tall Blac Chyna posted a diamond ring gifted by Rob Kardashian on Instagram saying 'Yes' alluding to engagement.  Though the  Kardashian family especially Khloe Kardashian and Kris Jenner  are not happy with the developments, Blac has expressed an interest in calling herself 'Angela Kardashian'.
Sponsored link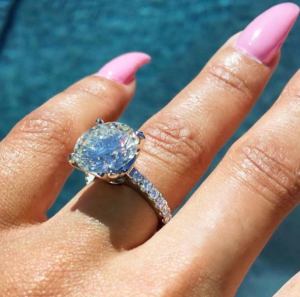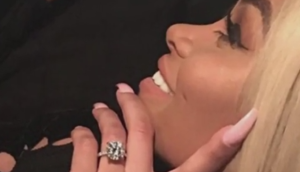 Controversy
In January 2016, she was arrested for public intoxication and for possession of a controlled substance. Chyna's ex-fiance Tyga who is currently dating Rob Kardashian's sister Kylie Jenner is another fresh controversial story about the whole family tree since April, 2016.
Black Chyna – Net worth
Chyna's net worth is $1.5 million (approximate). Being a model and socialite, she earns a good amount of money for her appearances and events, ranging from $10,000 to $13,000 per appearance. She is also an entrepreneur having set up an eyelash bar known as 'Lashed' in 2014. One glance at the website shows the amount of services that the eyelash bar offers ranging from eyelashes, facials to threading and all forms of eye-make up.  She  also promotes various brands,  skin-care products and clothing labels through her Instagram and Twitter.
House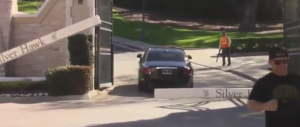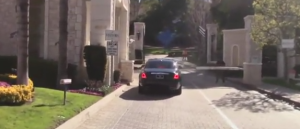 She owns a gated mansion in Tarzana, California.  Apparently her boyfriend and fiancé Rob Kardashian has been living in with her.
Sponsored link