Mikhail Gutseriev is a Russian entrepreneur. He owns various organizations including Russneft, ZAO Mospromstroy, OAO Russia Coal and NK Neftisa. He also owns a British company GCM Global Energy. Gutseriev earns annual revenue of $ 1 billion. He controls a large portion of oil asset in Kazakhstan and Azerbaijan. One of the top forty richest people in Russia, he owns 8 popular radio stations. Gutseriev also owns a large asset in real estate as well.
Sponsored link
Early Life
Gutseriev was born on 9th March 1958. He was born in a large family with many children. He went to high school in Grozny. His life started early. After high school he started working as a porter. However, it did not take him away from his study. Gutseriev continued his higher study in chemical engineering from Dzhambulsky Technological Institute. He graduated from this institute. He got other degrees from Moscow based academy. In addition, he got a law degree and PHD in economics.
Career
He started his career as a laborer. Then slowly his hard work and talent got him promoted to the position of General Director in Grozny Industrial Association. He was involved in private banking sectors in Soviet Union. He founded the first co-operative bank of Russia in the year of 1980.
In the year of 1992, he founded an industrial financial company known as BIN Bank. This company brought together industrial enterprises, financial institution and trading companies.
In the year of 2002, he founded Russneft. Withing five years the company made its way to the top 10 list of Russian oil companies.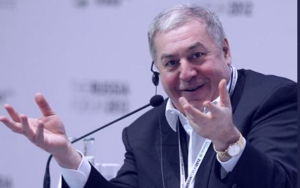 Sponsored link
Personal Life
Gutseriev has one daughter and two sons. The eldest son Chingis Gutseriev died at the age of 22, in the year 2007. His death had been a shock to everyone as it was sudden and untimely. According to the reports, Chingis Gutseriev had been involved in a car accident. It was nothing serious. Chingis Gutseriev came home and informed everyone that he was doing fine. After that he went to sleep and did not wake up He died of a heart failure. Strangely, there is no record of any car accident in the offices of Internal Affairs.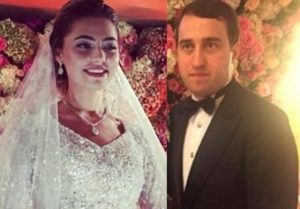 The youngest son Said went to Oxford University for study. On March 26, 2016, the 28 year old Said tied the knot with Khadija Uzhakhova, a 20 year old student. The wedding can be called a dream wedding with Jennifer Lopez, Enrique Iglesias and Eminem performing in the ceremony. In this billion-dollar wedding ceremony the bride stole the show as she walked down the aisle draped in a $3 million wedding gown designed by Elie Saab. The bridal gown weighed around 25kg and was decorated with expensive stones.
Political Conflict
Mikhail Gutseriev had a conflict with the president of Ingushetia, Murat Zyazikov in the year of 2007. In July 2007, Gutseriev declared that the Russian government is putting pressure on him. Eventually he stepped down from the post of president of Russneft. Additionally, he decided to retire from business.
In August 2007, Moscow Court issued an arrest warrant for Gutseriev. He was charged with tax evasion. However, later in the year of 2009, the warrant was cancelled as the court dropped the charge.
Mikhail Gutseriev -Net Worth
Gutseriev's net worth is $2.2 billion according to a report published in 2015. However, according to Forbes for 2016, Gutseriev enjoys a net worth of $6.2 billion.
Sponsored link