Andrea Mitchell is a Washington DC based American journalist, reporter, TV anchor, and NBC News commentator. Since November 1994, she has been the Chief Foreign Affairs Correspondent for NBC News. She also anchors the show Andrea Mitchell Reports which is telecast at 1 PM on MSNBC on weekdays.
Sponsored link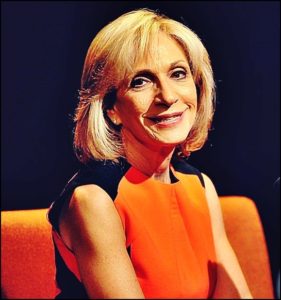 Early Life
Andrea was born on 30th October, 1946 in New Rochelle, New York to Jewish parents Sydney and Cecile Mitchell. Her mother worked at Manhattan's New York Institute of Technology as an administrator while her father was part-owner and CEO of a company that manufactured furniture in Manhattan. Her father was also president of New Rochelle's Beth El Synagogue for forty years.
Mitchell attended the New Rochelle High School. Later she went to the University of Pennsylvania and graduated in 1967 with a BA degree in English literature. Andrea worked as the news director at WXPN, the university's student radio station.
Career
Mitchell began her career at Philadelphia's KYW radio as a reporter. She also reporter for KYW-TV, its sister station. She became famous as the City Hall correspondent for KYW.
In 1976, Andrea joined WTOP, a CBS affiliate, located in Washington DC. A couple of years later she joined the news operation network of NBC and worked there as a general correspondent. She was moved as energy correspondent for NBC News in 1979. During this time she reported on the nuclear disaster at Three Mile Island and the existing energy crisis. From 1981, Mitchell reported from the White House and eventually became the main congressional correspondent.
In 1993, Andrea became the Chief White House Correspondent and a year later got promoted to NBC News' Chief Foreign Affairs Correspondent. She has retained this position since 1994. Mitchell became the host of her own show 'Andrea Mitchell Reports' in 2008.
Mitchell has reported on the 2008 US Presidential elections for NBC News broadcasts and MSNBC, including in shows like Today, News with Lester Holt, etc. In addition to her own show, Andrea has guest hosted and featured as guest on many different programs and shows like Hardball with Chris Matthews, Meet the Press, and The Rachel Maddow Show.
Sponsored link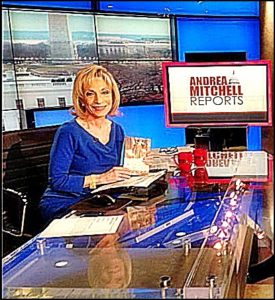 Personal Life
Mitchell married Gil Jackson and divorced him in the mid-1970s.
Andrea married for the second time on 6th April 1997. She married Alan Greenspan, the former Federal Reserve Chairman and 20 years older than her, after a long relationship.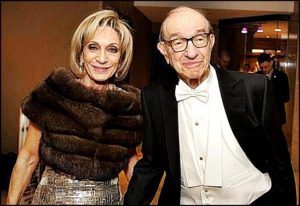 Trivia
In the 1970s, Mitchell's brother Arthur moved to Canada and became Yukon's Legislative Assembly member. In the 2000s, he became the Yukon Liberal Party's leader.
Andrea wrote a book called 'Talking Back… to Presidents, Dictators, and Assorted Scoundrels' in 2005. It chronicled her work as a reporter and journalist.
Andrea was diagnosed with breast cancer in 2011 and it was successfully treated.
In July 2005, Mitchell was forcibly removed by security guards after she asked a few pointed questions to Sudanese President Omar al-Bashir at his news conference held in Khartoum, Sudan.
Andrea faced widespread criticism and subsequently apologized for referring to southwest rural Virginia as redneck country during an MSNBC appearance in June 2008.
Andrea Mitchell – Salary and Net Worth
Mitchell's annual salary is about $750,000 and her net worth is estimated to be $5 million.
Sponsored link