Justin Trudeau (full name Justin Pierre James Trudeau) is the Canadian Prime Minister and the leader of the Liberal Party. He was born on December 25, 1971 in Ottawa, Canada. He is the first son of Pierre and Margaret Trudeau.   When he was just six, his parents separated, with his father retiring as prime minster in the year 1984. He has two brothers –Alexandre and the late Michel and two half-sisters and one half- brother.
Sponsored link
Justin Trudeau – Education
He has a Bachelors of Arts degree in literature and a Bachelor of Education degree. Post, his graduation he worked as a Math and French teacher.  For two years, from 2002 to 2004, he studied engineering and also earned a Masters degree in Environmental Geography from McGill University. He gave up his educational pursuits to seek a career in government service.
When he was 28, Justin's father died. His eulogy at his father's funeral showed that he had the makings of a leader. He started supporting various causes, including heralding the Kokanee Glacier Alpine Campaign to support winter sports two years after his brother Michel Trudeau succumbed to ski-trip accident.
Rise in Political Career
A follower of the Liberal Party, Trudeau became even more actively involved with the party, after the turn of 2000. In 2006, he proved to be a strong critic against the concept of 'Quebec Nationalism' which he believed was an outdated idea and not a reflection of how modern Quebec should turn out to be.
Trudeau became the Member of Parliament for Papineau in 2008, he was re-elected for two terms, in 2011 and 2015. He served as Liberal Party's representation for shadow cabinet (senior group of opposition leaders) in fields like Youth and Multiculturalism,  Youth and Amateur Sport, Citizenship and Immigration and Post Secondary Education.
On April 14, 2013, Justin Trudeau became the elected leader of Canada's Liberal Party. He was appointed as the Prime Minister of Canada on October 19. 2015 with an emphatic win at the Federal Election. He is the second youngest prime minister Canada has ever had (after Joe Clark), and is the first child of a former prime minster to be graced with this post.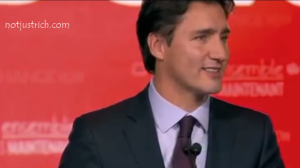 Trudeau's goal as a prime minister includes improving the infrastructure,  increasing taxes for the affluent, making marijuana legal, reforming the voting system and improving the sports culture, especially ice-hockey.
Justin Trudeau – wife and children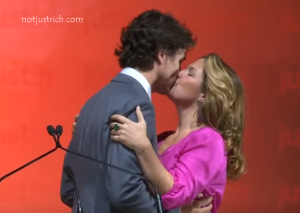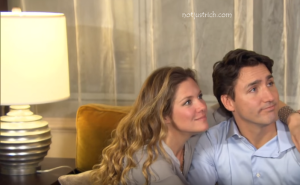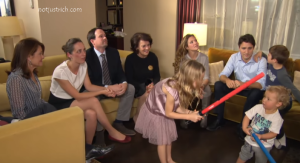 Trudeau married long-time friend Sophie Gregoire on May 28, 2005. They have been friends even since they were children. In fact, Sophia was the classmate of Trudeau's brother Michel.  Though Sophie and Trudeau had drifted apart with the former turning to politics and the latter becoming a prominent TV figure; they reconnected again in 2003.  They have three children – Xavier James (born 2007), Ella-Grace Margaret (Feb 2009) and Hadrien (born 2014)
Trivia
The 1.88 mete tall Trudeau is a health freak and leads a disciplined lifestyle.  He also participated in a boxing competition, a charity event with a conservative senator Patrick Brazeau.  Justin Trudeau's shirtless pictures went viral, showing to the world that this is one leader who looks great and is in shape. He won a TKO in two rounds, defeating the senator  comprehensively, raising $230,000 for cancer research. According to the terms laid before the fight, Brazeau had to part with some of his hair, after losing the fight.
Sponsored link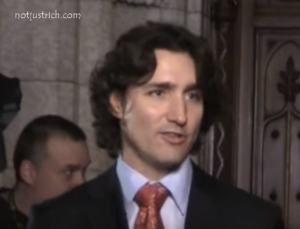 Known to be a people's person, Trudeau is also the life of a party with good dancing skills, to boot. Because of his sheer good looks, fitness, style statement and a good body, he is termed as the 'world's sexiest politician-male'.
Justin Trudeau – Bhangra Dancing Pictures and video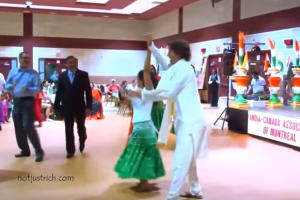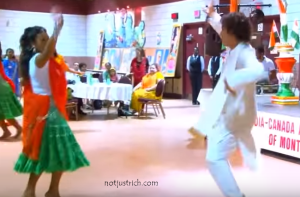 Justin Trudeau – Shirtless Pictures
These are pictures from Justin Trudeau's popular boxing event in Hampton Inn Convention Center in 2012, where he was declared the winner.
Justin Trudeau – Net Worth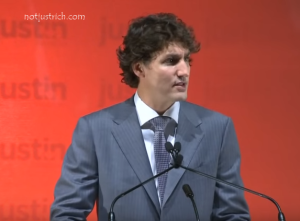 Though Canadian political heads are not required to make their financial position public, Justin Trudeau went ahead and made his net worth and sources of income public, earning praises from netizens and the social media.
Trudeau's net worth is $1.2 million, and he makes most of his money through speaking at public events. His monies from public speaking range from $300,000 to $450,000. He lives in a semi-detached house (three bedroom semi home) with a value of $777,000, bearing a mortgage of $622,000
Sponsored link