Brian Kilmeade is a popular American television personality. He is currently associated with Fox News Channel. On weekdays, he co-hosts the morning talk show "Fox & Friends" along with Steve Doocy and Ainsley Earhardt. He also hosts "Kilmeade and Friends", a Fox News Radio program. Apart from this, he has authored several fiction and non-fiction books which include "The Games Do Count", "It's How You Play the Game", "George Washington's Secret Six", etc. Two of his books became New York Times best sellers
Sponsored link
Early life and Background
Brian Kilmeade was born on 7th May 1964, in New York City, USA.  He hails from an Irish and Italian descent. He has two siblings- Jim Kilmeade and Steve Kilmeade. He attended the Massapequa High School. After completing his high school education in 1982, Brian enrolled in C.W Post, Brookville in New York. In the year 1986, he completed his graduation and earned a B.A in communications. During his college days, he used to take active part in soccer.
Career
Brian started his career as a correspondent of Channel One News, a national high school news program. Thereafter, he joined KHSC-TV in Ontario Canada as a television host. He has also served as a host of "The Jim Brown Show" on XTRA-AM which is an all sports radio network. Later in the year 1993, Brian got the opportunity to become a part of the announcing team of the inaugural of "Ultimate Fighting Championship". During the event he conducted five post fight interviews.
In the year 1997, Kilmeade became the freelance sports anchor for WVIT (NBC) based in Hartford. Not only that, he also worked as sidelined reporter for MSG Network and covered the "New York/New Jersey Metro-Stars" which is a popular soccer league team. He has also hosted the show "Newsport Journal" for Newsport TV. Brian also has self proclaimed experience of 10years as a stand-up comedian.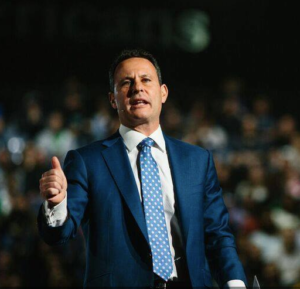 Sponsored link
In the same year 1997, Brian joined the Fox News Channel. He was soon assigned as the co-host of the morning talk "Fox & Friends". In this show he provides insights on diverse trades such as breaking news, sports, politics and so on.  The 5 feet 10 inch tall Brian Kilmeade also conducts interviews of various eminent personalities on the show. He also serves as the host of the popular radio program "Kilmeade and Friends" on Fox News Talk. In addition to this, he is also associated with the show "The Five" where he appears as a frequent host.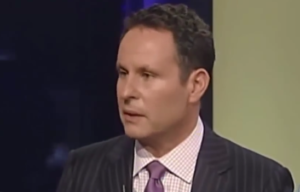 Controversies
In his glorious career, Kilmeade has faced severe criticisms due to several controversial remarks which include: "We keep marrying other species and other ethnics", "All terrorists are Muslims", "You grew up on tacos", "Bowe Bergdahl looks like a member of the Taliban" and "Do you make Kool-Aid?". All these comments grabbed instant media attention.
Brian Kilmeade – wife
Brian Kilmeade married Dawn Kilmeade in the year 1993. The couple has three children. He currently resides with his family in Massapequa, New York. Brian Kilmeade's wife is known to be an excellent support system for the news anchor.
Brian Kilmeade – Net Worth and Salary
As per media reports, Brian Kilmeade has a net worth of approximately $ 2.5 million and a salary of $2 million annually.
Sponsored link