The Indian telecom tycoon and a self made man is one of the Indians who have made it big. The owner of world's third largest telecom firm Bharti Airtel has been an inspiration to all. A Delhi resident, this man is an entrepreneur, a philanthropist and the chairman of Bharti Enterprises which has businesses in a diverse range of interests like telecom, agriculture, retail and financial services.
Sponsored link
Early life and Education
Born in a Punjabi Aggarwal family on October 23rd 1957 in New Delhi, the boy displayed entrepreneurial qualities right from a young age. His father Sat Paul Mittal was the Member of Parliament while mothe was a home-maker.
Sunil Mittal joined the Wyanberg Allen School in Mussoorie and Scindia School at Gwalior. He finally graduated from Punjab University and soon started his own business in 1976.Later in the year 1980 he was engaged in the business of generators from Japan.
How Sunil Mittal Created Bharti Enterprises and Brand Airtel
Mittal began his first business in April 1976 from money borrowed from his father. The sprightly 18 yer old invested $300 in making crankshafts for cycle manufacturers. He joined his brothers Rakesh and Ranjan and formed Bharti Overseas Trading Company, an importing company in 1980. He started off buying importing licenses from exporters in Punjab. He imported portable electric power generators from Suzuki Motors from Japan. The business however came to a sudden closure, following ban of generators from the Indian government.
In 1984, Mittal began manufacturing push button phones from assembled pieces, which he had imported from a company in Taiwan called Kingtel. His incorporated company Bharti Telecom Limited entered into a tie-up with Siemens AG (Germany) for the manufacture of push button phones, which he believed was a disruptive way above the outdated rotatory phones. Mittal believes that electronic push button phones with functions like speed dials and redials would be lapped up by India. Not that just that, he envisioned India to become a huge market for telecom and focused all his efforts in the business. He started making and sell phones and answering machines under the brand name Beetel, which met with a terrific response.
Though he started with production of fax machines and cordless phones the lucky break came in 1992, when the government offered licenses for mobile phone services. One of the main conditions to get the license in the Delhi cellular network was that the bidder needed to have sufficient exposure as a telecom operator. Mittal who had taken the plunge early, stood a good chance and made the best of it.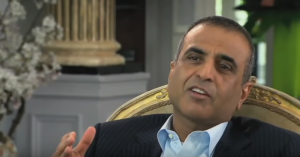 Sponsored link
Fully confident that mobile was the future for India, he was able to his plans sanctioned by the government. Bharti Cellular limited began in 1995 to launch mobile services under the brand name 'Airtel' which is now a synonym for mobile service. Today, Bharti Airtel has a subscriber base of 280 million, it is India's biggest telecom company and the third largest mobile service provider in the world. With service like Airtel Digital TV, DTH services and Airtel Broadband, Bharti Airtel has made significant impact in the world of telecommunication and entertainment.
Sunil Mittal has been awarded with Padma Bhushan (2007) besides many other business awards.
Sunil Mittal – Wife
Despite being the telecom czar, the person is extremely generous and is a loving family man. He is happily married to Nyna Mittal with three kids. Eisha Mittal is the daughter with Kavin and Shravin Mittal being the twin sons. Shravin is one among the twin sons and is married to Sakshi Chabbra.
Sunil Mittal – Net Worth
The prolific non-assuming entrepreneur is the 219th richest person in the world. According to Forbes, Sunil Mittal's net worth is $5.7 billion.
House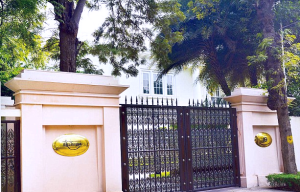 Airtel boss Sunil Mittal bought a two-acre property on Amrita Sherrill Marg. The plot was bought by a whooping sum of 40 crores.
Sponsored link