James Joseph Parsons or Jim Parsons is an American actor best known for his role as Sheldon Copper in the hit sitcom 'The Big Bang Theory' which airs on CBS. It has been said that Parsons and his delightful performance is one of the reasons for the phenomenal success of the show.
Sponsored link
Parsons earns $1 million per episode of 'The Big Bang Theory' show along with 1 percent of the profits. This has resulted in a net worth of nearly $40 million. The 6′ 2″ tall actor has also won numerous awards for his acting on the show, including a Golden Globe in 2011, a Television Critics Association award in 2009, and 4 Emmy Awards. In 2015, Parsons got a star on the Hollywood Walk of Fame.
Early Life, Background, and Education
Jim Parsons was born on 24th March 1973 to Judy Ann, a teacher, and Milton Joseph "Jack/Mickey" Parsons, Jr. in Houston, Texas. He grew up in the suburban area of Spring located towards the north of Houston.
In 2013, Jim traced his family roots on Who Do You Think You Are? And found that he had paternal French ancestry. Louis-François Trouard, a French architect was one of his ancestors.
Jim went to Spring's Klein Oak High School. In his junior year Parsons acted in 'Noises Off' which introduced him to acting and its meaning. At age 6, he was cast as the Kola-Kola bird in the school's production of 'The Elephant's Child.' This is when he decided to become an actor. As a child he also enjoyed watching shows like Family Ties, Three's Company, The Cosby Show, and other sitcoms.
After high school, Jim attended the University of Houston for an undergraduate degree. He was very active during this time and did 17 plays in three years. He also founded Infernal Bridegroom Productions as well as appeared regularly at the Stages Repertory Theatre.
In 1999, Parsons attended University of San Diego's graduate school, where he enrolled for a special 2 year classical theater course. Rick Seer, the course director, was skeptical about admitting Jim; he believed that Jim was completely original but had doubts about whether Jim would be able to adapt to the program's training and to the needs of classical theater. But he accepted Jim as they could see his talent. Parsons has stated that school was the most enjoyable time in his life and if a doctorate was possible, then he would have pursued one.
Career and Success Story
In 2001, after graduation, Jim moved to New York to pursue a career in acting. He then found work in many Off-Broadway productions as well as appeared on TV. His 2003 Quiznos advertisement about a man raised by wolves who still nursed from his mother wolf was widely discussed. He appeared on TV series Ed and had a recurring part in Judging Amy. He also made minor appearances in many feature films like School for Scoundrels, Garden State, etc.
Sponsored link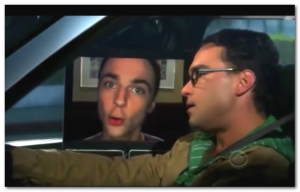 Parsons' first major acting role came when he was cast as theoretical physicist Sheldon Cooper in the mega-hit sitcom 'The Big Bang Theory.' Jim has stated that he had previously auditioned and had been cast for the pilot shows of many TV sitcoms, but most of them did not find any buyers. After he had read the script of 'The Big Bang Theory,' Parsons felt that he was ideal to play the role of Sheldon. Even though he did not identify with the character, the structure of the dialogues of Sheldon attracted him. The brilliant use of uncommonly used words kind of create a rhythm that enchanted Jim. Chuck Lorre, the creator of the series, was so impressed by the audition of Parsons that he asked for a second audition just to make sure that Jim could replicate it and that he wasn't just plain lucky the first time around. The show has become a global hit and Parsons has been loved everywhere for his performance as the socially apathetic boy genius.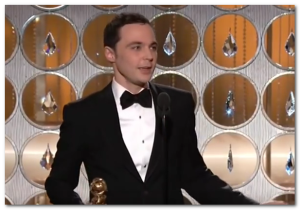 Besides The Big Bang Theory, Parsons has continued to do other acting jobs. In 2011, he appeared in The Big Year, a comedy movie starring Steve Martin, Owen Wilson, Jack Black, and Rashida Jones, as well as in 'The Muppets' movie as the human alter ego of the character Walter. Other films include animated movie Home and comedy dram Wish I Was Here. He also acted at Broadway in "Harvey" and "The Normal Heart." He reprised the role of the latter in a movie adaptation of the same name starring Mark Ruffalo and Julia Roberts. In May 2015, the show 'An Act of God' opened at Broadway, where Parsons plays the role of God.
Personal Life and Trivia
Parsons is gay. He lives with his partner of 10 years Todd Spiewak, who is an art director, in Los Angeles or at the Gramercy Park apartment situated at lower Manhattan. The 2-bedroom, 1 bathroom 911 square feet apartment was purchased by them at less than the asking price.
Parsons supports causes such as GLSEN, Entertainment Industry Foundation, Stand Up To Cancer, and Motion Picture and Television Fund Foundation.
Jim has described his relationship as an 'act of love' and their life as 'a regular life, boring love.'
Sponsored link