Gautam Adani is an Indian business magnate who is better known as the founder and chairman of the Adani Group. As of Sep. 2014, Forbes has estimated Adani's net worth to be around $7.1 billion.
Sponsored link
The Adani Group was founded by Gautam in 1998. It is currently a global conglomerate with varied business interests such as infrastructure development, coal mining and trading, ports, power generation, distribution of gas, oil and gas exploration, agro-infrastructure, multi-modal logistics, and edible oil.
Adani is famous for his personal relationship with Narendra Modi, the Prime Minister of India, right from the days when Modi was the Chief Minister of Gujarat State in India. In 2014, the share prices of Adani's numerous companies skyrocketed on the hope of a Modi-led BJP/ Bharatiya Janata Party government at the center. Since 2013, Adani is considered as the biggest gainer in the list of world's richest people as he added $4.5 billion to his overall wealth in this period. During this time, Adani went on a buying spree; he purchased Dhamra Port located in east India and entered into a contract with the Lanco Group to buy a power plant in south India. Even the Australian government approved the much delayed Queensland coal mining project, despite environmental concerns raised by different organizations like Greenpeace, etc.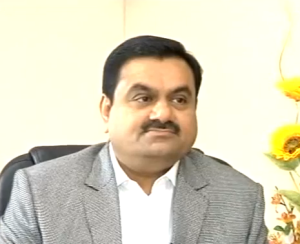 Adani is known for developing the advanced Mundra port in Gujarat. It is currently the biggest commercial port in India and holds the national record of handling 100 million metric tons for the year 2013-14. Lloyds, a well-known British shipping magazine, recognized it as the best port in the year 2006. Adani is considered as one of the top global businessmen in the sector of shipping infrastructure development and trade.
The Personal Life of Gautam Adani
Adani was born on June 24, 1962, into a Gujarati Jain family, to Shanta and Shantilal Adani. His parents moved to Ahmedabad from their hometown Tharad located in North Gujarat. His father owned and ran a textile unit in the city. Adani has 7 siblings.
Adani attended the Seth C.N. Vidyalya School in Ahmedabad. He then went to Gujarat University for a Bachelor's Degree in Commerce. He however dropped out of college in the second year.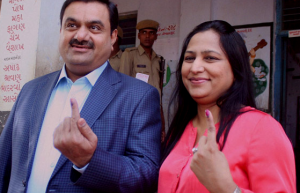 Adani is married to Priti Adani. She is the head and managing trustee of the Adani Foundation. She holds a degree in dentistry. They have 2 children, Jeet and Karan Adani.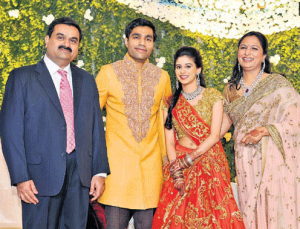 Karan married Paridhi Shroff, daughter of Cyril Shroff, the part-owner of Amarchand Mangaldas, India's most well-respected and biggest law firm.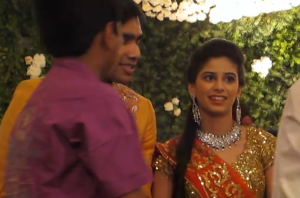 Sponsored link
In the business world, Adani is known by his nickname 'Gautambhai.' He is considered as a good evaluator of character, an astute observer, and a successful risk taker. Bakul Dholakia, a former director of IIM-A, who also works for the CSR and educational initiatives of the Adani Group, has stated that Adani remains unparalleled when it comes to risk absorption capability and his appetite for taking risks in varied businesses. He elaborates that there are many businessmen who may take big risks, but none of them come close to Adani as far as facing these challenges with immense conviction and courage is concerned.
Gautam Adani – Success Story

Gautam did not join his father's business after leaving college. Instead, at the age of 18 years, he moved to Mumbai with just a few hundred rupees in his pocket. He found work at Mahindra Brothers as a diamond sorter and started learning the trade. He soon founded his own diamond brokerage firm in Mumbai. Within a year, the business met with success and Adani ended up making his first million. He was only 20 years old at this time.
A year later in 1981, Adani was called back to Ahmedabad by his elder brother Mahasukh Adani. His entrepreneur brother had bought a new plastic factory and wanted Gautam to help run the business. Adani then started importing PVC or Polyvinyl Chloride, a vital raw material needed for making plastic. He thus became a trader in commodities.
India opened up to liberalization and globalization in 1991. This allowed Adani's companies to grow rapidly and soon saw windfall profits. Adani used this resultant capital to expand his varied businesses. The Gujarat government floated tenders in 1993 for maintenance and running the Mundra Port. Adani Group landed the contract 2 years later. The Mundra Port is currently the biggest privately owned port in the country with the capacity to handle millions of tons of cargo every year. In 1998, Adani formed Adani Exports Limited, currently called Adani Enterprises Ltd. It traded in numerous types of agricultural and power commodities and is considered as the main company of the Adani Group.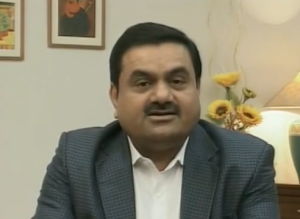 Adani Power Ltd. is another key business venture of Adani. It handles the power sector businesses of the Adani Group. It has many thermal power plants which can produce nearly 5,000 MW and hence regarded as the biggest producer of thermal power in India. It also has solar power plants that produce up to 40 MW, thereby making it the premier solar power producer in India.
Comparisons with Ambani: Adani has often been compared with another Indian business tycoon, Ambani, and is referred to as the other 'Big A.' Just like Ambani, Gautam is a 1st generation entrepreneur and a college dropout, who began as an import-export trader before branching out into more industrial businesses. Like the former, Adani thinks on a big scale and executes it to the tee; he began 1 industry and later integrated the forward and backward sectors around it; similarly, he also has business interests where connections in government are needed and has efficiently navigated these bureaucratic and political areas. Just like Ambani, Adani has become one of biggest business tycoons in a span of just 20-25 years.
Gautam Adani Philanthropy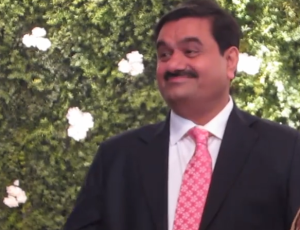 According to Adani, growth of a nation needs to be all-inclusive and that such growth can only be effective via health and education for all. These beliefs form the basis of his charitable organization, 'Adani Foundation.' About three percent of the profits of the Adani Group are donated to this foundation. The foundation also runs the Adani Vidya Mandir School in Ahmedabad. Managed by Priti Adani, the school is for those children whose families have an annual income of less than 1 lakh INR. The school is the pride and joy of Gautam Adani.
Sponsored link