Elizabeth Holmes is an American businesswomen, an entrepreneur, and an electrical and chemical engineer. She is better known as the CEO and founder Theranos, an innovative and pioneering company in the field of medical lab services and health technology.
Sponsored link
Theranos holds several patents, but is mainly known for its ground-breaking blood test techniques. Unlike the blood testing procedures carried out at the commercial diagnostic labs of today which need a vial of blood as sample, the Theranos Wellness Centers require only a miniscule amount of blood drawn via a painless prick for diagnostic purposes. Also, these tests are done at a fraction of the current costs and offers faster results. Some tests like the ones for cholesterol cost as little as $3.40
Theranos is currently valued at $9 billion and is backed by several influential people, including former Defense Secretary William Perry, former secretaries of State George Shultz and Henry Kissinger, and former senators Bill Frist and Sam Nunn.
Walgreens, the biggest chain of retail pharmacies in the US, announced last year that it will launch Theranos Wellness Centers within its pharmacies. Holmes' aims to open such centers in all of the 8,200 Walgreens stores located across the country.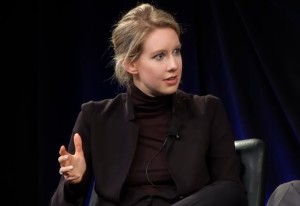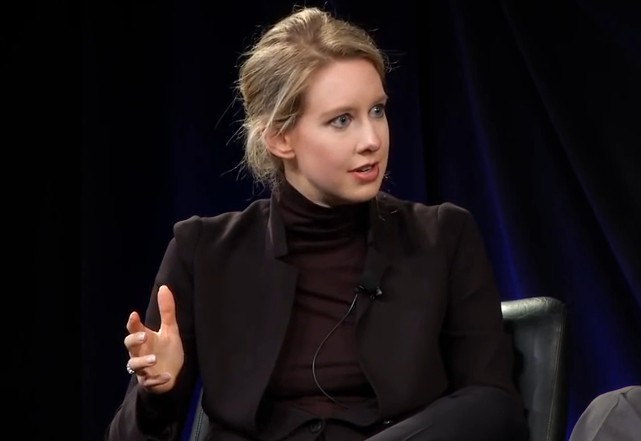 The Personal Life of Elizabeth Holmes
Elizabeth was born in Washington D.C., in Feb. 1984. Noel, her mother, was a staff member in Congressional committees. Christian Holmes IV, her father, worked in numerous places like China, Africa, besides the US, as a member of USAID and other similar governmental agencies. Christian Holmes V, her brother, is the product management director at her company Theranos.
As a kid, Holmes had read the biography of Christian R. Holmes, her great-great-grandfather. He was a surgeon, inventor, engineer, and a decorated WWI veteran. It was his career that proved as an inspiration for Holmes to pursue medicine. She later found out that she had a phobia of needles. In the latter years, Holmes has described her fear of needles as one of the reasons behind setting up of Theranos.
When she was nine years old, Holmes' father landed a job with Tenneco in Houston, Texas. Hence, the family relocated to Houston. As her father had been to China, Holmes developed curiosity about the country. Hence, she and her brother began learning the language from a very young age. Later, as part of her father's job, the family moved to China where Holmes spent her teens. When attending school in China, Holmes began a business which sold C++ compilers to varied universities in the country.
Holmes began studying chemistry at Stanford University in 2002. She was listed as one of the 'President's Scholars' as a freshman and subsequently awarded a stipend of $3,000 to undertake research studies. She gave away this money to Channing Robertson, her chemical engineering lecturer, and encouraged him to use it for projects performed in his lab.
Holmes furthered her grasp and understanding of the Mandarin language by attending language courses during the summer at the University. This facilitated her appointment as an intern at the Genome Institute of Singapore. It was researching on forming novel ways to diagnose the SARS virus in nasal swabs or blood.
After returning to the United States, Holmes wrote an application for a patent on a wearable patch which could monitor the variables in a person's blood, help in administration of medications, and also adjust the dose to get the optimal effect. She later consulted with Professor Robertson about this application and informed him that adding a mobile phone chip on it could make it act as a telemedicine. In Sept. 2003, she filed for patenting this patch application as a 'Medical device for drug delivery and analyte monitoring.'
Holmes currently has eighteen US patents and 66 non-American patents listed in her name. She has also been named as a co-inventor in more than 100 filed patents.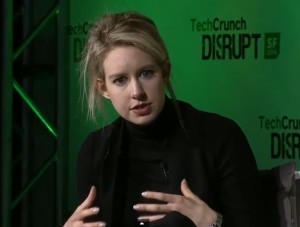 Sponsored link
The Career of Elizabeth Holmes
In 2003, when she was still a 19-year old student at Stanford University, Holmes spoke to Professor Robertson about establishing a new diagnostics and health company. Her extreme fear of needles had made her conclude that the present system of blood testing, which was invented way back in the 60s, was costly, archaic, slow, and painful. She wanted to alter these procedures and create a novel method which would eliminate the need for large amounts of blood to be drawn from patients. It would also do away with carrying out such testing at a lab or a doctor's clinic. With this single thought and purpose in mind, Holmes used the funds saved by her parents for her studies to launch a company called Real-Time Cures in Palo Alto, California. She later changed the company's name to Theranos, an amalgamation of therapy and diagnosis, because she held the opinion that most people were cynically averse to the word 'cure.'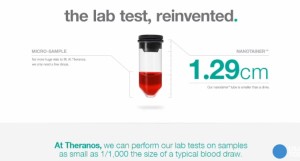 In the early days of the company, Holmes operated it from a group college house's basement. She dropped out of college a semester later and focused all her attention on her new business. Professor Robertson worked as a Director in this company.
Holmes' company Theranos has been working in secret over the past decade. During this time, it grew slowly and raised venture capitalism of $400 million dollars from varied firms, including Larry Ellison and Draper Fisher Jurvetson, thereby valuing the startup at an incredible $9 billion. The main aim of the secretive operations of Theranos in the last 10 years can be attributed to avoiding competitors as well as investors who could have funded potential rivals. In 2007, Theranos even sued 3 of its former employees for misappropriation of trade secrets.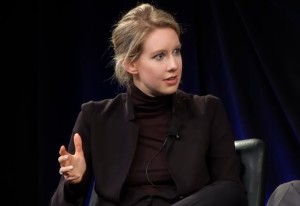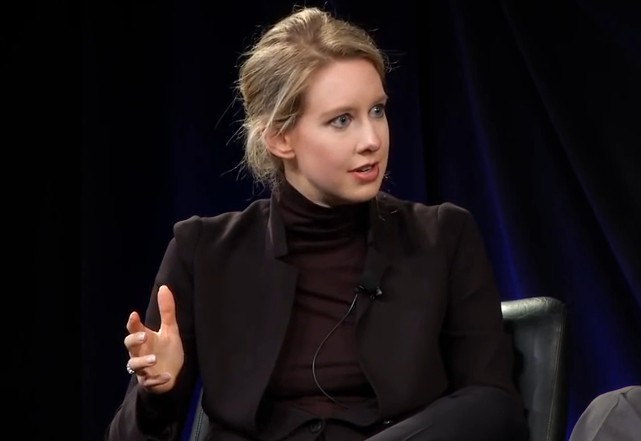 As of 2014, the company  was licensed to operate in all the US states and offers 200 tests. It had  500 employees on its payroll. Holmes believed that even on this small scale, her company has already started changing lives.
Why  Elizabeth Holmes was banned from running a blood testing center for 2 years –
In spite of having a huge backing of investors, it is reported that Theranos was not subjected to peer review study.   A report in The Wall Street Journal in 2015 said that Theranos was exaggerating certain information that was conceptualized as a part of its technology. The report found supporters from some pathologists and medical experts as well.
At her defense, Holmes shunned these statements and said that her laboratory followed safe and accurate system of diagnosis and testing.  She said on October 17, 2015 that Theranos would release reports that would show their tests as accurate and safe.  However, she failed to do so.  Meanwhile, the Arizona Department of Health noticed some issues in the testing done in the Theranos lab.
The Food and Drug Administration (FDA) stepped in and said that Theranos should not use their mini blood containers for anything other than  Herpes testing. Theranos was also asked to use their proprietary technology only to the 200 tests that were offered by the company. The Washington Post, in its report in December 2015, said that they had emails that showed how Holmes was requesting board member James Mattis, the ex retired marine general, to plead on the behalf of  the company.
Questionable lab practices that could ham patient safety and health was brought to light by Centers for Medicare and Medicaid Services  (CMS) when it send a letter to Theranos, in January 2016. The company was given ten days to show that they were complying with safe and healthy lab practices.  3 days after this letter, Walgreens which was a partner with Theranos, asked the company to stop its testing in Palo Alto, and carry it on from  the Arizona center. On June 12, 2016, Walgreens called off its partnership with Theranos.
The CMS, on July 9 2016, banned Elizabeth Holmes from owning, directing or operating any blood testing service for two years and also asked the company to pay unspecified amount as penalty.  While the sanctions would take 60 days to take effect, Holmes and Theranos was given the right to appeal against the CMS at a local judiciary and also take the matter up with at US Department of Health and Human Services.
Elizabeth Holmes – Net Worth
Her net worth has been slashed to zero from the stupendous $4.5 billion in 2014, according to Forbes. The magazine slashed her net worth after taking into account the massive fall in Theranos' value from $9 billion to $800 million, which includes $725 million as capital.  She owns 50 percent of the shares of the company. In the year 2014, at age 30, Holmes was the youngest self-made billionaire woman in the world.
Sponsored link