Amy Joanne Robach is a reputed American television news and broadcast journalist best known for her work as the news anchor of the ABC network show 'Good Morning America', the most watched morning news show, on which she started in the capacity of a contributing correspondent and even served for a while as a substitute anchor. Robach has been serving as the host of the show since March 2014.
Sponsored link
Robach came to prominence after she started her career with the NBC network in 2003 where she served as a national correspondent at NBC News and later co-hosted the Saturday edition of NBC's 'The Today Show' or 'Weekend Today'. She also anchored news programs on MSNBC. Robach also appears as the primary substitute for her ABC colleague Robin Roberts on all ABC shows.
Early Life and Education
Robach was born on 6 February 1973 in East Lansing, Michigan to her parents and spent a major part of her childhood across various cities and stated in the USA. She lived in St. Louis, Missouri for some time and then relocated to Georgia living in different cities for nine years of her life, Robach also spent considerable time in Washington D.C., South Carolina and New York States. Robach has one sibling; a brother and is of White ethnicity.
Robach started her early education in St. Louis, Missouri and later attended the Brookwood High School in Snellville, Georgia, after moving there. She graduated with her high school degree and later enrolled into the University of Georgia in Athens Georgia from where she graduated with a Bachelor of Arts Degree in Broadcast Journalism earning high honors. At 21 years of age, Robach competed in the 1994 Miss Georgia beauty pageant representing Gwinnett County and was declared the 4th runner up.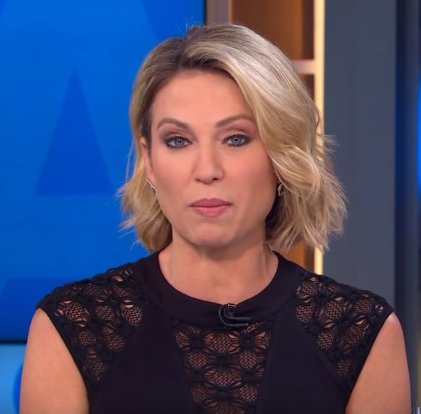 Career Rise
Robach started her journalism career in 2002 with a year-long stint at WTTG network affiliated to the FOX network in Washington D.C., where she was nominated for a Regional Emmy in the category "News Segments: General News and Delayed Air" for her report on the "Danger Zone". After a year at WTTG, in 2003, Robach moved to the NBC network starting off with as an NBC News on-filed reporter for a period of four years, of which she spent two years as a news anchor of the show in the morning slot. In July 2007, Robach was promoted to the role of a co-anchor of 'Weekend Today's' Saturday edition, serving until May 2012. She also filled in occasionally on the NBC show 'Morning Joe' and the MSNBC show 'Countdown with Keith Olbermann'.
Sponsored link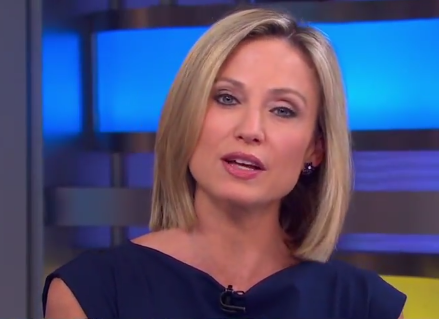 In May 2012, Robach announced her decision of moving to the ABC network where she initially served in the capacity of a contributing correspondent on the most viewed morning show in America 'Good Morning America' and within two years, in March 2014, was named as one of the anchors of 'Good Morning America' with Robin Roberts, George Stephanopoulos, Lara Spencer and Michael Strahan. She also fills in for Robin Roberts on all her network assigned shows in her absence.
Husband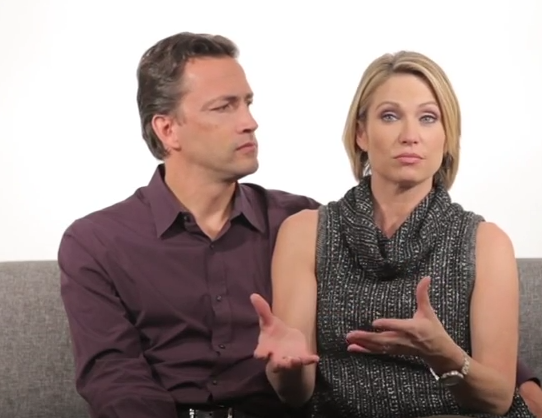 Robach has been married twice. Robach's first marriage to Tim Macintosh lasted from 1996 until 2008. The union resulted in the birth of their two daughters; Ava and Analise born in 2002 and 2006 respectively. Robach met actor Andrew Shue of 'Melrose Place' fame in April 2009 and got engaged to him in the September of the same year. The couple tied the knot on Robach's 37th Birthday, 6 February 2010 in New York. She acquired three step-sons; Nate, Aidan and Wyatt, from Shue's first marriage to Jennifer Hageney.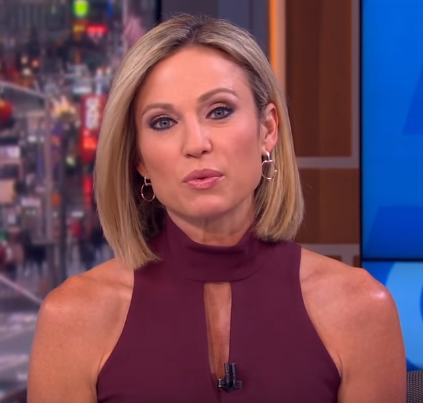 Amy Robach – Cancer Fight
Robach was diagnosed of breast cancer in November 2013 after taking a mammogram test on live TV in October 2013. She underwent bilateral mastectomy after learning that the cancer had spread to the other breast as well and went through eight rounds of chemotherapy, as well as radiation and reconstruction surgery. She went on to write a book about how she fought cancer in the book –
'Better: How I Let Go of Control, Held On to Hope, and Found Joy in My Darkest Hour.'
Salary and Net Worth
Robach draws an annual salary of $300,000 and has an estimated net worth of $1.5 Million.
Sponsored link