Wendy Williams is a versatile personality. She is an actor, author, talk show host and comedian. She is the host of the nationally syndicated television talk show called 'The Wendy Williams show'.
Sponsored link
Before becoming a television personality, she served as a shock jackette (someone who would use over-the-top humor) on several radio shows. During her radio shows she has gained her notoriety for the spats she had on air with the celebrities. She also hosted the 2006 VH1 reality show 'The Wendy Williams Experience'.
Apart from her television shows and radio talk shows, Wendy is famous for her books. he also has created a couple of product lines, one of which is an apparel line called 'Adorn' and a wig line called the 'Wendy Williams Hair World'.
On 2014, July 18, which is Wendy's birthday, she received an honor from council of Asbury Park. There is a street named after her called Wendy Williams Way.
Early Life
Wendy was born on 18th July 1964, in New Jersey. She is the second child of Thomas and Shirley Williams. She attended Ocean Township High School. From this school, she had done her graduation. From 1982 to 1986 she went to Northeastern University from where she got her bachelor degree, in communication.
Radio Career
Wendy's career began her career with WVIS. In 1989, Wendy started working as disc jockey for urban contemporary WRKS. A year later, she moved to afternoon drive time shift. In 1993, she won the best on-air radio personality award. In 1994 Dec, she switched to Hot 97. However, 1998, she was fired from the station.
After Hot 97, Williams bagged a job in Power 99FM. Her husband Kevin Hunter worked as her agent. She talked very openly about her personal life here. Her discussion about her own miscarriage and former drug addiction attracted attention of the people. Eventually the station's rating increased.
By 2009, she has already gained fame and became a household name. This is the time she left her radio career behind to join television.
Controversy
In 2008, The 'Wendy Williams Experience' talent booker Nichole Spence sued the Williams. She claimed that Kevin Hunter demanded physical intimacy from her on many occasions. As a reply both Wendy and her husband denied the charges.
Sponsored link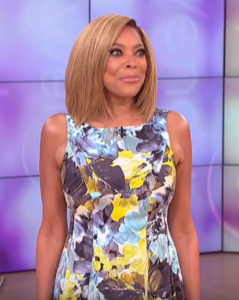 Television Career
On 14th July 2008, Wendy made her debut in a talk show 'The Wendy Williams Show'. On 2013, 11th April, she announced that she had decided to become an ordained minister. She started donating items from her talk show which includes wig, script and microphone. She was nominated for the outstanding entertainment talk show host at Daytime Emmy Award on 2015.
Wendy has made several appearances in television shows including Martin and One Life to Live.
Other than her television career she has appeared in some films as well, which includes 'Act Lady Like' and 'Think Like a Man'.
As a comedian, she has made her debut in July 11, 2014. After that she has become involved in several comedy shows.
Wendy Williams – Net worth and Salary

Wendy's net worth is estimated $60 million.  Her annual salary is $15 million.
Wendy Williams – Books
 Her autobiography 'Wendy's Got the Heat' (2003) is a best-seller. She has also written several other books like 'The Wendy Williams Experience' and Ask Wendy: Straight-Up Advice for All the Drama in Your Life. She has also written four fiction  novels  which includes  Drama is Her Middle Man, Is the Bitch Dead or What?   Ritz Harper Goes to Hollywood! and Hold me in Contempt.
Sponsored link