Virender Sehwag is a famous former Indian cricketer. This hard-hitting batsman was often called as the "destructive batsman" owing to his reckless batting just after entering the field. Sehwag holds a number of world records and is also the only Indian cricketer to have been honoured with the title of the Wisden Leading Cricketer in the World in the year 2008.
Sponsored link
Sehwag started his professional cricketing career in the year 1999 playing the first ODI International for India and was later selected in the Test team as well in the year 2001. He is also the world record holder of the highest runs in a Test Match which he scored 319 runs against South Africa at the M.A Chidambaram Stadium which is located in Chennai. He is also an Arjuna Award achiever.
The record was also the fastest triple century and the fastest 250 runs made by any batsman. Sehwag has also been the vice-captain of the Indian cricket team along with Rahul Dravid as the captain in 2005. In 2006, Sehwag was dropped out of both the ODI and the Test Indian cricket team and he finally retired from the career on October 20, 2015.
Early life and education
Virender Sehwag was born on October 20, 1978 in Najafgarh, New Delhi to Krishan and Krishna Sehwag. He was the third of the four children in the house. His mother was a homemaker while his father was a grain merchant. Sehwag's entire family stayed together, his own family along with his uncles and aunts and a total of 16 cousins.
Sehwag pursued his schooling from the Arora Vidya School which is located in New Delhi and later kept pressurising his father to let him play cricket in school, given the fact that he was not a scholar. Even though his father granted him the access, it was close to being revoked when he broke his tooth while playing cricket but his mother managed the situation.
He did his college studies from the Jamia Millia Islamia from where he completed his graduation and then simultaneously focused on his cricket career.
Virender Sehwag – Wife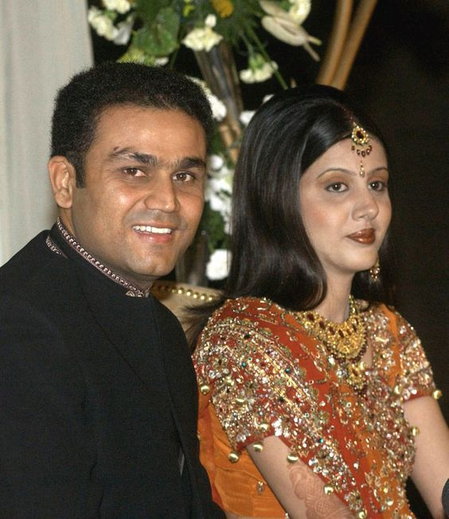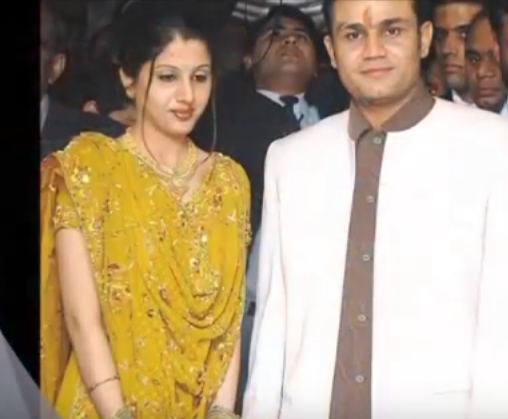 Sponsored link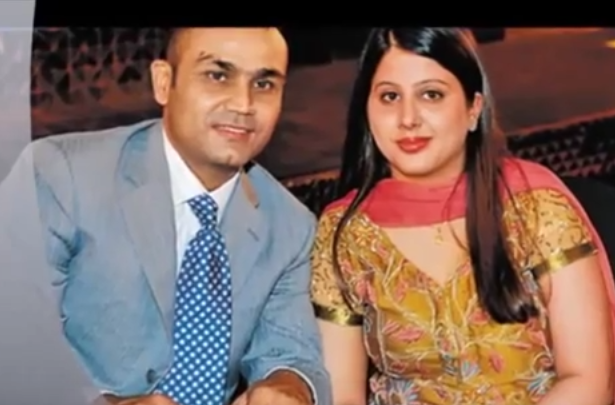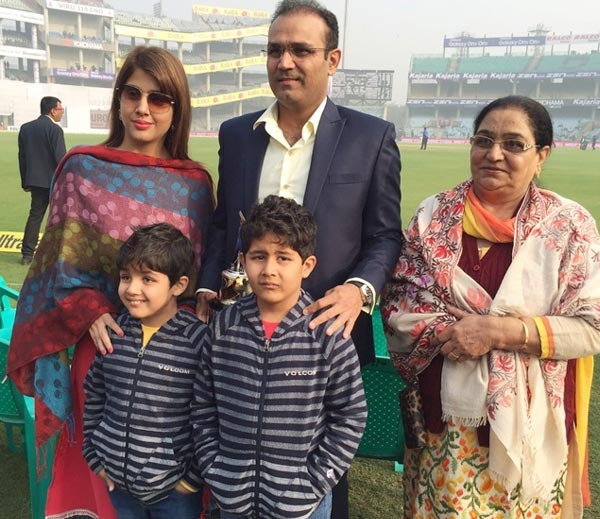 Virender Sehwag married Aarti Ahlawat in April 2004. The entire wedding was a lavish spending and the entire event was under strict security and was solely arranged by the former Union law minister and present Finance Minister of India, Arun Jaitley. The couple are proud parents of two beautiful sons, Aryavir and Vedant.
Career Statistics
Sehwag started off his career by playing for the Delhi cricket team in the 1997-98 seasons. He was later selected for the Duleep Trophy from the North zone of India. Sehwag after getting selected for International cricket in the year 2001, he kept playing domestic matches for Delhi.
The start to his professional career was not that great where he scored just 1 run against Pakistan in his first match but we all know where he stands today in the history of Indian cricket. Sehwag has always had a great scoring rate all throughout his career. His maiden test match was against Sri Lanka and scored 105 runs.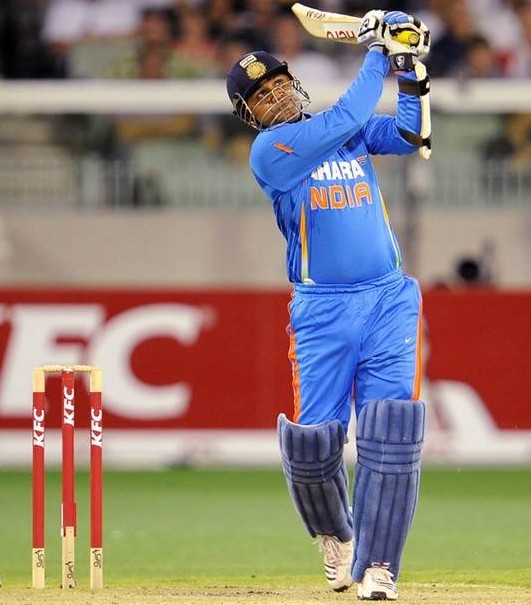 Here are his career statistics for test matches and ODIS
Competition   Test     ODI     
Matches          104      251
Runs scored     8,586   8,273
Batting average 49.34 35.05
100s/50s         23/32   15/38
Top score        319      219
Trivia
Virender Sehwag has quite a fan following on social media, because of his sense of humor which he pours generously in his tweets and Facebook posts. A case in point was when Sehwag took an indirect jibe on author Shobhaa De, when he wrote 'Olympic medal Sakshi Malik ke gale mein kitna sobha de raha hain'
Virender Sehwag – Net worth and salary
Virender Sehwag has an estimated net worth of $40 million.  His annual income is around $5.7 million, with endorsement money coming to $4 million. He was paid $1.8 million as a part of annual IPL contracts.
Sponsored link