Samantha Bee is a versatile woman -a famous comedian, writer, political commentator and producer. She is known exceptionally as the correspondent to the show called 'The Daily Show with Jon Stewart'.  Serving the show for 12 years, she started her own show in 2016 called ' Full Frontal with Samantha Bee'.
Sponsored link
Early Life
Samantha was born in the year of 25th October 1969, Toronto. Her parents separated after her birth. Samantha was raised by her grandmother due to her parents' split.
She went to Humberside Collegiate Institute. Once she graduated from high school, she went to McGill University. Here she studied humanities. She was not satisfied with the school and later got herself transferred to University of Ottawa. Eventually she got enrolled in George Brown Theater.
Career
Bee founded Toronto based sketch comedy troupe with three other members. After this, she became a correspondent to The Daily Show with John Stewart. Here explored people's ability of caricature upon insistence. She earned her well-deserved fame by hosting this show. She had been the only female correspondent of this show. She performed her best in the show. This gave her not only recognition, she also received Canadian Comedy Award for this show.
She played the title role in a show called Sailor Moon. This show was played at Canadian National Exhibition. She has appeared as the guest in several television shows. In the year of 2004, she had appeared in a Canadian feature film called Ham and Cheese.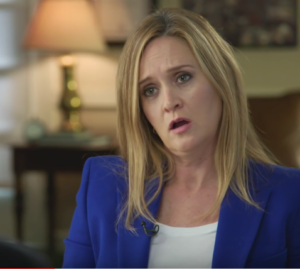 Sponsored link
She remained the only female correspondent for The Daily Show. Later Kristen Schaal joined the show in the year of 2008. Later next year she appeared in the show Love, Loss and What I Wore. She played a cameo role in the show called Whatever Works. This show is directed by Woody Allan.
She also authored a book called 'I Know I Am but What Are You'. This book was published in the year of 2010.
In addition to all these, she played in movies like Bounty Hunter and Game On. In the year of 2014, she appeared in The Daily Show along with her husband Jason Jones.
Samantha Bee – Husband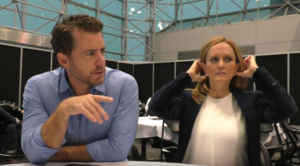 Bee lives in Manhattan with her husband Jason Jones. They worked together in the Daily Show. The couple got married in the year of 2001. In 2005, Jason started working as freelance correspondence for The Daily Show. Bee also reduced her work timing at this time because of her pregnancy. After she gave birth to their daughter Piper Bee Jones, she returned to Daily Show full time.
On 2008, she announced her second pregnancy. Later in the same year she gave birth to a baby boy. On 2010, she announced that she is pregnant with her third child. She was blessed with a daughter in late 2010.
In an interview, she claimed that neither Jones nor she had tried to pursue US citizenship. However, she had expressed her desire to do so in the long run.
Samantha Bee – Net Worth and Salary
Her net worth is $2.5 million with a salary of $1 million.
Sponsored link