An American actress, Katy Mixon's most prominent roles have been on television and they include playing Victoria Flynn on Mike and Molly, a TV comedy series that airs on CBS. The other role she is popularly known for is that of April Buchanon on Eastbound & Down, a comedy that revolves around baseball and airs on HBO.
Sponsored link
Early Childhood
Katy Mixon was born in Pensacola in Florida on the 30th of March 1981. She grew up in a big family that comprised of seven siblings.
Career
Katy Mixon studied drama at the Carnegie Mellon School of Drama. Her professional acting debut was in 2001 when she took part in the William Shakespeare play, Julius Caesar. She played the role of Calpurnia and this was for the Utah Shakespearan Festival.
In 2003 Mixon relocated to Los Angeles, California hoping to land more acting opportunities. Her luck came two years later when she got a starring role in American Standard, an interactive theater play that was premiering at the Los Angeles Edgefest. Katy Mixon has also had performances at Upright Cabaret.
In 2005 Katy Mixon made her debut in film when she got a role in a thriller, The Quiet. She player a character known as Michelle Fell in this major motion picture. Other film roles include Zombie Prom where she she played the character Coco, Four Christmasses where she played Susan, The Informers where she played Patty, State of Play where she acted as Rhonda Silver, All About Steve where she played Elizabeth, Drive Angry where she played Norma Jean, Take Shelter where she played Nat and Minions where she was the voice of Tina. Her current movie project is Comancheria and it is currently filming.
On television Katy Mixon's most notable roles are in the CBS comedy Mike & Molly which has been on air since 2010 as well as HBO's Eastbound & Down where she appeared in a total of 29 episodes.
Sponsored link
Other appearance she has made on television programs including Reinventing the Wheelers where she played the character Caroline Honeybaker back in 2007. In 2008 she played the character Mrs. . Sebastian in the TV series Small Town News, and the character Sheila in the comedy series My Name is Earl in an episode titled 'Sweet Johnny'. In 2010 she featured in three episodes of the situational comedy Two and a Half Men playing the character Betsy. The particular episodes were 'Untainted by Filth', 'Tinkle like a Princess' and 'Gumby with a Pokey'.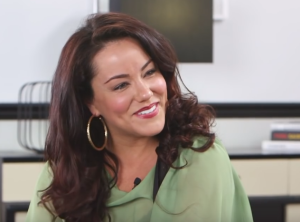 In 2011 she played the character Angelique for the TV show Wilfred in an episode titled 'Doubt'.
In 2013 featured on the TV show Psych as a parole officer named Ursula. This was an episode in the seventh season of the show and the episode was titled 'Cirque du Soul'. In the same year she was cast as Petunia Pig in The Looney Tunes Show in a second season episode titled 'Mr. Weiner'.
Personal Life
Katy Mixon was at one time dating Bobby Deen but since the split, not much is known about her romantic life. She resides in Los Angeles.
Net Worth and Salary
Katy Mixon's net worth is $2 million. Her average annual salary is slightly above $200,000.
Sponsored link