Teri Hatcher is an American actress best known for her role in the TV soap 'Desperate Housewives.'
Sponsored link
She was born on December 8, 1964 is Palo Alto, California. She is known for her memorable television roles of Loris Lane in 'Lois & Clark: The New Adventures of Superman' and as Susan Mayer in 'Desperate Housewives'. She has won a Golden Globe for Best Actress for Desperate Housewives, apart from wining three Screen Actors Guild Awards and a Primetime Emmy nomination.
Struggle before Desperate Housewives
Before finding fame, she groomed herself to become an actress at the American Conservatory Theater. One of her first jobs, back in 1984 was that of a cheerleader for NFL San Francisco 49ers.
Teri Hatcher bagged her first role in the TV series called The Love Boat, playing the character of 'Amy'. She then secured the role of Penny Parker in the TV series 'MacGyver' which ran from 1986 to 1989.
In 1991, she got her next TV series 'Sunday Dinner' where she played a lawyer in her mid-20s who gets involved with a widower twice her age. Not many know that she had auditioned for the hit TV series 'Mad about You' and was even shortlisted as the final among the two; only to lose out to Helen Hunt.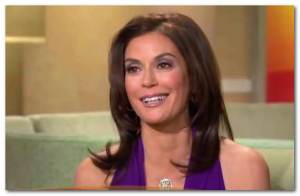 Teri Hatcher – Plastic Surgery Before and After
Over the years, she had been the subject of varied speculations involving her use of Botox injections, eye lift surgery, Restylane or Juvederm fillers, nose job, cheek implants, and facelifts, etc. Teri has admitted to having used collagen and Botox in the past, but not to the extent as said in the media. She also maintains that all cosmetic procedures have stopped and that has made the choice to age gracefully.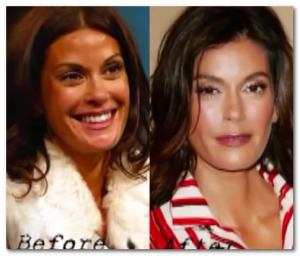 The before and after photos of Teri reveal the following connections between plastic surgery and other cosmetic procedures and the youthful look of the actress.
Sponsored link
Hatcher's face has a frozen look indication excess plastic surgeries and/or excess use of Juvederm fillers/injections. The procedure has resulted in excessive tightening of the facial skin, removal of wrinkles, and problems in smiling properly.

Teri has said that the lack of wrinkles, crow's feet, and laugh lines as well as the smooth and flawless skin appearance can be attributed to very good makeup. She even released some "without-makeup" photos showing her facial expressions, forehead wrinkles et al. Experts argue that the photos may have been taken when she discontinued the use of Botox, etc. for some time, and that is when the wrinkles, sunken cheeks, etc. reappeared. Botox needs to be injected every 6 months for the effects to remain.

The different size of her nostrils, a classic sign of rhinoplasty, indicates that Hatcher may have had a nose job.
Later photos, when she restarted the cosmetic surgical procedures, reveal her eyelids to be droopy and puffy, indicating a recent lower eyelid surgery for removing bags and saggy skin. Her cheeks also looked fuller, a sign of cheek implants.
Teri Hatcher – ex-husbands and children
She married personal trainer Marcus Leithold on June 4, 1998 but they divorced the year after. She then married actor Jon Tenney on May 27, 1984. They have a daughter Emerson Rose, born in 1997. The couple divorced in March 2003.
Trivia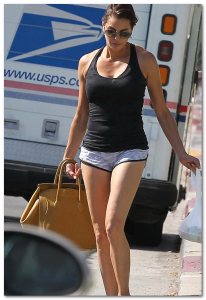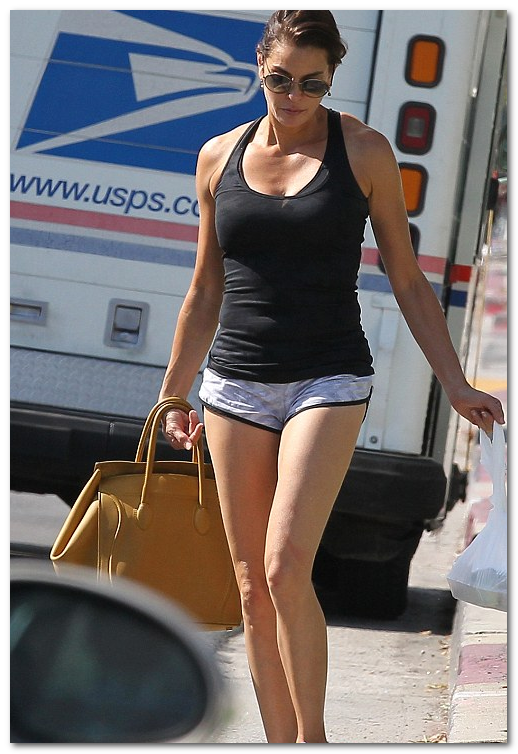 The 1.68 meter tall (5 feet 6 inch) Teri Hatcher, is one of the fittest actresses in Hollywood. In 2009, she successfully completed the Malibu Triathlon (which includes swimming 4 0.5 miles, biking 18 miles and running 4 miles) in 2 hours, 6 minutes and 50.7 seconds.
Teri Hatcher Net Worth
Teri Hatcher has a net worth of $50 million.
Sponsored link