Stephen James "Steve" Doocy is a well-known face in the television industry of America. He is a seasoned journalist, brilliant author, political buff and commentator. Steve has been vigorously serving mass media for a long span of time. Presently, he  is affiliated with the Fox News Network. He also serves as the host of the show named 'Fox and Friends', along with Gretchen Karlson and Brian Kilmeade.
Sponsored link
He is eminent as the author of two New York times best sellers.  He has addressed several concerns of the civilians in his books.
Early life and background
He was born in 19th October  in the year 1956 in Algona, Lowa. He was named as Stephen James by his parents, James Edward Doocy and JoAnne (Sharp). Steve was brought up in Abilene, Kansas and spent most of the days of his childhood. After receiving his early education from  the Kansan Grade school, Steve joined Clay Center to complete his high school. After that, he attended the University of Kansas in order to pursue a degree in Journalism.
Career achievements
Steve Doocy began his career serving as a DJ for  KJHK, a radio station of Kansas. He also used to serve as a newscaster on WCBS-TV, a flagship station of CBS-TV.  In addition to that, Doocy has also Co hosted 'Wake up America', a show on the NBC cable network.  Apart from all these, he has served as the host of other popular shows such as 'House Party with Steve Doocy'  and ' Not Just a News'. He was dragged in dispute for baking up anti-gay christian baker in his show named 'Fox and Friends'.
Steve has also contributed as a news reporter in Topeka, Wichita, Des Moines, Kansas City and Lowa.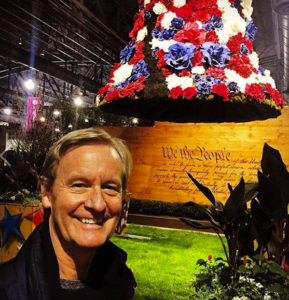 Sponsored link
Currently, this versatile and dynamic person anchors in Fox News Channel. In the year 1996, he was affiliated with Fox News Network. He has covered many major incidents and vital stories from distinctive corners of the United States, while working as a reporter for this network. He has travelled in several parts of the world to cover major stories.
Steve was assigned the duty of covering the presidential election. He has taken the interviews of various notable political figures,  including Mitt Romney, former president George W. Bush and Hilary Clinton. Steve has also conducted interviews of various celebrities such as Rob Lowe,  Jessica Alba, and Brooklyn Decker.
Besides, being a professional and  skilled journalist, Steve Doocy is also known as an author. His masterpieces are basically concerned with the issues regarding marriage and family life.
Steve Doocy- Wife and Children
Steve Doocy is married to Kathy Gerrity. He has experienced conjugal bliss to its highest degree. There is no report of any separation or hazards. They are together for more than twenty five years.  The couple is blessed with three children. His son Peter Doocy also serves as an anchor for Fox News Network.
Steve Doocy is largely followed on Facebook and twitter.
Steve Doocy – Salary and Net Worth
This multi-talented television personality has an approximated net worth of $2 millions and earns a salary of $500,000
House
This famous journalist resides in Wyckoff, New Jersey.

Steve Doocy– Books
Both of his books have made it to the New York Times Best Seller's List. They are 'Mr. and Mrs. Happy Handbook' based on real life experiences of people and 'Tales from Dad's Side' based on fatherhood.
Sponsored link