Sofia Vergara (born on July 10, 1972) is a Colombian-American actress, TV host, model, comedienne and businesswoman.   Forbes listed her as 32nd most powerful woman in 2014 and 54th most powerful celebrity in the world.
Sponsored link
The age-defying beauty is best known for the popular show Modern Family aired on ABC, where she played the role of Gloria Delgado-Pritchett, which earned her four Golden Globe nominations, seven Screen Actors Guild Awards and four Primetime Emmy Awards.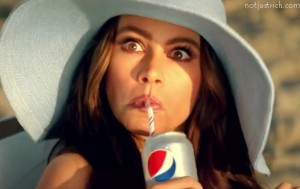 Miss. Vergara started her TV career hosting two memorable TV shows for Spanish TV network Univisión called Fuera de serie and A que no te atreves. She was also a part of Baywatch (1999) in the first episode of Season 9. Her other popular TV programs include Hot Properties, Amas de Casa Desesperadas (2007, Colombian version of 'Desperate Housewives')Men in Trees Saturday Night Live, The Cleveland Show and Family Guy.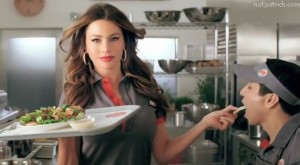 Vergara announced in a TV interview in 2014 that she was an American citizen.  She also has a signature brand of perfume called Sofia Eau de Parfum Spray for Women.
Sofia Vergara – Young Pictures
These are pictures from the early days of her career.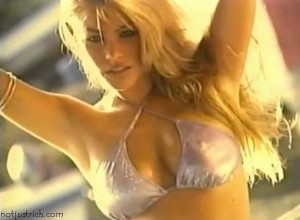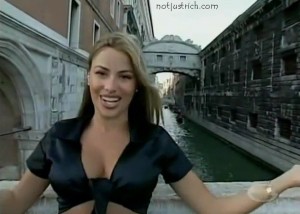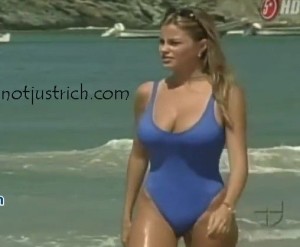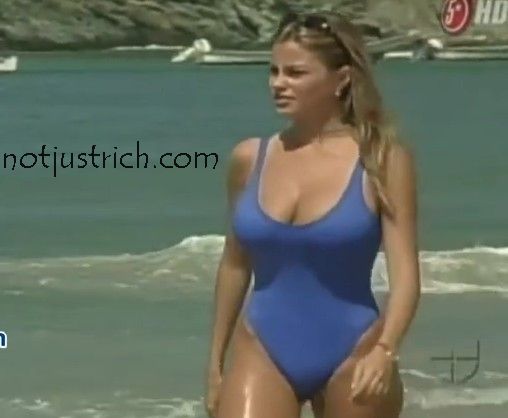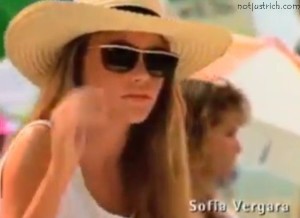 Sofia Vergara movies
Her first movie in English was a movie called Chasing Papi (2003). In the same year, she did another movie called 'Big Trouble'. She went on to many other movies like Four Brothers(2005) Grilled (2006), Meet the Browns(2008), Madeas Goes to Jail (2009). Her TV success reflected on her popularity as a movie actress and she started getting plum assignments in the form of movies like The Smurfs (2011), The Three Stooges (2012), Escape from Planet Earth (2013), Fading Gigolo (2013), Chef (2014), Wild Card(2015) and Hot Pursuit (2015).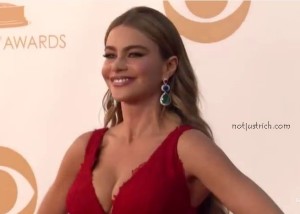 Early years
Sofia Vergara was born in Colombia (Barranquilla) to Margarita (housewife) and Julio Enrique Vergara( a cattle farmer). She lived in a big family comprising five brothers, five sisters and many cousins. Her adopted sister Sandra is also a TV actress.
Vergara aimed to studied dentistry but abandoned the idea to pursue modeling. She found it hard to live in Colombia which was infested with crime. Her older brother Rafael was kidnapped and murdered in 1998.
Career rise
While she was walking in a swimsuit on a Colombian beach, a photographer spotted her and gave her an offer to work for the modeling industry. Sofia, initially apprehensive, went on to be a part of a Pepsi commercial at the age of 17; the ad became quite popular in Latin America.
When she was 20, Sofia started working as a runaway model and TV actress at Bogota, Columbia. For three years from 1995 to 1998, she hosted travel programs for Spanish language TV network, which gave her the chance to tour the world. She also hosted A que no te atreves (I Dare You) which became popular in America as well, because of Univision Network which enjoyed patronage in the US too.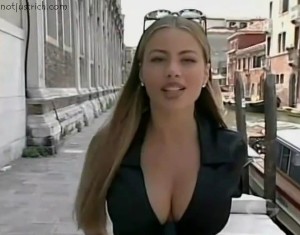 Miss. Vergara who was under a contact with Univision, moved on to ABC in US after her contact expired. She started acting in sitcoms produced by ABC like Hot Properties and then went on to become the highest paid star in television with her role in the sitcom 'Modern Family'.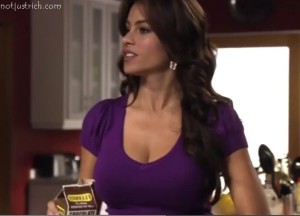 Sofia Vergara – Height and Weight
She has an average height of 1.10m tall (5 feet 7 inch tall) and weighs an average of 57 kgs. She believes in eating right and loves to keep herself fit as a fiddle.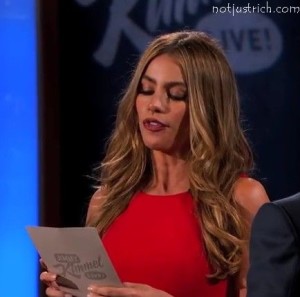 Sofia Vergara – natural hair color
Though she is naturally blonde, she likes to experiment with hairstyle and hair color. In many programs she dyes her hair brown to look Hispanic.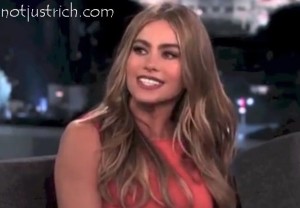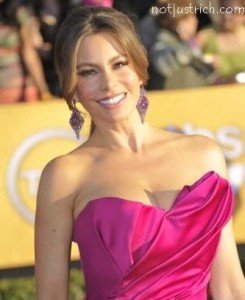 Sponsored link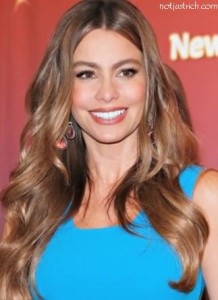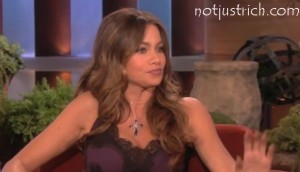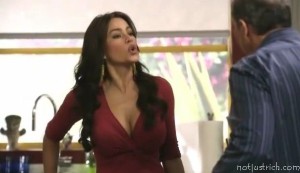 Sofia Vergara's ex- husband
Sofia Vergara married her boyfriend from high-school Joe Gonzalez at the age of 18. She gave birth to their son Manolo in September 1992. She divorced Joe in 1993.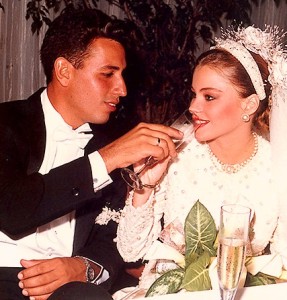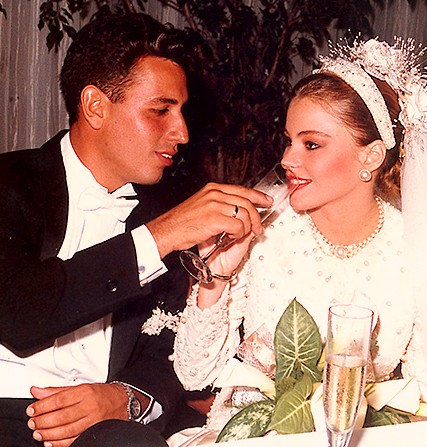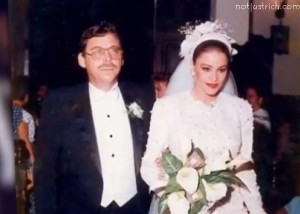 Sofia Vergara and her son – Manolo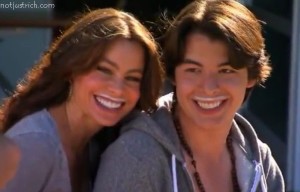 Sofia Vergara's effortless trait to look younger than her age, makes her look more or less in the same age-group as her son Manolo. The two had even modeled together for an ad for Got Milk? on Youtube which went viral.
Sofia Vergara – boyfriends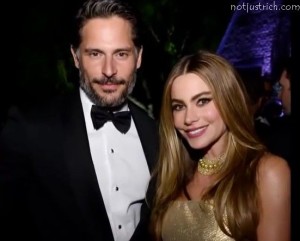 On July 2012, Sofia Vergara was engaged to her boyfriend Nick Loeb. On May 23, 2014, the engagement was called off,. Two months later, she was dating Joe Manganiello, the True Blood Star. The pair got engaged on Christmas 2014.
Sofia Vergara – thyroid cancer
Sofia Vergara was diagnosed with thyroid cancer in 2000, as a result of which she had to have her thyroid removed, go through a radioiodine therapy. She takes hypothyroidism medication.
Sofia Vergara – net worth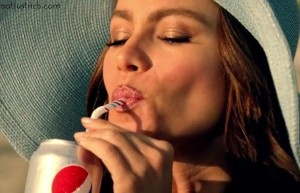 Sofia Vergara has been the highest paid actress in US television since 2012 earning $19 million. Her net worth in 2014 is $37 million.
Sofia Vergara – house
Sofia Vergara has a 11, 400 square feet in the heart of Beverly Hills. She spent $10.6 million for her pad, which includes a balcony terrace, a pool, seven bedrooms, eleven bathrooms and spa.
Sponsored link