Sheldon Adelson is an American billionaire businessman, investor, and casino magnate. He is presently the CEO and chairman of Las Vegas Sands Corporation. Its subsidiary, Venetian Macao Limited, runs the Sands Expo and Convention Center and the Venetian Resort Hotel Casino. As of July 2014, Forbes had estimated Adelson's net worth to be around $36 to $37 billion, thereby making him the 10th richest man in the world.
Sponsored link
Adelson began showing his entrepreneurial skills from a very young age. He set up a number of successful business ventures before launching the very profitable COMDEX computer trade show in the 1970s. He then ventured into the casino resorts business in Las Vegas and eventually Asia, which is what made him the billionaire that he is today. Adelson is a supporter of the Republican Party in the US and donates generously to their candidates.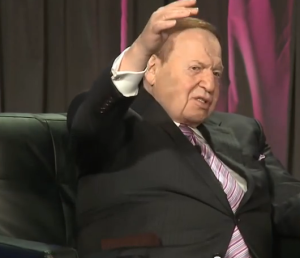 The Life and Career of Sheldon Adelson
The life story of Sheldon Gary Adelson is a classic rags to riches one. He was born on Aug. 4, 1933, in Boston, Massachusetts. His parents were Ukrainian Jews who lived in the poor Dorchester neighborhood; his father was a taxicab driver and an ads salesman, while mother managed a knitting shop.
When Sheldon was only 12 years old, he began working by vending newspapers. He later set up his own business of toiletries. He enrolled in City College of New York in the early 50s with corporate finance as his major. He however dropped out within 2 years. He then joined the army and worked on Wall Street as a court stenographer. This is where he began dreaming about making his billions. After getting discharged from the army, he worked as an investment advisor and mortgage broker. He soon became a millionaire. He returned to Boston in the early 60s and began investing in numerous companies, including a tours and travel firm called The American International Travel Service. These investments reaped profits. However, the decline of the stock market in the late 60s soured his success.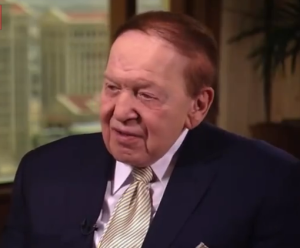 In the early 70s, Adelson came back with a bang via his business of real estate brokerage in Boston. He organized condominium conversions and made lots of profits till the market for condos faded away. Later, while searching for new profitable business ventures, Adelson came across a firm that published magazines, including a computer magazine called Data Communications User. He subsequently purchased the company. During this time he attended a condo trade convention. He came to know that the producer of the convention was a publisher of a condo magazine. Adelson realized that similar concepts could be applied for the computer business as well and subsequently launched a trade show for computers.
Adelson held his first computer trade show in 1973. It was a moderate success. He realized the potential of this business; hence he sold of his holdings in the publishing company and the condo business and used the money to start the Interface Group which focused on computer trade shows. The firm experienced slow growth in the initial years. This was the time when he became acquainted with his first wife, Sandra. The couple adopted 3 children, but got divorced in 1988.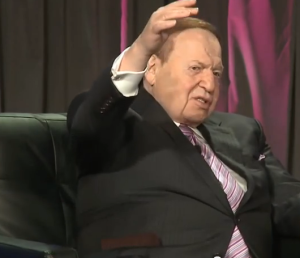 Adelson launched COMDEX or Computer Dealers Expo in 1979 and the show was held in Las Vegas, at the MGM Grand Hotel. It was perfect timing as computer brands like Apple, IBM, and Microsoft started growing rapidly and the PC industry was on the verge of a boom. Adelson's COMDEX show helped these computer companies to showcase their products to other companies as well as consumers. Within a span of 6 years, COMDEX became the biggest trade show in the 'Sin City' and had garnered $20 million in profits. By 1990, the Interface Group had grossed over $250 million and launched COMDEX shows outside the US.
Sponsored link
The Casino Business: In the 80s, Adelson's company started searching for hotels that could accommodate the needs of their travel companies and their numerous private aircrafts. Adelson eventually bought the iconic Sands Casino in 1988 for $128 million. He then redesigned the place to suit the needs of his business. He constructed a shopping mall, a resort, and a convention center for COMDEX and other events of his company. The new casino resort was renamed as Sands Casino and Convention Center.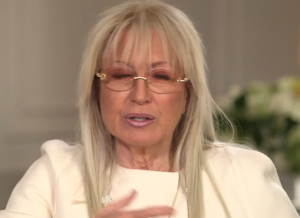 Adelson met his second wife Miriam, an Israeli-born doctor, in the late 80s and they married in 1991. She had 2 daughters from her previous marriage. While honeymooning with Miriam in Venice, Adelson envisioned a huge Venice-themed hotel-resort. Subsequently, he sold COMDEX in 1995 for $860 million and Adelson got $500 million. Adelson then shelved his partnerships at Interface and started planning the construction of his $1.5 billion dream projects, The Venetian Resort Hotel Casino and the Sands Expo and Convention Center. The construction phase was riddled with contractual and legal battles with contractors and unions. The resort-hotel finally opened in 1999. It was an instant success.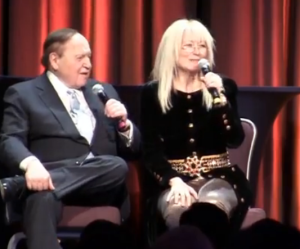 In 2001, after the end of gambling monopoly in the Chinese island of Macau, Adelson started focusing all his energy into opening another Venetian resort-casino in Macau. Macau was the biggest gambling market in Asia and garnered revenues that were 4 times that of Las Vegas. The Sands Macau subsequently launched in May 2004. Later in 2006, after a fierce contest, Adelson won the license to build a resort-casino in Marina Bay, Singapore. Adelson then spent a reported $5.5 billion to construct the magnificent Marina Bay Sands Hotel and Casino. It opened in 2010.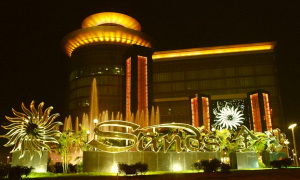 Political Funding: Adelson began donating to political candidates in the 2000s. He was originally a supporter of the Democratic Party, but as he became wealthier, he switched loyalties to the Republican Party. Adelson has supported varied political advocacy groups. He supported and funded Newt Gingrich and then Mitt Romney in the 2012 US Presidential elections.
Philanthropy: Over the years, Adelson has donated to numerous charities. He set up the Adelson Family Charitable Trust in 2007. It gave $140 million to 'Birthright Israel,' foundation and has pledged to donate nearly $200 million to varied Israeli and Jewish causes. In 2014, Adelson donated $5 million to Friends of the Israel Defense Forces.
Sponsored link