Seth Adam Meyers is an American talk show host, comedian, actor, producer, and writer currently working as the host of NBC late-night talk show 'Late Night with Seth Meyers' as well as the co-writer, co-creator, and executive producer of Documentary Now!
Sponsored link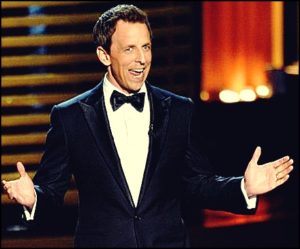 Early Life
Seth was born on 28th December 1973 in Evanston, Illinois, to finance sector worker Laurence Meyers, Jr., and French teacher Hilary Claire/née Olson. He grew up in Okemos, Michigan before the family settled in Bedford, New Hampshire.
Actor Josh Myers is his younger brother.
Myers went to Edgewood Elementary located in Okemos and later to Manchester High School West in NH. After graduating from school he went to Northwestern University located in Evanston.
Career
Seth was a member of Mee-Ow Show, an improv sketch group at Northwestern University. He then began his career in improv comedy with Preponderate group at ImprovOlympic and as Boom Chicago's cast member.
In 2001, Myers joined the cast of SNL. He became the writing supervisor in 2005 and the co-head writer the next year. After the departure of Tina Fey, Seth became the head writer and the co-anchor of 'Weekend Update.' He got promoted as solo anchor in 2008 and retained it till 2013. Fey has stated that Seth was responsible for creating the sketches about Fey's impression of Sarah Palin during the 2008 US Presidential elections.
During this period, Meyers also appeared in movies like 'See This Movie', Brenden Fraser starrer 'Journey to the Center of the Earth,' and Infinite Playlist, etc. He also hosted a variety of award shows and was the 2011 White House Correspondents' Association Dinner keynote speaker. Other prominent ventures include 'The Awesomes,' an animated 30-minute series the he created with SNL mate Mike Shoemaker, and 'The Short Halloween' a Spider-Man one-off comic that he created with Bill Hader.
Meyers left SNL in 2014 after he got the offer of hosting Late Night talk show on NBC.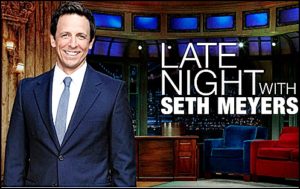 Sponsored link
Personal Life
Myers married Alexi Ashe, a human rights lawyer, on 1st September 2013 at Martha's Vineyard. The couple got engaged in July 2013 after dating for 5 years.
The couple has a son named Ashe Olson Meyers. He was born on 27th March 2016.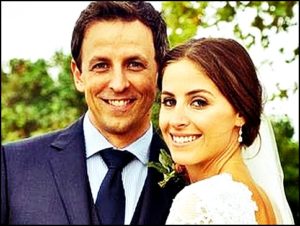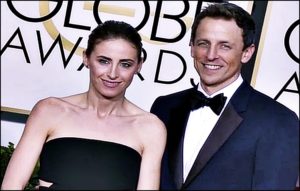 Trivia
Seth is a fan of varied sports teams, namely, Boston Celtics, Boston Red Sox, the Pittsburgh Steelers, the Northwestern Wildcats, Pittsburgh Pirates, EPL soccer club West Ham United, and the Dutch national football/soccer team.
Meyers donated more than $4000 to the presidential campaign of Barack Obama in 2008.
After winning the 2009 Bravo's Celebrity Poker Showdown, the 1.83 meter tall funny man donated his winnings of $100,000 to 'Jimmy Fund' based at Boston.
Meyers is a fan of Locke & Key, the supernatural comic book series by Joe Hill.
During his speech at the White House Correspondents' Association Dinner in 2011, Myers had joked about Osama Bin Laden hosting his own talk show while in hiding. Seth was not aware that Laden was located by US intelligence and that a planned attack on him was to happen the very next day.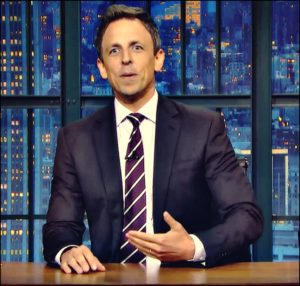 Seth Meyers – Salary and Net Worth
His annual salary is about $3 million and his net worth is estimated to be $12 million.
Sponsored link