Sean Hannity is an American author, commentator, and radio and television host. He started his career in 1989 as a radio host at the college station UC Santa Barbara, KCSB-FM. Sean has obtained many awards including Marconi Award. He hosts The Sean Hannity Show, a talk radio show. He also hosts Hannity show on Fox News Channel. Hannity is the author of three bestselling books.

Sponsored link
Early life
Hannity was born December 30, 1961 in New York City. He grew up in Franklin Square, New York where he attended Sacred Heart Seminary in Hempstead. He dropped out of Adelphi University and New York University.
Career rise
In 1989,  the 1.82 meter tall Hannity started his career as a radio host at a college station KCSB-FM in Santa Barbara. After leaving KCSB he went ahead to join a radio station in Athens, Alabama called WVNN. He left WVNN and joined WGST in Atlanta in 1992.
Hannity worked in a political program for Fox News dubbed "Hannity and Colmes" as a co-host. He has as well worked on "Hannity's America", a Sunday night TV show. During his career, he has been awarded many awards for his work. In 2003 and 2007, he won the Marconi Award in the category of Network Syndicated Personality of the Year awarded by National Association of Broadcasters.
In the list of "100 most important radio talk show hosts" featured in Talkers Magazine in 2009, Hannity was ranked number 2. He has received an Honorary Degree in 2005 from chancellor of Liberty University.
In time of his career, he was faced with hurdles such as a near-dismissal from hosting at KCSB. He was a host of a weekly show on KCSB. The station reversed the decision of dismissing Hannity following the remarks he had made. However, the show was cancelled due to the remarks to a lesbian caller, after a campaign that was led by Santa Barbara Chapter of the American Civil Liberties Union. At that time, he used to host two shows that featured the book, The AIDS Coverup: The Real and Alarming Facts about AIDS authored by Gene Antonio.
Sponsored link
After leaving KCSB radio station, Hannity advertised himself in radio publications as "the most talked about college radio host in America." And, it is during this time when WVNN in Athens, Alabama hired him to host an afternoon show in Huntsville. He later on in 1992 moved to WGST in Atlanta where he filled the slot of Neal Boortz who had left and moved to another rival station WSB.
Hannity was hired by the co-founder of Fox News, Roger Ailes in September 1996 to host a television program. Alan Colmes joined Hannity as a co-host and the show Hannity & Colmes debuted. Hannity later left WGST for New York to join WABC.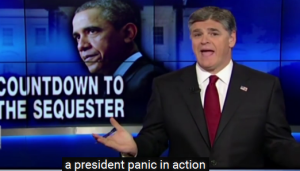 In 2007, he started a new Sunday night TV show on Fox News called Hannity's America. In 2009, he took over a new show, Hannity that airs on a similar format to Hannity's America.

Wife and Children
Hannity married Jill Hannity since 1993. They have two kids,  Sean Patrick and Merri Kelly.
 Sean Hannity – Net worth and Salary
Sean Hannity has a net worth estimated to be $80 million with $30 million in earnings per year.
Sponsored link