Scott Van Pelt is a long serving golf commentator and games analyst who has established a strong following in both radio and television. He has anchored for SportCenter and served as a host for popular radio shows including Tirico and Van Pelt, The Scott Van Pelt Show and SVP & Russillo. His voice has also been used in Play Station games. Scott also does writing and acting.
Sponsored link
Early life and Education
Scott Van Pelt was born in Brookeville, Maryland on August 4, 1970. He spent most of his childhood in Washington DC., but again returned to Maryland for his high school education at Sherwood High School in Silver Spring.
In 2015 during one of his midnight segments on SportsCenter, Scott talked about his family struggling with his dad's alcohol addiction. His father died from alcohol- related complication. Scott, who is always minimal with details concerning his personal life revealed this in bid to encourage CC Sabathia to follow his publicly announced decision to go to rehabilitation.
Scott graduated with a bachelor's degree in radio, television and film studies at the University of Maryland. At the institution, he actively participated in the functions of the Pi Kappa Alpha fraternity, where he is still a member to date.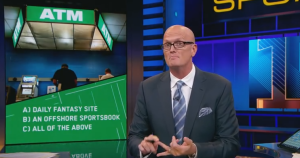 Career
Scott's footstep in the media industry can be traced back to the year 1990 when he started to work for WTTG-TV. Four years later, he moved to Golf channel where he was assigned to host advertisement intensive programs.
In 2000, he moved to ESPN where he was first appointed as a golf correspondent. He also worked on ESPN Radio as a co host of Mark Terico. When the program, Tirico and Van Pelt, was cancelled in 2009, Scott was assigned to a new program, The Scott Van Pelt Show. The content of the new show was basically similar to the former, though it was now only one person hosting.
Sponsored link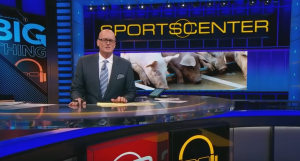 During 2012 when most big names at ESPN were leaving the broadcaster, people anticipated that Scott would do the same but he didn't. His rating has remained relatively stable compared to his former colleagues like Jim Rome, Michelle Beadle and Erin Andrews who have not been doing so well since they transferred to other stations.
As a commentator, Scott's voice features in various golf video games including Tiger Woods PGA Tour 10, Aqua Teen Hunger Force Zombie Ninja Pro-Am, and Tiger Woods PGA Tour 11.
Scott currently hosts the nighttime SportsCentre. He also presents college football games on Friday nights apart from providing correspondence on major golf tournaments. Asked in a 2014 interview why ESPN loads him with so much work, Scott answered that he actually begs them to.
Personal life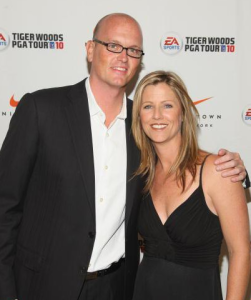 The 1.97 meter tall Scott and Stephanie Van Pelt and got married in 2011; the couple has one child- a girl. The family has close friendship with Tiger Woods- whom Scott credits for jump-starting his career by (Woods) granting him an exclusive interview when Scott was still not very popular – and Les Miles.
Scott Van Pelt – Net Worth and Salary

Scott Van Pelt earns an annual salary of $1.5 million and his net worth is $16 million.
Sponsored link