Scott Pelley is an American TV journalist who is also a news anchor and managing editor of CBS Evening News. Pelley is also a correspondent for CBS news magazine known as 60 Minutes. Pelley, prior to presenting 60 Minutes, he was a correspondent for the program 60 Minutes II and served as Chief White House correspondent for CBS News.

Sponsored link
Early life
Scott Pelley was born on 28 July 1957 in San Antonio, Texas. He grew up in Lubbock and graduated from Coronado High School. Pelley obtained his first job when he was 15 year where he served as a copyboy for Lubbock Avalanche-Journal. Pelley attended Texas Tech University in Lubbock where he majored in journalism.

Career rise
Pelley's career started in 1975 at Lubbock's KSEL-TV before he moved to join KXAS-TV in Fort Worth in 1978. In 1982, he joined WFAA-TV in Dallas where he served for seven years. The executives at CBS News identified Pelley's as a potential anchor and reporter in 1985 when he was reporting on Guatemalan refugees who lived in remote jungles of Mexico. However, it was not until four years later when Pelley moved to CBS network. He joined CBS in 1989 in New York City and later returned to Dallas where he covered national affairs news from the CBS bureau.
Pelley reported news on 1990/91 Gulf war in Baghdad and travelled with XVIII Airborne Corps during the time they were assaulting Iraq and Kuwait. Pelley was given an assignment to cover the presidential campaigns of Bill Clinton and Ross Perot in 1992. He also reported on other major events such as the 1993 World Trade Center bombing, 1995 Oklahoma City bombing, and Branch Davidian siege near Waco, Texas.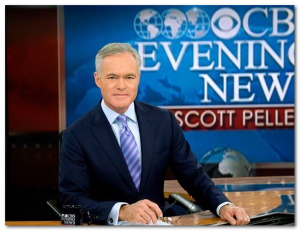 Sponsored link
From 1997 to 1999, Pelley served as the Chief White House Correspondent for CBS News. It is during that when United States House of Representatives impeached President Clinton. Pelley, covering investigation of President Clinton broke the news saying that Monica Lewinsky intended to become a cooperating witness in the saga, which was being investigated by the Office of Independent Counsel. He was the first reporter to report that Clinton had been subpoenaed to appear and testify before the grand jury.
In 2001, the 5 feet 10 tall Pelley got an opportunity to interview former president Clinton following the after-effects of September 11 attacks. In 1999, Pelley exited White House and joined the program. And, in 2000, he got another opportunity to interview the new president-elect who was then George W. Bush. In 2001, on the morning of 11 September, Pelley was reporting from the ground zero site at the scene of attacks in the collapsing World Trade Center towers. Pelley has also reported on economic collapse of 2008 to 2009 and the climate change from Arctic and Antarctica. Pelley started anchoring CBS Evening News on June 6, 2011 where he succeeded Katie Couric. Pelley has been regarded as probably the most well proven and qualified television journalist who has ascended to his anchor job. He is referred to as the strongest on-air personality in this industry.
Scott Pelley- wife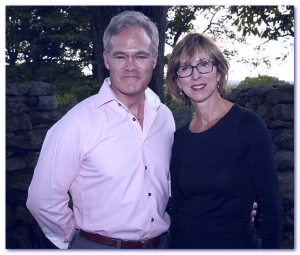 His wife's name is Jane Boone; they have two children – a daughter and a son.

Scott Pelley – Net Worth and Salary
Pelley has a net worth estimated to be $16 million. He earns an annual salary of $7 million per year.
Sponsored link