Savannah Clark Guthrie is a popular American journalist and attorney working for NBC News.   Since June 2012, she has been the co-anchor of The Today Show.  In September 2007, Guthrie joined NBC News as Legal Analyst Correspondent, where she worked regularly reporting on the trials throughout the country. In year 2008 and 2011, after working as a White House Correspondent and also as co-anchor of the MSNBC program "The Daily Rundown" in 2010 to 2011, she was announced as the co-host of Today third hour along with Natalite Morales and Al Roker.  She replaced Ann Curry as co-anchor of the Today Show.
Sponsored link
Early life and background
Savannah Clark Guthrie, named after her great-grandmother, was born on December 27, 1971, in Melbourne, Australia, where her father used to reside. Two years after her birth, her family returned to the United States and moved to Tucson, Arizona . Guthrie has two siblings one sister Annie Guthrie, and another brother Camron Guthrie .She graduated from Amphitheater High School in Tucson. Guthrie received her undergraduate degree in the field of journalism from the University of Arizona. In 1993, she earned the degree with Latin honors. She was also a a representative of the Arizona Alpha chapter of Pi Beta Phi.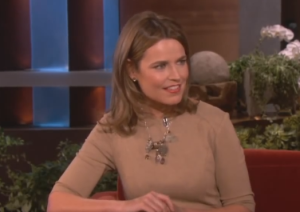 Career Achievements
In September 2007, Guthrie became the correspondent for NBC News. Her major noted works are for covering news' like 2008 Vice- Presidential Race  of Sarah Palin from Fairbanks, San Antonio, Sioux City, , Pittsburgh and Washington. Guthrie has been named as White House Correspondent for NBC News on December 18 in the same year.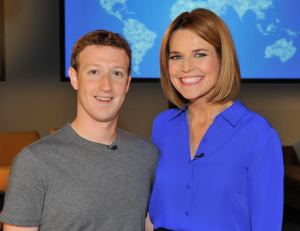 Guthrie is also an anchor and substitute anchor on NBC Nightly News. She substituted for Meredith Vieira and Ann Curry for The Today Show, and ultimately became the co-host of 9 am hour, along with Natalie Morales and Al Roker. She also became the Show's Chief Legal Editor on May 9, 2011. She had also worked in The Daily Rundown as a co-Anchor (2010-2011),) and Macy's Thanksgiving Day Parade (2012- present) apart from being the co-anchor of the Today Show since 2012.
Other than show anchoring ,Guthrie has also appeared as herself in the 2015 film -Sharknado 3: Oh Hell No!
Sponsored link
Savannah Guthrie – Husband
The 1.78 meter tall beautiful TV anchor met her first husband an English-born BBC News presenter, Mark Orchard, when she was covering the trial report of Michael Jackson. Soon after Orchard got divorced from his first wife Anne Kornblut, a journalist by profession, the duo got married in December 2005.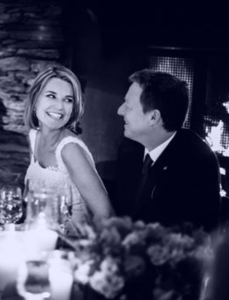 In 2009, Guthrie and Orchard got divorced, and later that year she started dating Democratic political and communications consultant Michael Feldman. In May 2013, she got engaged to  Feldman and on March 15, 2014 the couple got married.
Savannah Guthrie – baby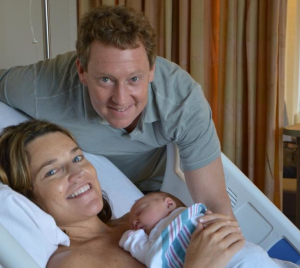 Savannah Guthrie was already pregnant with a baby before she got married. Four months into her pregnancy, she got married to boyfriend Michael Feldman.  On August 13, 2014 she gave birth to a baby girl called Vale Guthrie Feldman in New York. It is the couple's first child. She announced that she was pregnant with another child, a boy, on June 7, 2016.  

Savannah Guthrie – Salary and Net Worth
Savannah Guthrie is one of most famous media person of the world today. Being a top-notch journalist and broadcaster, she earns $500,000 per year, whereas her estimated net worth is $2 million dollars.
House
She lives with her family  in the SoHo neighborhood in Lower Manhattan.
Sponsored link