Sara Blakely is the founder of Spanx. The American company has embraced fame for creating a revolution in intimate apparel for women. The company has been founded in Atlanta.
Sponsored link
Sara has been named the 100th most influential person in the list of Times' 100 most influential people, in 2012. As per the 2014 report, she is the 93rd most influential woman.
Early Life
Sara was born on 27th Feb 1971, in Florida. She went to Clearwater High School. Her graduation was done from Florida University. She has a degree in communication. She was a sorority member of Delta Delta Delta sorority.
Career
Being the daughter of a trail attorney had its effect on her. She wanted to become a lawyer. However, this decision of hers altered when she flunked the law admission test. Rather than trying again, she accepted a job in Walt Disney World. Here she worked for three months. Occasionally, she worked as a part time comedian as well.
After leaving Disney World, she got a job in an office supply company called Danka. She had to sale fax machine door to door here. She had a natural charm which worked in her favor and she succeeded in selling the fax machines. Eventually she was promoted as the sales trainer at the early age of 25.
Her job as a saleswoman demanded that she wore pantyhose in the Florida summer. She disliked the way seamed foot appeared through the open toed footwear. However, she liked that way it eliminated the signs of panty line while making her body appear firmer.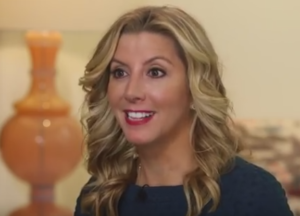 One day while getting prepared for a party, she cut off both the feet of her pantyhose. She then wore it under a pair of slacks. Later she found that the pantyhose rolled up her legs. However, by wearing it under the slacks, she accomplished the desired result.
She relocated to Atlanta at the age of 27. Here she spent two years researching and developing her hosiery business idea. Through research she found that no female lawyer was operating the patent in the state of Georgia. She was not willing to spend money on patent writing. Eventually, she wrote her own patent.
Then she drove to North Carolina to present her business idea. It is the location where most of the hosiery mills of America are situated. Sara, however, was turned down by everyone. They failed to see any potential in her idea. Two weeks later, after she returned home, a mill operator called her. He expressed him willingness to support her as he had received encouragement from his daughters.
She concentrated on packaging her product. It was her wish that her brand will express boldness. This is the reason she opted for red while the other brands stuck to subtle beige white or gray.
The next challenge had been to find a name for her product. She became frustrated as she could not find a name that suits the brand. Then Coca-Cola and Kodak got her attention. She noticed the strong K sound. Spanx came to her mind as the name of her brand.
Sponsored link
Sara didn't have it easy, while promoting her shapewear. After she was able to push some of Spanx shapewear into department stores, she would call up everyone she knew to buy it off the store. She also mailed them a reimbursement check in case, they didn't like the product. She also kept her day job for 2 years while continuously focusing on her invention.
Sara Blakely's big day came when Oprah Winfrey declared that Spanx was one of her favorite things in 2000. She featured in Richard Branson's show ' The Rebel Billionaire' and the two became friends.  Now, the Spanx wear is commonplace with celebrities like Kim Kardashian flaunting the wear. Having said that , Sara Blakely never advertised Spanx or took outside investments.  The low profile billionaire is a busy mom and runs the cult-wear business too. She is someone who believes in facing her fears. She admits that she has fears of public speaking and fear of flying but then she doesn't think twice about speaking anyway and traveling across the world.
Husband and Children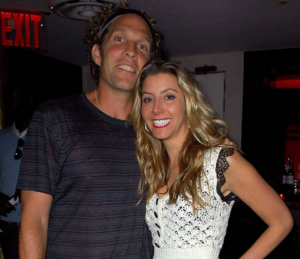 She married the co-founder of Marquis Jet, Jesse Itzle. in 2008. They have four children.
Sara Blakely – Net Worth
Her net worth is $1.17 billion.
Sara Blakely – House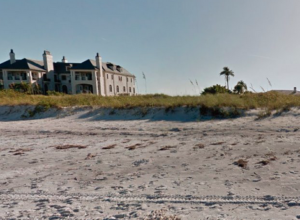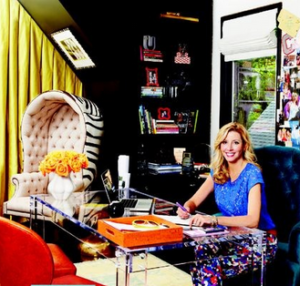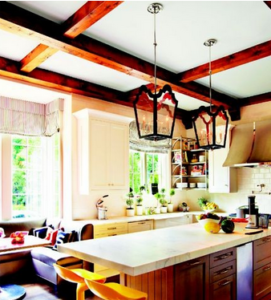 Sara Blakely bought a $8.8 million beach home in Clearwater, Florida, where she was born. She stays in a 10,000 square foot home with her family. It is run by solar power and has a giant gumball machine at the foyer. There are  spa and sauna rooms as well in the home.
 Philanthropy
Sara founded the Sara Blakely Foundation in 2006, it focuses on supporting causes that empower women. In 2013, she signed the 'The Giving Pledge'  with Warren Buffett, stating she would donate at least half of her wealth to charity.
She has also initiated a program known as 'Leg Up' which helps budding female entrepreneurs grow in business. She also gives one-to-one mentoring to participants and even gives them advertising space in the Spanx catalogue.
Sponsored link