Sade is the anchor for Eyewitness News, which airs on WABC Channel 7 every weekday. She does this alongside Diana Williams at 5pm and 11pm with Bill Riter. Her full name is Folasade Olayinke Baderinwa. Apart from her news work, Sade is also a mentor; she, alongside major broadcasters and filmmaking companies, runs a program for young people called "Get 'Reel' With Your Dreams: The Inside Track". Since 2004, Sade has also been a leading figure in the campaign against careless driving.
Sponsored link
Early childhood
Sade was born in a dysfunctional family but raised in a stable background. Her story begins with a father-mother separation while she was still a toddler. When her mother walked away, she spent time under the care of her dad until he too left her under the care of another person.
Sade was born on April 14 1969 at Baltimore, Maryland. The father is a Nigerian and her mother, a German.
At four years old, Sade's father introduced the young girl to the extended family of Edie House, his friend. For a long time, Sade could not pronounce Edie's name correctly; she used to call her "Edick".
Considering that Edick's big family had many other kids and a charming grandma (Eddie's mother) to take care of them, Sade continued with life as normal even when her dad moved back to Nigeria; he never came back.
Sade's adoptive family was not rich, especially at the early stages when her new mom had not yet secured a stable job. However, lack crossed path with Edie: she landed anchoring and public relations career at WBAL.
Naturally, somebody might say that Edie encouraged her daughter to get into the media industry; she however strongly refutes this, saying that there was never a day she told the little girl to pursue a specific career. That said, as a mother, she is proud that Sade followed her footsteps.
Career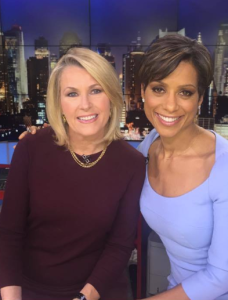 Sponsored link
During her young age, Sade used to accompany her mother to the newsroom. This probably was her main source of interest in journalism, and the probable reason why she took media studies at the University of Maryland.
After graduating, she worked as a reporter for a couple of stations and as a production assistant for ABC channel.
Her first anchoring job was at WBAL TV, her mother's former workplace. After doing morning and noon shows for a while, she moved to WABC channel 7 in 2003.
Sade Experienced a terrible accident in April 2004 while at work. A Car rammed her, throwing her ten feet into the air before she landed in a ditch. Most of her bones, especially in the knees, hip and hands were crashed. She healed after surgeries and therapies.
Since resuming work in December 2014, Sade has been on the Eyewitness News.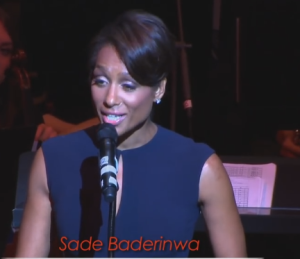 Personal life
A while back, there were rumors that the 5 feet 6 inch tall  Sade was dating Martin J. O Malley, the then mayor of Baltimore- a married man. The allegations fizzled off. Not much is known about Sade's relationship as at now.
Sade Baderinwa – Net worth and salary
Sade Baderinwa earns close to $900 thousand dollars and has a net worth of $5 million.
Sponsored link