Sachin Tendulkar is a name synonymous with cricket. He is not only one of the biggest names in crickets but many experts rate him as the best batsman ever.
Sponsored link
Sachin started playing cricket at the age of eleven years and performed his test debut on November 18, 1989 while playing against Pakistan in Karachi city when he was sixteen years old. He is the only player who has made hundred international centuries. He is the first batsman who has scored a double century in One Day Internationals. Sachin has made a record of making maximum runs in both Test cricket and ODI. He is the one cricket player who has completed more than 30,000 runs in international cricket.
Early life
Tendulkar took birth on April 24, 1973 at Nirmal Nursing Home. His father's name was Ramesh Tendulkar, an author and Marathi novelist . His mother Rajni, worked as a life insurance representative. Sachin got his name through his father after the favorite music director Sachin Dev Burman who was very much adored by Ramesh Tendulkar. Sachin has two elder brothers and one elder sister.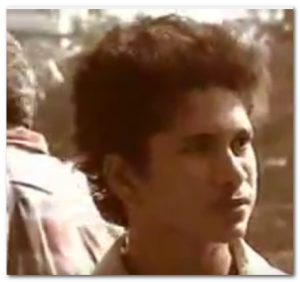 Sachin spent the early years of his life at Sahitya Cooperative Housing Society, Bandra-East. Besides cricket Sachin also had interest in playing table tennis. His elder brother introduced him to cricket to ward away his bullying tendencies. Sachin met Ramakant Achrekar who was a reputed cricket coach at Shivaji Park Dadar. Under the coaching of Ramakant, Sachin refined his cricketing skills to perfection.
Education
By 1989, Sachin Tendulkar left his studies as cricket became his calling. He couldn't appear in the 10th board examination due to the cricket match series of Indian and Pakistan. Incidentally, his school Sharda Ashram Vidyamandir is synonymous for being the alumni of Tendulkar.

Sachin Tendulkar – batting style
In the eary 90s, he was known as the 'Wonder Kid'. In fact in those days, he and Inzimam-ul-Haq who was also the child prodigy at that time, were spoken under the same breath. But as times passed, Tendulkar emerged as a force to reckon with and was compared to cricketing greats like Mark Waugh and Brian Lara. He even surpassed them and soon became the best batsman ever and one of the biggest sportsmen in the world.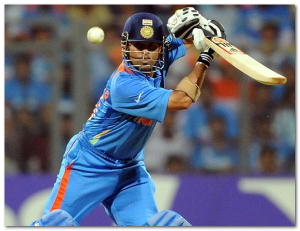 Tendulkar was known to play with a rather heavy cricket bat. He is known to be all technique, more than big hits, the way he timed the ball to the boundary and off it, spoke of his exquisite stroke-making talent and timing. He scored many of his centuries in hard, bouncy pitches of Australia and South Africa. Hitting the ball over to the square and straight-drives are his favorite cricketing shots, which resonate with his fans too.
Sachin Tendulkar – bowling trivia
He is a right-handed batsman but writes with his left hand. He has been quite a handy bowler too, and has taken 201 wickets, sometimes, even match-winning ones, across all the three formats of the game. He would bowl off-spin, leg-spin and medium pace, leaving the batsmen flummoxed.
Personal Life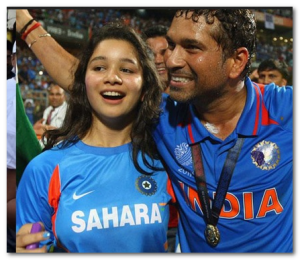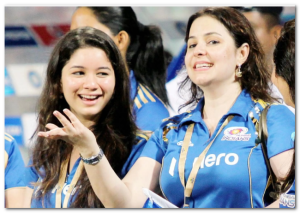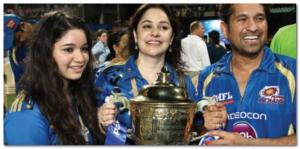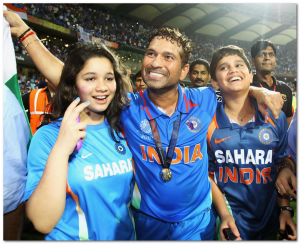 Sponsored link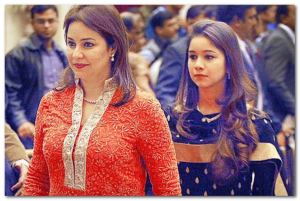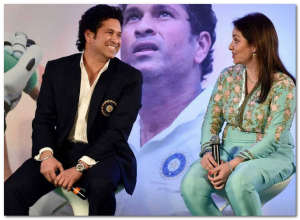 The 5 feet 5 inch tall  (165 centimeters) Sachin Tendulkar married Anjali on May 24, 1995. Anjali was a pediatrician and daughter of a Gujarati businessman Anand Mehta and English social worker Annabel Mehta. Anjali is six years elder to him. The couple has two children – daughter Sara, born on October 12, 1997 and son Arjun, born on September 24, 1999.
Anjali met Sachin first at the Mumbai airport in 1990, when she had gone to receive her mother, and he was arriving with the Indian team, following his first tour to England, where he has scored his first test
Sachin Tendulkar – Net Worth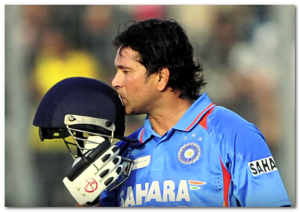 The cricketing legend's net worth is $160 million. Forbes 2014 reported that while he had made $4 million through his salary, $18 million was courtesy his numerous sponsorship deals. He retired in 2013 from all forms of cricket.
Sachin Tendulkar – House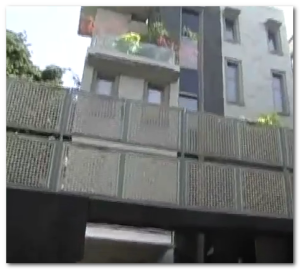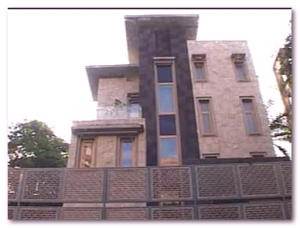 Sachin Tendulkar bought a lavish bungalow worth Rs. 80 crore in Bandra, Mumbai in 2011. He shifted from his apartment in La Mer (where he lived in sports quota) to this sprawling 6000 square feet guarded piece of property, at Perry Cross Road. The bungalow is built on a plot that the batting maestro bought in 2007 for Rs. 39 crore.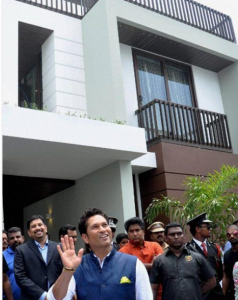 Sachin Tendulkar also bought a luxury waterfront home in Kerala in 2015, valued at Rs. 78 crore. The property is a beautiful one, being created on the back of the picturesque backwaters of Kochi. The said villa is in a place called Panangad and is named as 'Blue Waters Villa'. The villa will have two swimming pools – one in the apartment rooftops and the other in the waterfront.
Sachin Tendulkar – Cars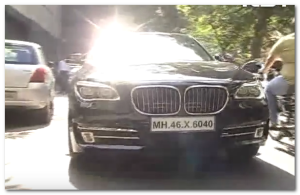 The prolific cricketer's second passion next to cricket has been cars. He had bought a second-hand BMW when he was just making inroads into international cricket. F1 racing legend Michael Schumacher had gifted Ferrari 360 Modena Spider to Tendulkar when he equaled Sir Don Bradman's record of 29 test centuries . Tendulkar later sold that car a businessman Jayesh Desai for an undisclosed amount. He also owns cars like Mercedes 600SL, custom-made BMW 7 Series, Opel Astra, Nissan GT-R, Mercedes Benz E-63, Porsche Boxter and the humble Maruti 800.
Sachin Tendulkar – Autobiography
Playing it my Way is Tendulkar's autobiography, a first account of his life and his favorite game.
Sponsored link