YouTube has seen quite a number of artists becoming stars, but Rosanna Pansino is one of the brightest of them all. She is the owner and producer of the YouTube channel called Nerdy Nummies, in which she teaches people how to cooks and bake, in a very quirky and nerdy way. The show is quite interesting , engaging and natural has a fanatic amount of followers cued into her videos.
Sponsored link
Early life

Born on June 8, 1985, In Seattle Washington, Pansino got her baking fervor from her grandmother who truly loved to bake. She became a fan of watching YouTube videos, and it was not long before some of her friends on YouTube, who knew how much she loved baking, encouraged her to start her own show.
For a while, she did some videos and tentatively put them on YouTube, so she could learn how to become comfortable in front of the camera. She started off simple, and made a few shows on how to make a treats for a themed party. Soon, her viewers grew and requests for more started flowing in. It was not long before she saw the need for making a show that showed a nerdy cook making the tasty recipes. Today, Rosanna has more than 100 recipes showing on YouTube, and her viewership is at more than 75 million views a month, she has a total of over 4 million subscribers.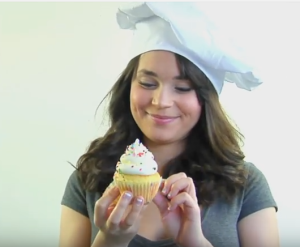 Career Rise
The show dubbed Nerdy Nummies is a YouTube channel; it shows how to make tasty recipes. The channel has featured some of the famous people in the industry including Smosh, Jordan Maron and Rhett and Link. Most of the recipes by Rosanna feature baked goods, but some also feature other foods. The baked goodies on the show are designed to resemble some of the famous characters from television shows, books, video games and movies. This is one of the reasons why her creations resonate with such a wide cross-section of viewers.
Sponsored link
The episodes of the show come out every Tuesday, and these feature only baked recipes. The other non-baking foods and DIY tips are uploaded every Saturday. This is a show that as given a lot of credence to this lady, who started off making videos about something that she probably loved doing in her private time.
All in the Family

One can only marvel at the tenacity of this young lady, who spends over 70 hours a week in the kitchen preparing her shows. According to Cosmopolitan, she now has her parents, who are also her office managers, and her sister, Molly Lu, in her production team; the sister is the one who does all the videotaping, and sometimes makes an appearance in the show. This is a story of relative anonymity to fame, a journey that simply took 4 years.
Rosanna Pansino – Net Worth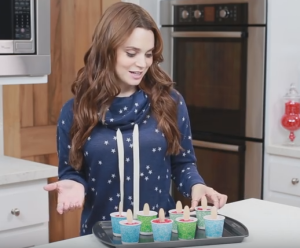 Currently, the 1.47 meter tall petite beauty has net worth of $2.2 million. her journey started out with a recipe for a Super Mario Star Cake, which she was to bake for a find; she decided to videotape the whole process and then post it on YouTube. The rest is history; she is now a star baker and has paved a way for other YouTube users to find their niche and prosper.
Sponsored link