Forbes reported that there are 1810 billionaires in the world with an overall net worth of $6.5 trillion. India is the fourth country with maximum billionaires (84) with an aggregate net worth of $248.4 billion. The other three countries that top India are Germany, China and US in that order.
Sponsored link
Let us now look at the richest people in India for the year 2016, as mentioned by Forbes –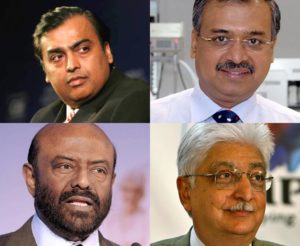 Sponsored link
Mukesh Ambani– Chairman of Reliance Industries, Mukesh Ambani leads the list of the richest person in India. He has a net worth of 19.3 billion dollars. He is also the managing director and largest shareholder of Reliance Industries Limited. He currently resides at Mumbai in the famous Antilia apartment, a property of 2 billion dollars itself. Also, the 38th richest person in the world for 2016,  he became the richest person in India for the ninth consecutive time.
Dilip Shanghvi– Founder and Managing Director of Sun Pharmaceuticals, Dilip Shanghvi stands second to Mukesh Ambani. Shanghvi's pharmaceutical company became one of the largest Indian multinational companies after the acquisition with Ranbaxy. It has its headquarters in Mumbai. The company sells pharmaceutical formulations and drug ingredients in India and United States. He has a net worth of 16.7 billion dollars.
Azim Premji– An Indian investor, business tycoon and philanthropist, Azim Premji is the Chairman of Wipro Limited. He also known as the Czar of the Information Technology (IT) Industry. He has a net worth of 15.9 billion dollars.
Shiv Nadar– An Indian industrialist, philanthropist and founder of HCL Technologies and Shiv Nadar Foundation, Shiv Nadar has a net worth of 12.9 billion dollars. Residing in New Delhi, his company deals with computers.
Cyrus Poonawalla – Chairman of Poonawalla Group, Cyrus is estimated to have a net worth of 8.5 billion dollars. The Poonawalla Group comprises of Serum Institute of India, an Indian company that manufactures pediatric vaccines.
Lakshmi Mittal– Having a net worth of 8.4 billion dollars, Lakshmi Mittal is a Chairman and CEO of ArcelorMittal, one of the biggest steel making company. He was once known as the "man of steel". He is based in United Kingdom and owns 38% of ArcelorMittal. Although his position has declined greatly in the last few years, he still remains one of the richest Indians in the world.
Uday Kotak –Having a net worth of 6.3 billion dollars, Uday Kotak is the 184th richest person in the world. The Executive Vice-Chairman and Managing Director of Kotak Mahindra Bank, the fourth largest bank in India, resides in Mumbai.
Kumar Birla– Chairman of Aditya Birla Group, this Indian industrialist owns one of the largest conglomerate corporations in India. This is India's 3rd largest business groups. Kumar Birla has a net worth of 6.1 billion dollars. He is also the chancellor of Birla Institute of Technology & Science.
Sunil Bharti Mittal– An Indian entrepreneur and a philanthropist, Sunil Mittal is the founder, chairman and CEO of Bharti Enterprises. His net worth is estimated at 5.7 billion dollars. This telecom company is known for Bharti Airtel which operates in 20 countries. It is one of the 3rd largest company in the world and the largest in India.
Desh Bandhu Gupta- He is an Indian entrepreneur, Chairman and Founder of Lupin Limited. Lupin Limited is a multi-national Pharmaceutical company that has become a global company today. He has a net worth of 5.5 billion dollars today.
Sponsored link