Ravish Kumar is a reputed Indian TV anchor, writer and journalist who explains various aspects of society and Indian politics. He is also one of the senior-most executive officers of NDTV India.
Sponsored link
Ravish covered comprehensive field interviews in North-Indian states about the needs of rural and sub-urban society, during the 2014 Lok Sabha elections. He is noted to be slightly biased for his debates and arguments towards certain political parties. Ravish handles the debates and interviews in peaceful manner, which is a rare concept in modern Indian media.
Early life and background   
Ravish Kumar was born in a small district of Bihar known as East Champaran, on 5th December, 1974. He belongs to an orthodox and conventional family of Jitvapur village. After studying in Loyola high School, Patna, he shifted to Delhi for his graduation from Deshbandhu College, Delhi University. His main motive at that time was to give the UPSC Civil Services Examination. He started studying for Civil Services along with the course of B.A (Bachelors of Art). Ravish could not crack the examination of Civil Services as Mandal Commission of India declared that the socially and educationally backward people will be given more preferences and advantages.  This rule made it critical for Ravish Kumar and thus he decided to go for a post-graduate diploma in journalism from the Indian Institute of Mass Communication. He also loves travelling and playing chess.
The Success Story
Ravish Kumar's colleagues, his bosses and even his critics stated that the non-assuming news anchor has had the highest amount of success in recent years. In recent times, the viewership is pitted between Arnab Goswami for Times Now and Ravish Kumar for NDTV India.  Ravish says that in  his early times at NDTV, he would be intimated by computers, the heavy dose of English language used, the casual culture and deadlines in news reporting. He also cited an incident when Rajdeep Sardesai, the boss at that time, had sternly asked him if he wanted to be a news anchor or a movie actor, given his filmy hairstyle. Nevertheless, Ravish Kumar kept on learning and implementing whatever he absorbed. He also brought to the table his unique style of news reporting with inimitable Hindi, probing manner of investigatory journalism laced with sarcasm and wit.
Career Achievements  
He hosts a show called "Ravish ki report". He also hosts other programs including NDTV India's flagship weekday show Prime Time and Hum Log. He was awarded with the Ganesh Shankar Vidyarthi award for Hindi journalism and creative literature in the year 2010. He also received   the Ramnath Goenka Excellence in Journalism award for the journalist of the year 2013 and Indian news television award 2014 for best Hindi news anchor. The Indian Express has included him in the list of 100 most influential Indians 2016. Ravish Kumar runs his own blog called naisadak.org.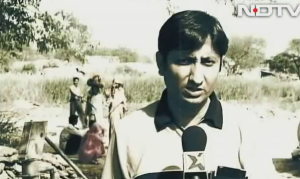 Sponsored link
Ravish Kumar – Wife (Nayana Dasgupta)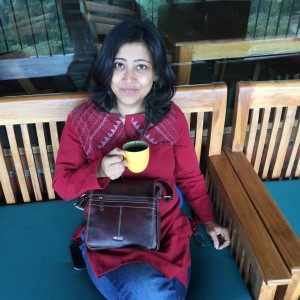 Ravish Kumar is married to Nayana Dasgupta, who teaches history at Lady Sri Ram college. He met this Bengali girl while doing his M.Phill in Delhi. They became very good friends and Nayana helped him with his English language. After a long relationship of seven years, they decided to get married. Their relationship was not accepted by Ravish's family as the girl belongs from a different background and region of India. But he broke ties with his family after deciding to marry Nayana. However, presently he is in touch with his family but Nayana has never been able to meet her in-laws due to the broken ties.
Nayana teaches history in Lady Shri Ram College, Delhi University. The couple have two daughters.
Ravish Kumar's Controversy with Arnab Goswami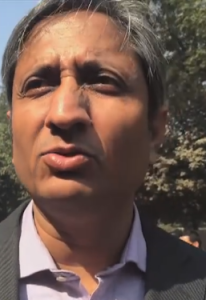 Recently, he was praised as well as criticized for his comments  on politically influenced media coverage of the JNU Controversy, during the show on JNU Row and mishandling media. He talked against certain media reporters, especially lambasting Arnab Goswami, the editor-in-chief and news anchor of Times Now and ET Now. He went on to say (without taking names) that the NewsHour debate on Times Now, conducted by Arnab Goswami was such noise, and nothing else. He also said that such people wearing suits sit and spark controversies from within the news studio, without even knowing about matters on grass-root levels. It arrived as a shock to the audience because it was unlike his ways and personality. Arnab Goswami indirectly stated that he will air his views and not toe the line, like some sweet-talking journalists.
Arnab Goswami – Salary
Ravish Kumar is earning a salary of Rs. 5 lakhs per month (approx) which does not include the perks and Employee stock option. (ESOs). Overall, Ravish Kumar's monthly income could be an average of Rs.20 lakh taking his annual salary to Rs.2.5 crore.
Sponsored link