Ratan Naval Tata is well-known as the chairman Emeritus of Tata Sons. He is an Indian philanthropist, investor and entrepreneur. From the year 1991 to 2012, he was the chairman of the Tata Group. In December 2012, he left his position of the chairman, but carries forward as the Chairman of the charitable trust of the group. More than 65% of his share is endowed in charitable trusts. Ratan Tata's aims to enrich the quality of the lives of Indian citizens.
Sponsored link
Early life and background
He was born on December 28th in the year 1937, in Surat, Gujarat. He is the offspring of Naval Tata  and his first wife Soonoo Commissariat. He has  a younger brother named Jimmy. His parents got separated when Ratan was around ten years old. He and his younger brother Jimmy were raised by Navajbai Tata, their grandmother.
Ratan Tata completed his schooling from  the Campion School in Mumbai. He received his secondary education from the Cathedral and John Connon School. After that, he joined  Cornell University to pursue his B.S in architecture with structural engineering. He completed this degree in the year 1962. After that, he finished the Advanced Management Program from Harvard Business School in the year 1975. During his college days, he also served as a member of the Alpha Sigma Phi fraternity.
Career achievements
In the year 1961, Ratan Tata began his career in the Tata group, He used to serve as a general worker in Tata steel. His achievements recite for itself when we observe his rise when J.R.D Tata resigned from the chairmanship of Tata Group and made Ratan Tata his inheritance in the year 1991.
The decision was challenged by many, but with Ratan' s exquisite skills of leadership, the group reached to new heights of success. Tata Group obtains many big brands such as Jaguar, Tetley, Corus, Land Rover and many more.
The inauguration of Tata Indica and Tata Nano was the direct outcome of his fascinations for cars from adolescence. Tata Nano is known to be the most inexpensive car in the globe.
Rattan Tata is presently supervising the Emeritus of Tata Sons. He also serves as the chairperson of some of the big trusts of Tata Group.
Sponsored link
He is also popular as a member of the council of Narendra Modi, in Industry and Trade.  He also contributes as a director on the board of Alcoa Inc.
Ratan Tata received the prestigious award of Padma Bhushan in 2000 for his tremendous contribution to the Tata Empire. He also achieved the award of Padma Bhibushan in the year 2008. In 2014, Ratan Tata also received the congratulatory Doctor of Laws by York University, Canada.
Other noteworthy awards and honors include Sayaji Ratna Award by Baroda Management Association, Inspired Leadership Award by The Performance Theatre and the Hadrian Award by World Monument Fund.
Ratan Tata – Investments
He invested a part of his personal savings in e-commerce Indian major – Snapdeal. In 2016, he invested an undisclosed amount in Teabox, an online store that sells premium quality tea.  He prefers investing in companies at early stages and at the latter stage.  He has also invested Rs.0.95 crore in Ola Cabs and 1 Cr in Paytm. In April 2015, it was reported that Ratan Tata has invested a stake in China's  popular smartphone company, Xiaomi.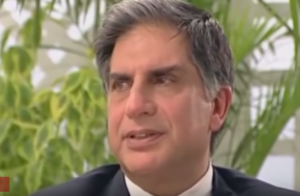 Relationship and personal life
Moving on in his personal life, Ratan Tata is unmarried. He stated in an interview that he came close to getting married four times, but each time he backed off.
Ratan Tata – Net Worth
Ratan Tata is officially not a billionaire.   His net worth comes to $900 million.
House
He lives in a posh mansion in Colaba, Mumbai. The apartment has three storeys which are divided into seven levels.
Sponsored link